Learning to feed yourself can be one of the most terrifying things. Am I about to give myself food poisoning? If I eat this too often will I end up with scurvy? How can I get the most nutritional bang for my buck? Why does this still taste like ass?
With Ode to My Pantry, learn to navigate a grocery store without having a meltdown in aisle three. Give a man a fish and feed him for a day, teach a queer to cook and stave off malnutrition for another semester.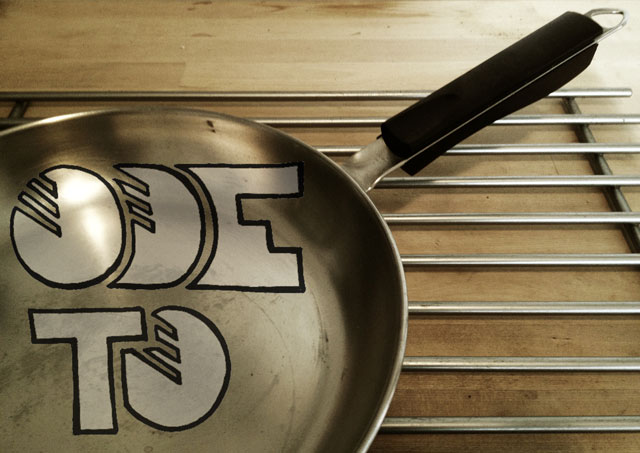 Let's face it. Sometimes eating sucks. Not because you have to shop for groceries. Not because you have to prep. Not because you have to cook. Because you have to clean. (Fucking pans!) You earn accolades for cooking your person-of-interest a meal, but if you take advantage of the post-meal seduction and ignore the dishes, you'll spend your next week up to your elbows in soap suds after you spend a few minutes up to your wrists.
You'd think some people would have learned that baked on, caked on messes don't get easier with time, but apparently not. Not only does sloppy cleaning leave you with a few extra minutes (or hours) of chores, but it devolves into the slippery slope that is the Destructive Dinnerware Cycle. Unless you are a Cookware Whisperer, there's a good chance you'll burn something on your New Kitchen Thing since you haven't acquainted yourself with your pan's surface and surface properties. So when you burn something, you just try to scrape it off. And then the next time you bring it out, your food sticks even more and you'll just scrape it even harder. So the cycle continues until you realize you might as well be frying your eggs on Velcro.
So how do you clean your pans without resorting to the garbage can and ordering a new one off of eBay? For one thing, prevent the damage by heating shit up. Pre-heating cookware doesn't just get your food closer to done, but it'll cause the metal to expand and the tiny surface pores to close. So your pan becomes a little bit slicker and lives up to its non-stick name. Oh, and oil. Oil always helps.
But let's say pre-heating didn't help and you're still stuck with stuck food. Don't punish your pan too badly otherwise it'll become even more petulant! Every scrape with your fork, knife or steel wool damages the surface further, creating a shitton of scratches. This may just seem like a cosmetic thing, but those innocuous scuffs compromise the surface you paid good money for. Every newly formed crack just wants to make food friends and hug those friends to death. So your steak will stick, your bechamel will burn and your scramble will leave you eggsasperated. So how do you stay friends with your pan?
Water is the obvious answer, right? Most of the time* it's the best approach to your scorched saucepan situation. It's so helpful, you might even go so far as to 
call it the healthiest form of liquid
. It'll keep things pliable and generally prevent any kitchen calcification. If you've finished sautéing and there's a bunch of crud that you don't want to deglaze, pour some hot water into your pan and return it to the stovetop while you eat your meal. The residual heat and initial boil should dissolve some sugars and loosen up the gunk so you're ready for your next step. Just be sure to avoid cold water since a drastic temperature change
can lead to thermal shock and warped pans
.
But if you give it a swipe with a sponge or scouring pad and your pan's holding onto its food friends, reach for an
old credit card
, gym membership or wall decal squeegee. Steel wool, knives and forks may
sound
like great crud busting weapons, but they'll just do some of that aforementioned gouging. In the case of Teflon-coated pans, it can cause the coating to flake off and lose its non-stick status and become 
a possible health risk
. Push your card along the surface at an angle and you should be able to peel or scrape off any gunk. This works especially well for scrambled eggs and other substances that clog your sponges. Since the card is (presumably) softer than your pan, you don't have to worry about damaging the surface.
*A major exception to the Water Rule is cast iron. If you received a hand-me-down skillet or wok that's been lovingly used for ages, you might notice that it doesn't look particularly clean, but it still manages to
cook things 
really well. 
That
patina on your grandma's seasoned pan is a fat polymerization that coats the metal
, causing it to become relatively inert and allowing you to flip your pancakes worry free. But if you compromise that coating (by washing it with water and soap) you'll soon realize how protective that patina is when your Dutch Oven becomes a heaping pile of rust. So what the fuck do you do?
Now would be
a good time to employ some salt
(good ol' table salt will do) since it's both absorbant and abrasive. Shake on enough to absorb the grease and rub it around until it darkens into sand. Dump it out and repeat until your salt stays white. You can also add a bit of oil to your salt and save a step when it comes to re-seasoning your pan. You 
can
use salt when it comes to your non-cast iron pan, but just keep it mind that it is harsher, so you might end up scratching your Lagostina. Keep this as your last resort.
Now go forth and bravely make your breakfast. Because if shit gets burnt, you can deal with it.