Learning to feed yourself can be one of the most terrifying things. Am I about to give myself food poisoning? If I eat this too often will I end up with scurvy? How can I get the most nutritional bang for my buck? Why does this still taste like ass?
With Ode to My Pantry, learn to navigate a grocery store without having a meltdown in aisle three. Give a man a fish and feed him for a day, teach a queer to cook and stave off malnutrition for another semester.
Sometimes you don't have the patience to cook. Sure, it will leave your stomach filled and your creative side fulfilled, but sometimes you just don't want to. There are warm horizontal surfaces and  adorable fuzzy animals/people beckoning you towards them! How can you make it through an hour in the kitchen when there are so many distracting and/or enticing things in your way? Well sorry, but part of you will just have to learn to suck it up and deal with Life as an Adult. But that doesn't mean you have to be a slave to your kitchen. Learn work-arounds and simple tricks that make dinner hit the plate faster.
Forget that you're cooking. It goes without saying that you should have something to distract you. Music? Podcasts? Hilarious and attractive sous chefs? Shitty drama (scripted or lived) works too. Either way, if you have something to focus on instead of the 10lbs of potatoes that need peeling, all of your tasks will go by much faster. Maybe this isn't as much of a time hack as a time warp hack.
Make your Masons work for you. If you subscribe to the Mason jar aesthetic for your pantry needs, you've probably noticed how annoying it is to constantly screw and unscrew and screw and unscrew and screw and unscrew lids. Make sure you have easy access to your most used ingredients by investing in sifter lids or easy-flip spouts. You won't have to sacrifice the look or your patience! You could also DIY that shit by reusing the spouts from your old salt containers.
Get an electric kettle (at least 60oz) with an automatic shut-off. It'll free up valuable stovetop real estate and save you a bit of money while it's at it. Sure, no hassle prep for coffee or tea is obvious, but did you realize you could use it to wilt and blanche small quantities of food too? Simply load up a colander with your desired veggies and slowly empty a kettle of boiling water over them. Continuously toss throughout the process and  rinse under cool running water to halt cooking. Your spinach or bean sprouts will be wilted in less time than it takes to clean another pot.
Rethink your rituals. Maybe I'm just clumsier than most, but I can't really dice onions properly. The old school (ie. "proper") way of dicing onions calls for you to slice an onion into a grid like shape before chopping into pieces. I find that I'll spend half of my day trying to make the parallel slices and holding the damn thing together. Why not cut across it radially so every sliver is still attached to the root end?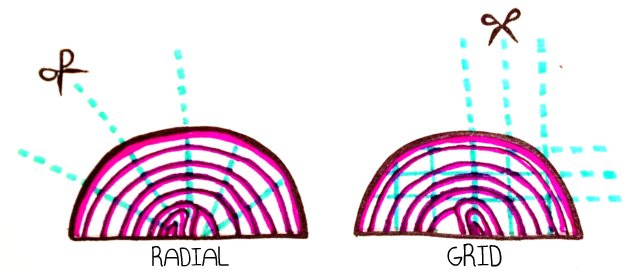 It calls for fewer cuts through the onion and through your fingers (at least for me). The pieces won't be perfect cubes, but what can you really expect from a round vegetable?
Call in back up. If your knife skills aren't up to par, you may want to invest in a tool to help you out. Just make sure that the unitasker does its job well and saves you time in prep and clean up. Slap chop? Useless. Mandoline with eight billion parts? You'll never use it. Banana slicer? Fuck that shit. Slicing attachment on a food processor? A living hell unless you were going to grate borscht for forty. Try a hand-held food slicer or a V-slicer that has minimal parts to clean. They may not be ridiculously attractive, but if they work who gives a shit? The world doesn't need more chindogu.
The peeler isn't your best friend. Some veggies don't need peeling and some only need a little bit. Do right by your rhizome and use a spoon to peel your ginger. You can also clean your veggies up by doing a once-over with a scrubby pad instead of a peeler.
Hold onto your old credit cards. If they have embossed numbers and text, they belong in your kitchen cupboard instead of your trash. Simply rub a clove of garlic or a knob of ginger against the ridges to create a perfect puree. In the case of ginger, it'll keep your ginger fiber-free too. It's cheaper than a microplane grater and less redundant than the garlic card. Make sure to stash a few extra cards by the sink to scrape off baked on food gunk.
No shame in frozen. When it comes to peas, berries and other ingredients that don't need to stay super crisp, might as well trek to the tundra. Who has time to shell peas? Produce that is picked at the peak of its season and flash frozen is almost as nutritious as its fresh counterpart. Keep bags of frozen peas in the chill chest for last-minute meal additions. Simply chuck the frozen orbs into your simmering sauce and the peas will thaw as it cooks. If you really want them to taste farm fresh produce, freeze your own goods when they're in season. Congratulations Martha! The rest of us will be in the freezer section.
Minimize your mess. I know it's tempting, but you really don't need to try out every single pot and pan in your new cookware set when you're making dinner. Try to economize your cookware so you're washing less and spending less. Next time you cook rice, quinoa or other grains, wait until they're almost ready and throw your veggies on top to steam. You won't pay to heat another element and you won't have to wash additional pots/steamer baskets/colanders. Plus all of the veggie juices will drip back into your meal. Win-win! The same theory applies when boiling veggies and pasta simultaneously, although I rarely advocate boiling vegetables.
Clean as you go. It probably sounds like your mom/roomie bribed me to include this, but it's true! Whenever you have some down time, just throw something into the sink to soak. Waiting for your pasta water to come to a boil? Wash your cutting board and knives. Stirring your pasta sauce? Pack away your spices. Garlic bread still toasting? Might as well rinse your recycling. If you have less work to do at the end of your meal, it'll seem like you have less to do over all. No one likes a counter full of dirty dishes for dessert.
So get cooking l'il lady. There are cocktails to be had when you're done.