Queer Christians are everywhere, but I didn't always know that. For many years, I saw those two identities as mutually exclusive. Because I was a Christian, I was straight. I was a dedicated ally, of course, and would debate theology with friends who thought "homosexual behavior" was sinful. But it didn't really occur to me that I, a single human person, could experience both faith and queerness. In my second year of college, the campus ministry I was part of hired an amazing lesbian seminary student as the leader, and her partner (now wife) often came to support her. I loved them and admired them, but as my own queerness started to come into focus, I kept my emotional distance from Kaci and Holly. I eventually dropped from every-week attendance to only very sporadic appearances in the group. I rationalized it with how busy I was, but I think I knew that if I got too close to them, I would encounter a truth that couldn't possibly be mine and it would prove I didn't belong.
Now I know better. In fact, I have the most profound belonging of my life while in spaces with other queer and trans Christians, breaking bread and talking shit about Paul and praying together. I learned to thrive because friends showed me their own belovedness and invited me to experience my own. I recently spent time with Holly and Kaci at the Presbyterian Church (USA) general assembly celebrating progress made toward the PCUSA's inclusion of queer and trans folks. It felt like a part of my life came full circle as I stood with them and many others and pushed forward for more than tolerance, more than marriage, but true affirmation of our belovedness in the eyes of God and the life of the church.
That's what friendships with queer and trans Christians have taught me: it is blessed indeed to want more, more of everything, more love and more gender and more faith and more life.
If you've read this far or if you've closed the page in fear or anger, please know I want more for you too. However, if you're anything like me it is very intimidating to figure out where the queer Christians are hiding! After all, lots of Christians insist that we are an ontological impossibility. (Spoiler alert: We're not!) These are a few of the ways that have worked for me to build nourishing connections with some of my very favorite weirdos.
---
Get Online
I get it, the internet is a cesspool, but it's still one of the simplest ways for marginalized folks to find each other and it is mostly free. Through chat forums, Twitter, newsletters and more, the internet can provide a wealth of resources to help you feel grounded in your faith and queerness. One of my favorites is Queer Theology, whose down to earth weekly newsletters never fail to lift me up. Queer Grace is a literal encyclopedia of helpful articles, definitions, and advice for you and your loved ones who are trying to get it. OurBible is an app and online resource launched last year that is constantly refreshing itself with new content, voices and beauty. Check out my interview with brilliant founder Crystal Cheatham!
Over on Twitter, seek out a few of the leading voices in our community. Broderick Greer, Emmy Kegler, Kevin M Garcia and M Barclay are a few of my favorites, and they all have fabulous projects or podcasts or creative work that you should check out too. There are far too many to list but I sincerely hope you have a fabulous time winding down the queer Christian Twitter rabbit hole. We have snacks!
It is also worth checking out the #faithfullylgbt hashtag, created by the lovely Eliel Cruz, to get plugged into a larger conversation about how queer and trans people are claiming our space in faith communities. There's also a big Venn diagram with the exvangelical community, and there's a hashtag for that too.
---
Go To A Conference (Or To Church??)
If you are a conference person, there are some very good queer Christian conferences! I can personally recommend the Q Christian Fellowship conference (I went a few years ago when it was the Gay Christian Network conference and it was fucking wild). The Reformation Project runs an annual conference that is also said to be absolutely lovely! There are small regional conferences and topical retreats and all kinds of things you can find with a thorough Google. And there are progressive Christian gatherings that aren't specifically queer but are certainly inclusive, like Why Christian. And here's the truth: If you go to a big enough gathering of queers, you will find the Christians, and if you go to a big enough Christian events, you will find the queers. We don't have a batsignal per se but figure out whatever way feels right to put yourself out there and I can nearly promise that you will find people who know you in a way you haven't been known in so long.
Every year at A-Camp, for example, I organize some kind of Jesus-related activity, and other folks like Al often do the same. This year, Al hosted Pentecost gospel brunch and we sang and improvised communion and then a bunch of us made an absurdly beautiful collage about what we imagine God might be if God was big enough for us. It was a teeny tiny piece of heaven and I needed it and I guess other people did to! Maybe you do too, and if that's the case then I promise I'll do some other weird God thing next May.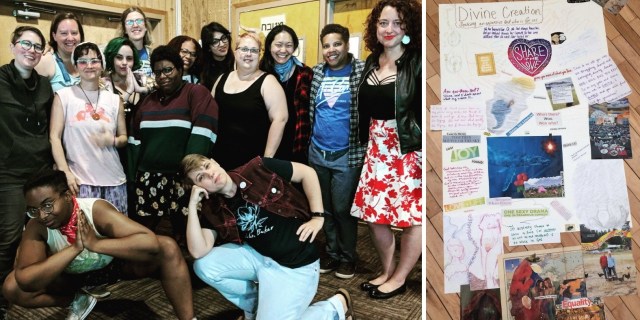 Maybe conferences are not your jam, or maybe you cannot afford to go to one because yikes they can be very expensive. There is another place that tends to have a lot of Christians, and that, my pals, is church. I know this is loaded as heck for a lot of people and it's certainly not a cure-all solution but if you are open to it I would encourage you to find an affirming church in your general vicinity or a church where some people you like attend and see how that feels. Obviously this is a luxury in many parts of the country and world but I also know lots of people who have been surprised and even dazzled by what they've found.
A couple resources to get started are Church Clarity and Believe Out Loud. Also, check out the affirming and/or LGBTQ+ advocacy organization affiliated with your denomination or a denomination you are interested in! Just Google denomination+LGBT and you will probably get some helpful information and hopefully not too many terrible internet articles!
---
Read A F*cking Book
Sometimes funds or circumstances or the closet might keep us from making the real-world connections we might want to. However, that doesn't mean we can't encounter stories that resonate with and affirm us! Radical Love: An Introduction To Queer Theology by Patrick Cheng was one of the first books I read on the topic, and it helped me cut through the fog of non-affirming or non-existent theologies of queerness that I had been swimming in my whole life. Austen Hartke's beautiful new book Transforming: The Bible and the Lives of Transgender Christians, speaks to the heart of trans folks' diverse experiences in the church and provides stories and ideas that will impact readers who are well-versed in queer and trans theology and hermeneutics and those encountering it for the first time.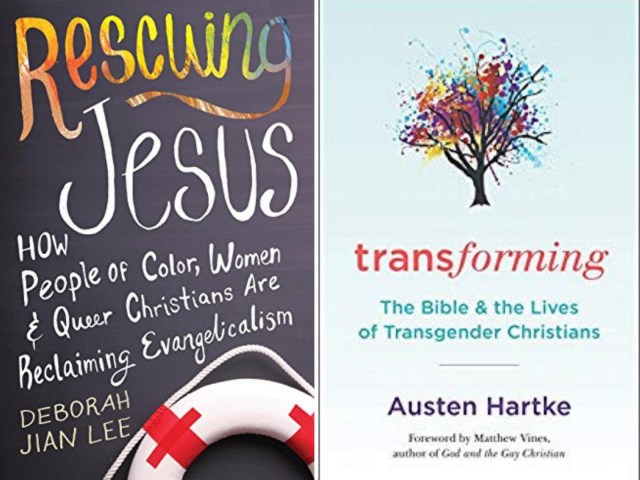 The title of Rescuing Jesus: How People of Color, Women, and Queer Christians are Reclaiming Evangelicalism, by Deborah Jian Lee, pretty much says it all. I found this one on the end cap at a bookstore one day and devoured it. Given my Mainline Protestant upbringing, I can be ignorant about the complexities facing those with Evangelical backgrounds, and this book was an excellent primer for me and was filled with poignant examples of how Christians are working in the world.
---
Beloveds, this is just a starting point. Please reach out in the comments and hear from other readers about what has worked for them in connecting their queer and faith lives in ways that feel sacred or at least good. We deserve it.