Welcome to La Boda Jota, a wedding mini-series by a queer Latina getting married to another queer Latina! Check out the first two posts here.
---
The first question people asked me when I got engaged was what I was going to wear to the wedding. My impulse was to blurt out, "how the fuck should I know?wp_postsThe question was innocent enough, motivated by excitement and curiosity from acquaintances, friends and family. But it also felt loaded and invasive. It felt like a trick question; as if they were trying to dissect who "wears the pantswp_postsin the relationship, or they were measuring me up against a lesbian stereotype. Will she or won't she wear a dress? It almost felt like getting asked "how do lesbians have sex?wp_postsLike yo, none of your business; it's a wedding, I will look hot af and that's all you really need to know. Instead I'd just reply, "I don't know yet."
I felt a little wave of panic in my chest every time somebody asked, because I really had no idea. I never pictured myself getting married — not because I didn't think I was, but because it was just something I never did. I don't know who came up with the idea that little girls love to imagine their future weddings because I think that's a load of shit. I was too busy imagining a whole different alternate universe where I moved to New York to be a fabulous, rich writer. And with being queer, we had the freedom to deviate from tradition and wear whatever we wanted and it would be totally ok! With so many options, I felt directionless. I was drawing a blank of what I pictured myself wearing standing with my partner in front of the ones we loved.
But I did know how challenging it would be to find something to fit my size 16 body. It's hard enough finding a dress that fits at department stores, so I could just imagine how hard it would be to find a fancy outfit for a very important day. I hate shopping because my choices are extremely limited because of size and money. I hated going to the mall with my skinny friends because they could walk into any store and find clothes that fit them, while I wasn't guaranteed they'd have my size and if they did have a plus-size section, it would be small. On top of that I felt my style was in flux! "Tomboy femmewp_postsfit me the best, but I didn't really know how to translate that into wedding attire. Where would I even find a fancy outfit in this realm?
I felt like the odds were stacked against me already. Time was ticking and because I was processing so many other wedding feelings, I didn't get a chance to think about what I was going to wear until May, which by wedding industry standards is really not a lot of time if I wanted a dress. I researched dresses first and found a lot of them I didn't want: strapless dresses, poofy ball gowns, princess A-lines, mermaid gowns and so much sparkle! And WOW, what do you know, wedding dresses are extremely expensive! It's rare to find a "wedding dresswp_postsunder $1000. I told myself right then and there, I refused to pay more than our apartment's rent for a dress. I couldn't believe people would pay upwards of $12k like on Say Yes to the Dress. I knew it would be challenging, but not impossible.
I had to start somewhere so I dove right into the heart of it and booked a couple appointments at legit bridal shops. I value Gloria's opinion so much that it made sense we would go dress shopping together. She didn't know what she was wearing either so she wanted to see what her options were. Edyka, our very good friend and our officiant for the wedding, came along to support both of us because girl, we needed it.
Walking into the first bridal boutique was like walking inside a magical fairy cloud, full of expensive white fabric. I had a feeling they were going to have like two dresses in my price range. I was apprehensive of trying dresses on; I wished instead I could just gather all the dresses on the floor and jump on them like a pile of organza and tulle leaves. Priscilla greeted us at the entrance and informed us that she was going to help me. Priscilla was so friendly and immediately put me at ease. She asked me which kinds of dresses I liked, what my price range was, and what was the vibe of our wedding. I told her what I didn't want, that I wanted something that fit closer to my body like a sheath dress, that my budget was under $1200k, that our wedding was gonna be small and our Mexican culture was important to us. I also told her that I was open to wearing a non-wedding dress.
Priscilla said it was going to be hard to find a dress at a low price point, but was chipper and got straight to work pulling dresses. I sat in the dressing room with Gloria and Edyka and waited. She brought out so much lace, and dresses with beads and pearls and various "bridesmaidwp_postsdresses. Priscilla helped me into dress after dress and zipped me up or used clips to hold the dress together.
After putting one on, I walked out to Gloria and Edyka and then stood on the pedestal in front of all the mirrors to examine myself. I felt like a little kid playing dress up! The lace and the mermaid-like gowns made me feel older and like a señora. I pointed out necklines and details I liked about individual dresses but none of them felt like me. Priscilla heard me out and kept spinning some magic to find more dresses in her stock. When she returned with a few more, she shared with me she had a gay sister and I felt more at ease again.
But every time I stepped out and glanced at myself, I didn't like what I saw. It didn't help that Gloria was also very quick to give her opinion so I felt like it was just an onslaught of nope coming from myself and from her. Edyka was very supportive and didn't really give her opinion but asked me helpful questions about how I felt in the dress. By the time we were closing in on hour two of trying on what felt like the 100th dress, I was very overwhelmed and cried. "Let it out. Don't worry, you're not the first girl to cry here,wp_postsPriscilla reassured me. She suggested we stop and take a break.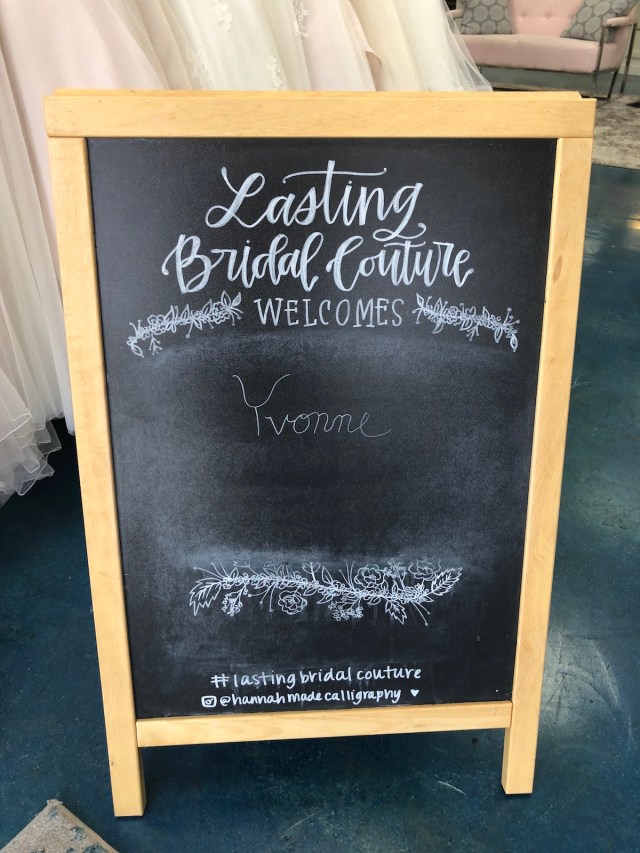 Gloria, Edyka and I grabbed some lunch and afterward went to the second bridal boutique of the day. They had an even more limited selection of dresses in my size and price range. I had a similar experience of trying on all the dresses in my price range and didn't like a single one. Gloria, on the other hand, found her dress on the first try! She's a size two, god bless her, and found a beautiful crop top and long skirt wedding ensemble in the sale rack for $90. I was so happy for her and annoyed she'd found the perfect outfit so quickly and for a stellar price! What the hell? By the time we tried on more dresses with no luck at our third stop of the day, I felt defeated.
I put wedding dress shopping on pause till after A-Camp. When I came back, I had a plan to try out Nordstrom and open up to the possibilities of getting a feminine, flowy white suit after Autostraddle co-founder Alex Vega told me that's where she got her wedding outfit. I had so much hope at Nordstrom because I loved all the options the stylist pulled for me. I still wanted a dress and told her that was my first priority. I tried on simple yet elegant white dresses without any bling that were all in my price range.
There was one in particular that I loved; it felt like the one for me. Gloria didn't come along this time but my friends Steph and Gabby were with me and agreed it was a great choice. I felt like I needed more affirmations to get the dress so I told the stylist I would come back to order the dress in white if I decided to get it. After thinking about it, there were just a couple things — like the skinny straps — I wasn't a fan of on the dress and wished were different.
I was really running out of time and needed to figure out what the fuck I was gonna wear so Gloria and I tried our luck at two discount bridal boutiques. There were some possibilities at one store but I was never completely satisfied with the whole look and it still didn't feel true to my style. By this point, I was on plan D: having the dress custom made exactly to my liking.
You see, I grew up in a place where having a custom made dress is normal, and often times more affordable. My sister had her quinceañera dress, her prom dress, her graduation dress and all her other special occasion dresses made by a seamstress my family knew. I had my prom dress made by a señora a family friend recommended. I literally printed out a picture of the dress from the internet and she made it exactly like the picture. My taste in prom dresses 10 years ago was questionable, but the dress was perfectly constructed and fit me like a glove. I asked my mom if she remembered who that lady was and if she could find her and ask her if it was possible for her to make me a wedding dress.
My mom didn't remember the lady's name and didn't have her number, but she kinda remembered where'd she lived. (She worked out of a small back room of her house.) My mom drove around the neighborhood she remembered and found her! It turned out she was still a seamstress and could make me a dress on time. For the first time throughout this whole journey, I was so excited!
Home, the Rio Grande Valley, is a nine-hour drive from Dallas where I lived. I flew home for the bridal shower my sister threw us (tune in next time to hear about that!) and to get fitted for the dress. It was finally happening! I explained to Patricia, the coveted seamstress, what I wanted. All my experiences from previous dress shopping would come into play here. I wanted a deep-v neckline, no bling, just a solid white long dress fitted to my body. Patricia didn't remember me, but I knew she could help me. She was the Mexican fairy godmother I didn't know I needed, constructing my ideal dress for my gay ass wedding.
At the moment of writing this, I'm currently in the Valley again and waiting to take my dress back to Dallas! I went in for my second fitting yesterday and it's coming along just how I imagined it, the way I dreamed it up. In the grand scheme of things, it doesn't really matter what I'll be wearing on my wedding day but I'm happy to have something that fits me and that I feel beautiful in.