Welcome to Almost Famous, a weekly segment where we ask up-and-coming queer musicians some not so hard-hitting questions about music and life and maybe even convince them to share photos of their pets. Get to know intimate details about your new favorite artist or band before they hit the Big Time and become too famous for us to interview for real.
Header by Rory Midhani

---
Amy Andrews
Decatur, GA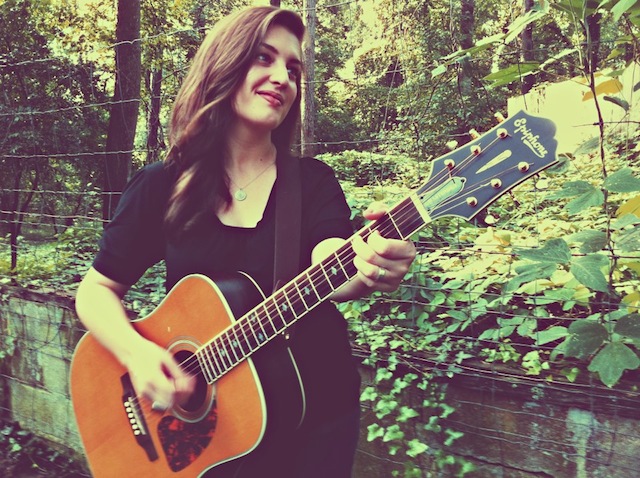 Born in Baltimore and raised on the Chesapeake Bay, Amy Andrews was brought up on the sounds of Sinatra, Bonnie Raitt, country and blues. She spent years training for a career in musical theatre and classical performance, however set her sights on performing original music upon realizing that she craved a closer connection to her audience than large concert halls and theaters allowed.
Amy started out as the lead singer of a Baltimore folk trio however, after a few tours through the southeast, decided to take her music career to Georgia. She's since toured extensively, with recent travels to the Pacific Northwest, Alaska, and western Canada, with festivals and shows everywhere from the big cities to gold rush towns.
How would you describe your music?
Part Sinatra, part Gillian Welch.
What instrument/s do you play?
I'm unquestionably a vocalist over anything else that I may ever be. I've been singing my entire life, and picked up a guitar only a few years ago. I had never thought of writing my own music. I never thought I could (or even desired) to write, but, after putting pen to paper a few years ago, I discovered that I loved writing — crafting stories, or working through my own experiences, in verse is a type of joy I didn't know existed.
Which song would you most like everyone to hear?
"Alone With You." I wrote this song on the road a few months ago, and it is absolutely one of my favorite songs to play.
https://www.youtube.com/watch?v=DyzYR8klTDA
What were the first and last records you bought?
Pretty sure the first music I ever bought for myself was the soundtrack of Bette Midler's Gypsy. I would buy it all over again. The last music I bought was Patty Griffin's American Kid. Love Patty.
What was the last song you wrote about?
Choosing to be happy.
Would you ever date someone whose favorite artist/band was your least favorite?
I think that my least favorite musical artist would have to be someone promoting misogyny (or something similarly hateful, dangerous) with their art. And I would never be with someone who promoted anything anti-woman.
What is the best and worst thing about touring?
Best: Getting to see new places and new people.
Worst: Not getting to experience new places or people.
Touring has, in my experience, been a race from town to town and performance to performance. I would like to schedule time into touring schedules, so that I can enjoy new places and meet new people.
If you could share a line-up with any two other artists, who would that be?
Oh, this is so difficult. Perhaps I could open for Gillian Welch and Dave Rawlings? That would certainly be a dream come true.
When you're super famous what will the name of your autobiography be?
A friend recently named it for me: Feminist Ranting in My Chest: The Amy Andrews Story.
Pretty accurate, but it could be just as easily titled something like, All the Tears and All the Cats, or maybe Zigzagging the Nation in Hazardous Driving Conditions: A collection of ditties inspired by the fear of being struck by lightning, or the anguished facial expression accompanying a pee-dance.
What was the last book you read?
You Remind Me of You: A Poetry Memoir by Eireann Corrigan. I was at a used bookstore looking for some Nikki Giovanni to replace some Nikki Giovanni that I'd lent (and lost, understandably so) to a friend. I am so grateful to have found Corrigan's book on a pile of Giovanni's work. I took them all home with me.
To keep up with Amy Andrews, follow her  on Facebook and Twitter. Her music can be purchased directly from her website, as well as via iTunes and at live shows.
---
If you are, or know of, a queer artist or band that should be featured in Almost Famous, drop the details to stef [at] autostraddle [dot] com. Please write 'Almost Famous' in the subject line!