As you may know your trusty Autostraddle geek squad (not to be confused with those asshats at Best Buy) at times is known to live and breathe video games. Herein we recount our best of 2010, so get your assent and dissent at the ready!
Danielle's Best of 2010
Mass Effect 2
Funny story – I was supposed to review this game for one of the sites I write for, but we couldn't get a press copy and Gamefly took about six years to send it, so I ended up borrowing from a friend. I had never played the first game, so I was merely curious about the story (and may or may not have watched the lesbian sex scene from the first game a few times on YouTube). I played it and fell completely, unashamedly, deeply in love with this game – it's the epitome of nerdy space fantasy for me.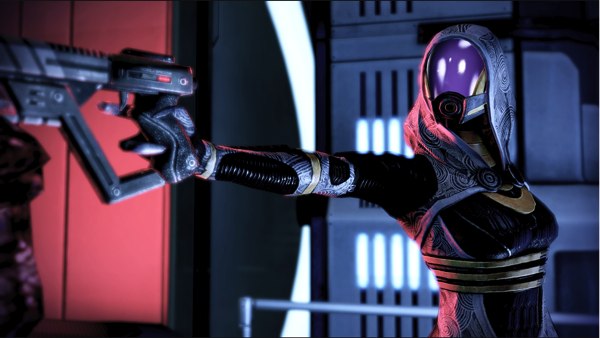 There's a lot to love: the intricate story, the phenomenal worldbuilding, the amazing characters, the "badass chick in space" roleplaying, and yes, the first truly developed lesbian relationship in a big-budget game that I have played and enjoyed. I loved it so much I went back and trudged through the good – but flawed – first game, then I played it again, with a Liara-loving Shepard.
Bonus: Playing the Shadow Broker DLC allowed said Liara-loving Shepard to really REALLY experience the lesbian romance experience ™, complete with fighting, emotional processing, and really hot sex. IN SPACE.
BioShock 2
Everyone expected this game to be dogshit – even if it turned out decent, it would forever be in the shadow of the phenomenal first game. 2K Marin really pulled it off, with completely new mechanics and a far better story payoff, creating an excellent game that stands on its own two metal-bootied feet.
Super Mario Galaxy 2
Have I listed enough sequels yet? Galaxy 2 was a phenomenal platformer, with level design that really represents the best in the business. The game is a little too hard for its own good, but that doesn't stop it from being absolutely brilliant.
Costume Quest
Dark horse/sleeper hit alert! This is a bite-sized RPG from my favorite studio (Double Fine Productions), featuring little kids who go trick or treating in super-powered costumes that allow them to do battle with monsters. There's even a rainbow unicorn!
Kirby's Epic Yarn
The cutest game on the planet, with a squee-inducing aesthetic (the entire world, including every character, is made of yarn, patches, and buttons), and perfectly-paced platforming action.
Honorable mentions:
Heavy Rain
Donkey Kong Country Returns
Goldeneye 007
Metroid: Other M for being a solid game with an uber-sexist story.
Star Wars: The Force Unleashed 2 for, well, kind of sucking.
Rachel's Best of 2010
Heavy Rain
Obvs I had a lot of strong feelings and emotions about Heavy Rain. It was hands down, no contest the most unique and interesting game I've ever played. Plus it was gorgeous to look at and so completely immersive that it's a little crazy how lost in it I found myself. I laughed, I cried, I held my breath and closed my eyes. Heavy Rain is the reason to own a PS3.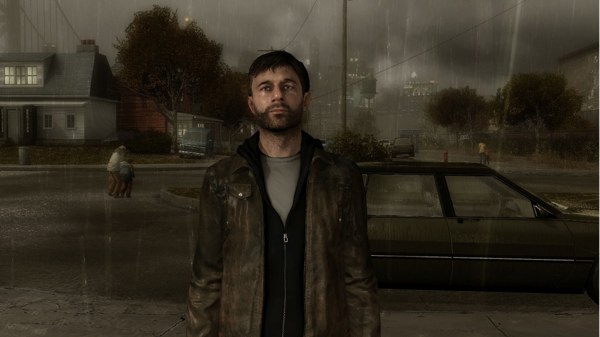 BioShock 2
While I didn't love it as much as I did the first game, it still delivered on the promise that comes with the name. Creepy, beautiful, thought provoking and intense. I liked being in the role of the original Big Daddy and getting to carry the Little Sisters around with me. I feel like my complete emotional inability to harvest them means that I'm well on my way to good parenting. Rapture is an environment like no other and I'm glad we got to go back to it before the BioShock name moved on.
God of War III
Again, I didn't think it was the best of the franchise. But it was a totally perfect and fitting finale to Kratos' blood soaked story. God of War has never been disappointing when it comes to epic scale and amazing battles; and this was certainly no different when it came to the Titans and fighting the gods of Olympus. I was a little disappointed by the final boss fight with Zeus – expecting so much more from such a bitter, long rivalry – but the scenes following it made up for it completely. God of War 3 was the third video game ever to make me cry.
Mafia II
What can I say, I'm a sucker for pretending I am a mobster. The game on a whole is a little short, but it was so much fun. Vito and I went shopping, joy riding, drinking and also on weapon wielding rampages. I got to crush a guy in a car compactor! Additionally, the driving mechanics were smoother than any other game I've played.
Beatles Rock Band
Okay, this came out at the end of 2009 but I never tire of it; I'm probably the biggest Beatlemaniac you know. It's true that regardless of mood, headache size or sleep deprivation playing this game and staring into the big brown (digitally rendered eyes) of George Harrison makes everything feel wonderful. I'd never played a game that actually made me feel good until this one.
Biggest let-downs:
Dead Rising II
I don't know, maybe it's because I didn't get to play the first one. But this game was just kind of tedious and boring. Don't get me wrong, I thoroughly enjoyed driving through zombie hoards on a dirtbike but that wasn't enough to keep me enthralled. I sent this back to GameFly after four days.
Saboteur
Receive vigilante directive, rescue comrade/murder leading Nazi official/destroy Nazi propaganda spreaders, escape Nazis via car/rooftop/hiding places, return to hideout. Repeat, repeat, repeat. Tedious. The only redeeming factor of this game for me was the way it'd transition between colour and black and white as Nazi forces weakened in the city.
Sad I missed it:
The Sims III Why won't GameFly send this to me?! It is all I want to play!
Alan Wake I do not own an Xbox. And this game is the reason I'm sad about it.
Looking forward to:
Metal Gear Solid: Rising Yes, Kojima Productions, please give us more. I'm not ready to be done with the Metal Gear franchise yet.
BioShock: Infinite Obvs.
Dead Space II The first Dead Space was so scary that I literally tossed my controller and had to leave the room.
Kim's Best of 2010
Hello ladies! Rachel, your picks are making me wish I owned an Xbox 360 bad. This year was a bad year for gaming for me. Mostly because I discovered Steam and WoW and had little access to consoles to speak of. I think that the only new game I played was also my biggest let down– I gotta agree with Danielle and point a sad, disappointed finger at Metroid: Other M. So er, my "best of" isn't much this time around, but I won't let that stop me.
Sad I Missed It:
Kirby's Epic Yarn Every time I go to Blockbuster to attempt to pick up Kirby's Epic Yarn there are precisely no copies. I'M ALL ABOUT YARN, PATCHES AND BUTTONS.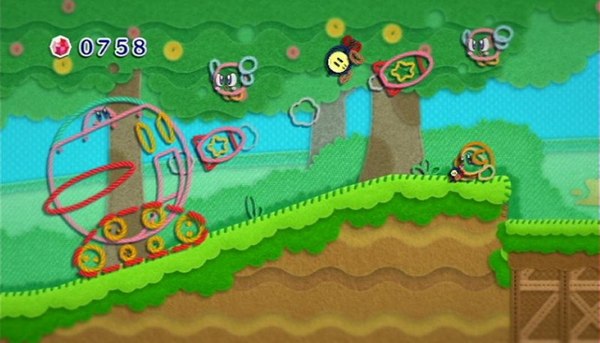 Goldeneye 007
Hoping to pick this one up soon. Having played GoldenEye for the Nintendo 64 with a fervour that I can only describe as religious, I am very excited to get my hands on this one.
Donkey Kong Country Returns
Other than those, I have already made some Donkey Kong Country Returns playdates when I can get my paws on it.
Looking forward to:
Mirror's Edge 2
It's sequel city. Did anyone play the first one? I feel like it was just me. It was super rad though. Excellently paced, super hot protagonist, great control system, slight nausea if you play it on a big screen, but 100% worth it.
Portal 2
I can't say enough about how fantastic this looks. Beautiful art, harder puzzles, more gadgets. Do yourself a favour and go watch some preview videos.
Legend of Zelda: Skyward Sword
My very favourite series. This one is supposed to be a prequel to Ocarina of Time, but very little has been revealed about the plot so I can't wait to be pleasantly surprised, as per usual.
Taylor's Best of 2010
I spent a decent portion of the year just catching up with 2009 releases like Assassin's Creed II, Call of Duty: Modern Warfare 2, Dragon Age: Origins, and Borderlands (all amazing, btw) but of course I played as many 2010 releases as I could get my paws on.
Red Dead Redemption
An amazing game, and it's a Western to boot! I love me the Wild West, and the free-roaming structure coupled with the atmosphere made this game a hell of a lot of fun. Rustling bandits out of their hide-outs? Don't mind if I do. I spent hours roping and breaking pretty horses, which I guess kind of devolves RDR into a sort of cowboy Pokemon, but who's complaining? Fucking nobody is, that's who.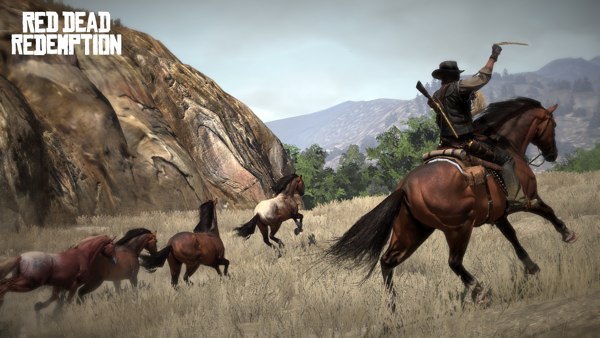 Battlefield: Bad Company 2
Hot off the heels of a waning Modern Warfare 2 addiction, Bad Company 2 was just what the doctor ordered. Okay, to be honest, the doctor ordered Trazodone, but fuck if I have time to take that stuff when I've got sniping to do. Sure, comparing Bad Company 2 to Modern Warfare 2 is overdone, but its lushly-rendered visuals really make killing en masse a pleasure unlike the bleak landscapes of MW2's twitch-paradise. BC2 was a lot of fun, and I can still play a few rounds without losing my goddamn mind, which is a good thing. There's something soothing and methodical about the pace of the game, and I really enjoyed that. And, you know, headshots.
World of Warcraft: Cataclysm
I haven't had a ton of time to dig in yet, but 1) ahem, we have an Auto guild and 2) Cataclysm, beyond introducing werewolves in top hats, made everyday questing and leveling a joy. Gameplay feels streamlined and involving unlike ever before. The love the devs have for their latest WoW expansion really shows.
Minecraft
Don't get me started. Also I think technically this maybe came out in 2009, but I don't care.
Honorable Mentions:
Fallout: New Vegas
This game a) let me make an extremely gay looking character b) was set in the desert and c) was awesome. I didn't have enough time to really get through the story, but what I saw I liked. I also didn't encounter any of the bugs anyone was complaining about, so it was all laser-guns and cacti for me.
Final Fantasy XIII
This might sound contradictory after I spent approximately 100 hours complaining about this game to anyone who'd listen, but once I got into the second disc I actually started having a lot of fun with the combat system. I had a breakthrough moment somewhere about twenty hours in.
Biggest let-downs:
BioShock 2
I saw a glimpse of what this game could have been as things started royally unraveling in the basement with that giant horror in the accomodatingly giant test tube thing, and for that I am let down. I said it. Hmph.
Final Fantasy XIII
Really? The fact that I had to expend twenty hours of my life to enjoy this game offends me down to my very core. This isn't some fucking soup in a crock pot, it's a video game for christ's sake.
---
What games did you love in 2010? What games broke your heart into teensy little pieces? Let us know in the comments!