RED DEAD REDEMPTION:
Something you may not know about me is that my upbringing was absolutely steeped in cowboy nostalgia. One side of my family settled in Oklahoma ("settled," that's a cowboy word for ya) and growing up I heard all kinds of starry-eyed stories about life in the prairie and the Wild West and how "the Indians would come into the house at night and kiss the babies if you weren't careful."
While I may never know what in god's name my great-grandmother meant by that last statement, I think eventually I was bitten by the cowboy nostalgia bug. And finally it's all come full-circle and I can combine my urban geek lifestyle with that of my forebears in covered wagons. I'm sure they'd respect me virtually dispatching outlaws and breaking horses in Red Dead Redemption's border towns. Yes, I am sure they would have the utmost respect for that.
So yeah, I actually managed to procure a little free time to fire up Rockstar's Red Dead Redemption and tap into my cowboy heritage via the Xbox 360. So far it's going really well. Here are my first impressions! I mean, my First Gloss– that's what I'm calling these previews these days.
1. Holy shit it's exciting to be playing a game that's not set a) in a war-zone b) in space or c) in a dimly lit horrorscape of some kind. Makes me wonder what other largely untapped settings remain for the gaming industry.
2. Your rough-and-tumble (that's a thing, right?) protagonist is one damn finely dressed gentleman. I really like what he's wearing as the game begins. I only have one of his outfits so far, but you can acquire more for playing dress-up through sidequests and whatnot, of course. I love the art direction and this era's style in general– It's a feast for the eyes. A feast I said! I always wish games that allow this degree of freewheeling would RPG-out and offer a huge amount of clothes and gear to acquire. I could do that all day. Also I would LOVE to design my own cowgirl. But I get this is a narrative 3rd person shooter and not some pansy-ass JRPG. I get it!
3. Okay, so I'm not far into the game, but I've already been sidetracked with flower-picking, coyote-hunting and fowl-shooting. This reveals a lot about my RPG roots probably, but I'm super pleased to have little sidequests like this built into the open world of Red Dead. I'm notoriously distractable in an open game, so I imagine I'll spend a lot of time roaming around aimlessly through the desert. But luckily, Rockstar anticipated that and put all sorts of fun, unpredictable stuff in the environment: the first time I wandered about fifty paces out of town I found a dude who was getting eaten alive by cougars and clearly needed a hand.
4. I cannot ride a horse to save my life. I mean, I think I can in real life, actually. I cannot ride a horse to save John Marston's life, rather.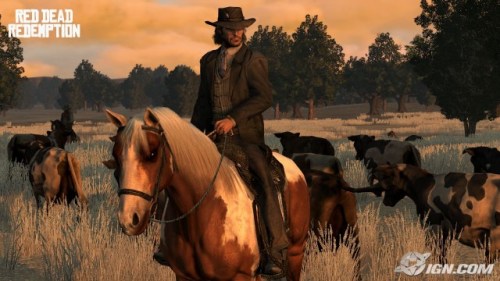 5. Red Dead Redemption is brought to us by the makers of Grand Theft Auto, a franchise notorious for letting you do Whatever the Hell You Want. So I expected things to start out real messed up, like I'd be double-crossing some Mexican drug cartel and raping and pillaging and all sorts of shit I'm probably gonna have mixed feelings about. But so far, I picked a lot of flowers and politely rode a train without even hijacking it. Okay, so MAYBE I accidentally shot some townsfolk with a shotgun. And I may have killed a dog I thought was a coyote, because it can be hard to tell. Oh yeah, and I accidentally skinned MY OWN HORSE after letting it get killed by wolves. That takes the cake for the most messed up thing I've done so far. It was sick. I pray it never happens again.
I'll be back with a full review after I stop hunting unsuspecting wildlife and picking flowers and actually follow the plot! But for real this time, not like when I said I'd be "right back" to review Final Fantasy XIII and what I really meant was 'ask me in November.'
Check out the Wild Wild Virtual West yourself, for the Xbox 360 or the Playstation 3, and let us know what you think!