Last Wednesday evening, because we are cooler than you, we attended a special Go Magazine sponsored "press reception" for French sex toy company Wet For Her, the first sex toy company created by lesbians specifically for lesbians.  Even the hot chicks in that photo are lesbians!
Before I go on, let me get this out of the way: there was a lot of vodka at this event. There were probs many other beverages as well, but I stick to what I know which is The Goose.
Anyhow, some brief background on this groundbreaking company with sexy packaging and cute t-shirts: these three hot French ladies — Alice Derock, Joanne Magris and Emilie Perello — were sitting around one day, probs eating crepes and drinking wine by the river as French ladies are wont to do, all like, "wtf, why are most sex toys designed by straight guys and why do they all look like penises?" (I would also like to add, why do all major sex toy company names sound so aggressively tropical/"wild" like Pleasure Dome and California Exotics and why are they made out of cheap toxic plastic and why do they break all the time. Unfortunately I was not there to share these insights, but they did just fine without them.)
"Why should straight men profit from and drain income from the lesbian community?wp_poststhese ladies asked. WHY INDEED. Especially when ladies can make shit like this.
From a feature on WET FOR HER in this month's Go Magazine:
"It was like a wasteland. You'd walk down aisle after aisle in store after store and never see anything identifiably lesbian; there was no lesbian gesture,' [Alice] says. 'This is why I created my first product. The idea was to take something specifically lesbian, something that lesbians do — like penetrate with fingers as a tool — and stylize it and make it elegant and useful, and symbolic.'

The point the women make has political as well as practical ramifications: they feel the prevailing attitude in the sex toy industry towards women is that 'anything will do — just throw them a toy and adapt it.' The perception is that women's sexuality in general and lesbian sexuality in particular are not that important. It's almost like 'Just give them any old thing that you've got.' Even in gay sex shops, it's the same thing. They mean gay men. Lesbians are never, or rarely, included."
So what happened after this revelation? We can only imagine and we imagine that then there was a musical montage, probs to Paolo Conte's Via Con Me, and a lot of special magic and before you know it these ladies had created GIANT FINGERBLASTERS! And now they have been in America, hosting events and meeting cool people like us! Here's one of the creators showing off the wares: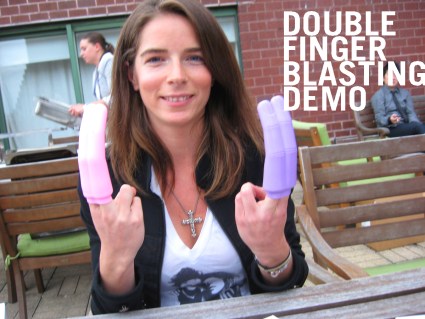 Yup. They come in two sizes and leave your thumbs free to do some clit stuff. They also sell lube and other stuff see:

The French girl told us about how the material is all special and when you're wearing it, you can still feel your lover's orgasmic muscle contractions through the toy. This made us laugh a lot like virgins, at which point Grace asked if anyone wanted to participate in a race of the "eggs" (vibrating toys operated via remote) and we did. My fingers pop in for like half a second here, watch for the black nail polish!:
Basically, these girls have something pretty fuckin' awesome going on, I mean they even have boyshorts, so they are armed and ready to attack the lesbian market and this is a really really cool company and I love vodka.
You can buy your own magic fingers, get lube and support lesbian-on-lesbian sex toy lovin' at their website or at babeland or blowfish!
SEX IS NOT WHAT YOU THINK:
Eden Fantasys Unethical Technology is a Self-Referential Black Hole: How a sex site used trickery to artificially raise its stats. (@maybemaimed)
More on their long history of suck: EdenFantasys.com Shoots Itself In The Balls…Again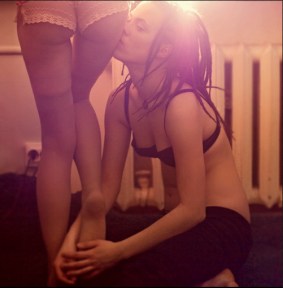 SAFE SEX:
Guess what we wrote an article about sex this week too if you want to see it, it's about safe sex and there are cartoons. (@autostraddle)
MIRANDA KERR TOPLESS:
Yes that's right, miranda kerr topless. (@nerve)
COREGASM:
NY gym touts Coregazm class: Workout, have an orgasm. Yup. (@dazereader)
ISRAELI GIRLS:
68 Real Israeli Beach Girls! What fun! (@coed)
You know what else is fun? You're actually gonna get two NSFW Sundays today. I know.  We love you so much that we're thisclose to making love to you.