So two days ago or maybe it was 6 weeks ago (my grip on the particulars of my relationship to the spacetime continuum has been…loosed, so to speak) I decided to see what all the hubbub was about in this hot new indie game called Minecraft.
You know when you have to screw up your eyes all funny to see something, like that optical illusion with the two candlesticks and two hags, and then you can't ever see the thing you initially saw again because perceptually, it's gone forever? Yeah, this is exactly like that. My life has changed in ways irrevocable, and what I have seen cannot be unseen.
Like LEGOs for Geniuses and Weirdos:
Minecraft is a deceptive piece of 8 bit trickery. Developed by one lone dude in Sweden who goes by the handle "Notch," Minecraft is deceptively simple. The goal of the game is to build things. Easy, right? Build a house, build a Whataburger, build a to-scale replica of the 5th avenue Apple store if you want, but in Minecraft terms you're still thinking small; believe me, we're just getting started.
If you'd like to fast forward ahead a little, feel free to take a peek at a few of the more ambitious Minecraft projects out there, like this hulking to-scale model of the Starship Enterprise. Or perhaps you'd appreciate this ACTUAL WORKING COMPUTER that someone built within the game. As in, this virtual system constructed in the game of Minecraft is an operational 16 bit computer. My head exploded.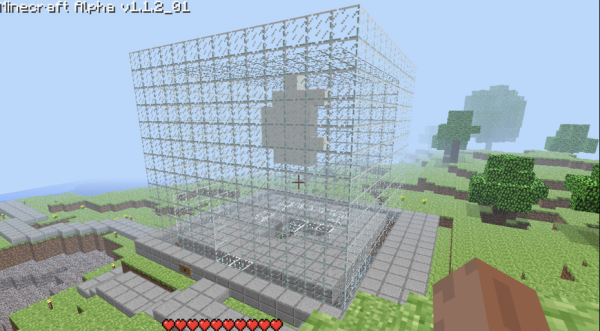 Getting Started in Minecraft:
Let's rewind a little. Download Minecraft, log in, and you'll be met with a screen that lets you know your particular (singular) world is being populated, much like that really gratifying lag load-time in Sim City 2000 circa 1993. Your Minecraft world is unique, generated randomly and full of pixelated plains, mountains, caves, waterfalls and sheep, all your own. Technically your Minecraft world is infinite, as the terrain continues to generate around you. Infinite. Put that in your pipe and smoke it.
Once the pixely horizon of your pixely kingdom has formed in full around you, you've got to decide how you'd like to play the game. You nesting types will of course chop down trees to build funny little huts and houses. You outdoorsy types will probably pick a rather dramatic cliff face to dig into.
Whatever path you choose, you build things in the game by harvesting the resources in the world around you. The entire world is comprised of blocks. Dirt blocks, water blocks, wood blocks, iron blocks, diamond blocks– all the blocks! You harvest blocks to make tools and in turn harvest more blocks to make more elaborate structures and eventually a virtual thing make of virtual cubic things to rival the Colossus of Rhodes or whatever if you're feeling ambitious.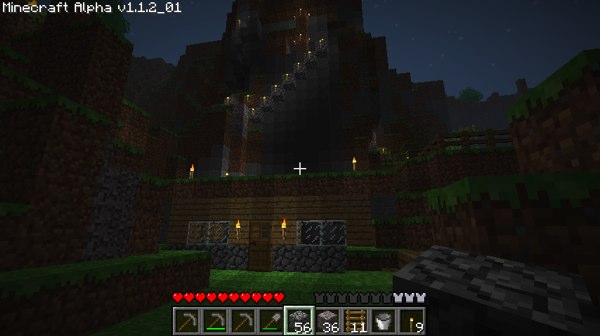 On Hobbit Holes:
Go on, dig your little hobbit hole or build your pixel shanty; doing whatever the hell you please is what Minecraft's all about. You might first feel harried to hunker down because at night oddly-rendered, visually incomprehensible ghoulies come out to chomp on your bones and explode your otherwise safe structures into smithereens.
Not your cup of tea? You can turn the night-demons off and build your odd little world unfettered by the chains of impending doom at nightfall. I eventually turned my own roaming night-horrors off in favor of the productivity boost of not being chased by explosive things, or rather the non-productivity boost, because I played that much more Minecraft.
The Point of No Return or How I Haven't Felt Like This Since I Got That Scuba LEGO Set for Christmas in 1997:
Once you've made your first rough structure, you might feel an euphoric kind of 'aha' moment sweep over you. Minecraft is about making treehouses, yes, the game is an experiment of much larger proportions. This feeling cannot be articulated properly, but I don't think a comparison to Lewis and Clark's first winter in 1804 is unmerited. Once I realized just how far those pixels really do stretch on in every direction, my instinct was to dig down, to dig within myself and into the 8 bit earth before me.
Two hours and about four peaks and troughs of absolute unadultered ecstasy later, my inventory was chock full of diamonds and glory. With diamonds I could make diamond pickaxes, and with stronger, faster pickaxes I could harvest more rare minerals faster. With glory, I could be glorious.
You see the nature of my dilemma.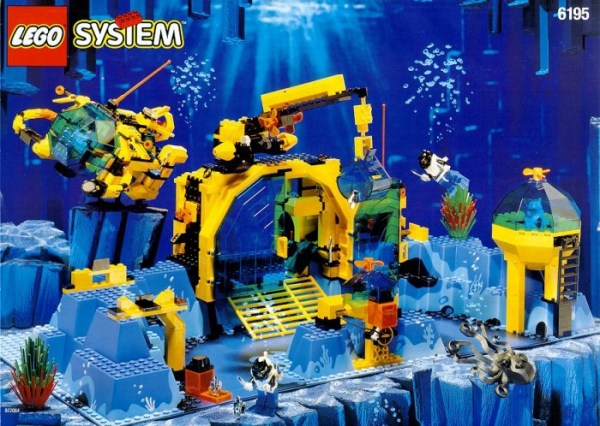 Stepping Back:
I had to take a break from the game to do some soul searching. In this 35 some-odd minutes, I realized that Minecraft must hotwire the pleasure centers of my brain, french-braiding those delicate, excitable brainparts into my imagination ganglia and carefully hooking the whole system into some kind of nostalgia trip-wire. We're all screwed.
The formula goes something like this: "Hey, this shit reminds me of LEGOs. Huh! LEGOs were so sweet. I think I'll just dig with my modest pickaxe for a little while and see what happens. OH MY GOD, I just found an underground waterfall, I should probably dig down to see what happens. Dig Dig Dig. HOLY CHRIST a river of lava, right when I least expected it! I'll just dig for a few more minutes…"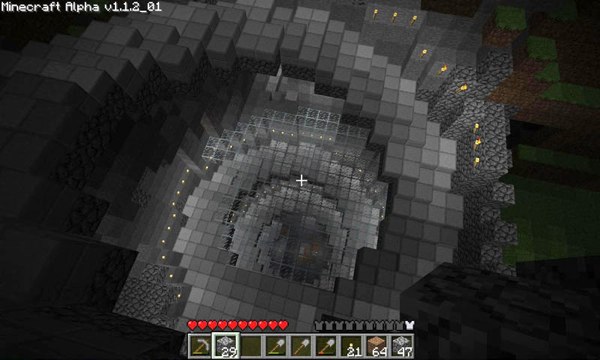 To top it off, Minecraft is essentially a gaming experience in which the game itself and the overworld overlap 100%. And nothing gets my dopamine pumping like a good ol' fashioned overworld. Take that, plus the convergence of an infinite world map, open-ended boy scout-like exploration, 8-bit retro nostalgia and infinite expandability and Minecraft becomes a spiral of joyfully masturbatory creative possibility. If you can think it, you can make it. Even if it's a fucking concept.
Or, you know, you could just build a treehouse.
Download Minecraft now for 10 euros, a small price to pay for endless cascades of bliss, I think.