[Disclaimer: It's entirely possible that this lengthy post should have just been added to the wordpress draft entitled "Things to Look at When You Are Not Sober or Even When You Are, Whichever" which I believe Laneia started a few months back and which, when it is published, will probably be really cool to look at when you're "not sober."]
So, because approximately .075% of Glamnation's population descended upon my American Music Awards post last week to talk about Adam Lambert's E! True Hollywood Story, I found myself watching Adam Lambert's E! True Hollywood Story on YouTube last night. There wasn't much new information in there for those of us who've already read everything ever written in (relatively) mainstream media about Adam Lambert. But kids, WHAT A TRIP DOWN MEMORY LANE!
[part one, follow the magical youtube trail to watch the whole thing]
+
Were we ever so young?
I was only 27 years old when Adam Lambert entered my life via Alex's insistence that I had to see this guy she was obsessed with do this amazing Mad World cover. I was like, "I think that song was on The O.C. soundtrack" but also "Hot."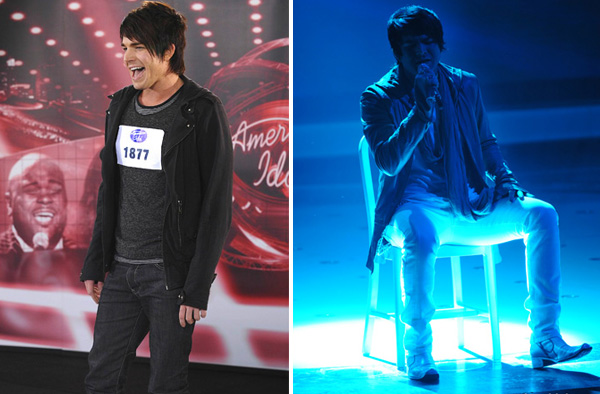 Then, I actually started getting excited about American Idol for the first time since that la-la-la-long-ago summer when I only ate peanut butter, tortillas & vodka-crans, snorted a lot of Vicodin, and was strangely obsessed with Ruben Studdard.
MASSIVE Sidenote: This is special because I categorically hate all network television except The Office and Law & Order, but I have a REALLY SPECIAL HATE-SPOT FOR AMERICAN IDOL.
Like, my #1 Feeling about American Idol is: Have you seen Hey Paula? and my #2 Feeling is: I feel like Ryan Seacrest is not gay — like his sexual orientation, I fear, is for ladies — but when it comes to the rest of Ryan Seacrest? I feel like there is a gay starfish in his ribcage getting a tan on that stage! You know?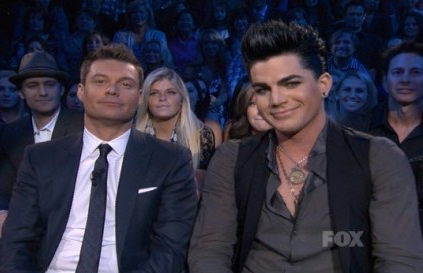 And my #3 Feeling is: For Chrissake Barack Obama could deliver six State of the Unions in the amount of time it takes Ryan Seacrest to finish a motherf*cking sentence about who is/isn't moving on to the next round/location/musical-number.
My #4 Feelings is: I hate America, I hate idols, I hate everything, I hate this motherfucking show.
This picture represents how I usually feel if American Idol is on the Teevee
+
When American Idol debuted in 2002, I really didn't "get it." Having graduated a few years earlier from one of those arts boarding schools where parents send their baby-genius musical starlets in hopes that they will evolve into Julliard/Carnegie-Mellon students and/or Broadway/Film/Rock stars, I was fundamentally flabbergasted by the Idol concept. "ALL OF MY FRIENDS ARE BETTER THAN THESE FOOLS!" I yelled at the television. What the hell was going on? WHO WERE THESE RELATIVELY UN-TALENTED PEOPLE? This was the beginning of my eight-year hate-affair with This Fucking Show.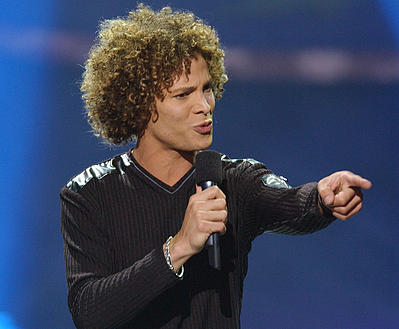 But Adam Lambert? Adam Lambert was essentially a clone of my aforementioned wildly-talented friends (gay, cute, liked costumes, kissed boys, starred in a national tour of a popular musical) that I almost felt he WAS my friend. Finally, a contestant I UNDERSTOOD. [I still had to mute everyone else's parts, obvs]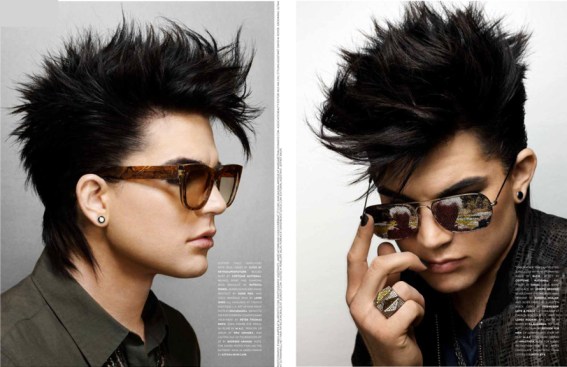 Autostraddle had a feeling about this kid (as did many other psychics), and actually did our very first Autostraddle Roundtable ever on May 1, 2009, in response to an article on Yahoo which asked "Will Adam Lambert Be America's First Gay Idol?" Opinions included:
Riese: Regardless of his sexuality, I'd much rather see Adam [not win and therefore be] working on a more edgy label than the crapmongers that packaged the underwhelming careers of Fantasia, Ruben Studdard, etc.
Robin: I think I've seen maybe 5 male contestants on this show… ever… whose orientation was not questionable.
Stef: Is this show even relevant anymore? I stopped watching once they made the audition specials like eight hours long.
Alex: It's difficult to get me to sit down and watch anything at all unless its Intervention or Survivor and I'm a slave to Adam's 6 minutes each Tuesday night.
That was clearly foreshadowing: he "lost," but we won. And by "we" I mean Adam Lambert and also the Radical Queer Liberation Army in my Mind.
See, our culture is arguably undergoing its first major Gender Revolt since the 60s/70s, when Women's Lib and hippie counterculture opened up some new ways of looking at sexual fluidity and the gender binary. Its accordant psychedelic flower-child rock music defined the 60s, but the 70s brought Glam Rock stateside and that scene really made its mark on gender norms — I mean it had a very gay sensibility, all of it.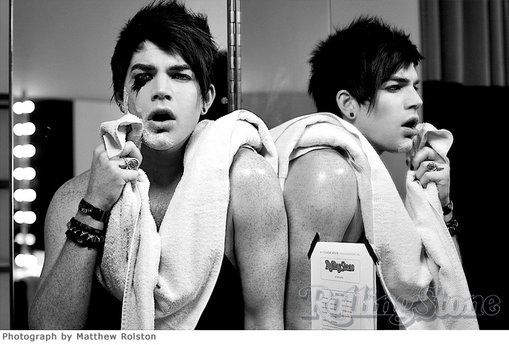 'Cause here's the thing: although hippies placed a concordant premium on authenticity, sexual fluidity, spontaneity and rebellion, they weren't quite as gender-liberated as they claimed to be. Many women and gays felt slighted by the fact that (as George Mosse observed), "the hippies' clothes and appearance tended to blur [gender] distinctions, and yet they were not meant to question a basic heterosexuality."
Conversely, glam rock offered a transcendent philosophy which let go of gender altogether and sought to create a "discordant collision between masculine and feminine gender codes" in a more tolerant space, with its first big star claiming allegiance right away:
Alice Cooper: "One of the things I'd like to do would be to play for Women's Liberation and Gay Liberation since so many people are trying to liberate themselves from the roles society has imposed on them."
A 1973 Creem magazine article (as quoted in Performing Glam Rock, by Phillip Auslander) pointed out that within "Androgynous Rock," "homosexuality and transvestism, while always present, were generally suppressed in rock culture in favor of displays of heterosexual machismo." Glam Rock did its best in that political climate to bring strength and sex in equal doses, dousing every performance with a flood of aggressively playful and effectively distracting theatrics.
Now it's 2010. Genderqueer is a thing. Gay liberation is a thing. Feminism is an increasingly popular thing.
Once again, we're starting to need new adjectives. Adam Lambert isn't "masculine' or 'feminine,' he's just Adam Lambert. At last cultural forces have aligned and Adam Lambert is here, proudly discarding any semblence of an (albeit already genderfuck-friendly and entirely heteroflexible) glam-rock-n-roll closet. This shit can THRIVE in all its occasionally homosexual glory.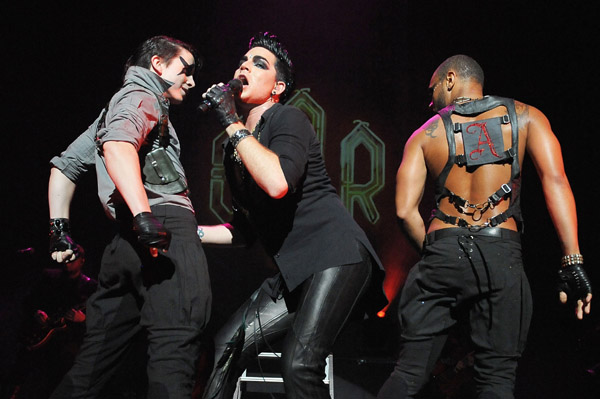 Furthermore, people dig this ambisexuality: Adam Lambert just won this year's Flecking Records poll for Sexiest Male of 2010, beating out that guy from Twilight and Leonardo DiCaprio (who was way cuter when he still looked like a girl).
Nat Garcia for Autostraddle Interviews Adam Lambert at the glaad awards
+
One of many differences between a pop star and a rock star is that a pop star puts image first and a rock star puts the emotional core of their music first — many expected Adam to "clean up his act" after the AMAs, like a pop star would do, but he didn't. After creating television's first live, unplanned male-on-male kiss, Adam responded to the backlash responsibly but unapolagetically. No shield of publicists, no censors. Thus he began really developing a fiercely loyal and surprisingly diverse fan base (some passionate fans even wrote a book! It's called The Meaning of Adam Lambert!) who appreciate Adam for his authenticity rather than in spite of it.
If anyone doubted Lambert's moxie following the AMA debacle and its subsequent toned-down talk show appearances, he made it clear in Sydney that he wasn't going to stop being himself: "..what's consistently interesting about Adam (and Lady Gaga for that matter) is that just when you expect him to retreat from his homosexiness, he freaking throws on some black latex sexpants and gyrates while a dude in underpants and leather humps a gold statue. "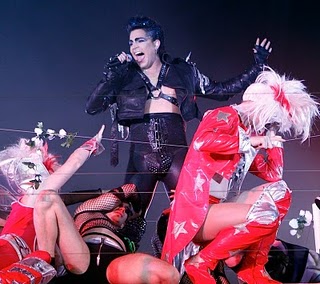 We're clamoring for authenticity over here — we all want something that's true but also beautiful, and that's why music is always at the center of major cultural shifts. When it's smarter for a musician to stick to their truth and take risks than it is for them to bow to conservative market forces, our culture is heading in a very positive direction. Lady Gaga, like Lambert, presents a genuine character (regardless of how flashy or constructed it may seem). There's no faux-edginess a la Avril Lavigne, nor is there the pre-packaged aftertaste we get from Gaga & Adam's anti-heroes, Taylor Swift and Justin Bieber. At a time when our community isn't sure where Obama stands on gay rights and we fear two steps back for every one step forward, we've seen this year that nothing will stop Lady Gaga from advocating for gay rights.
And nothing will stop Adam Lambert from kissing boys.
Tokyo, in October: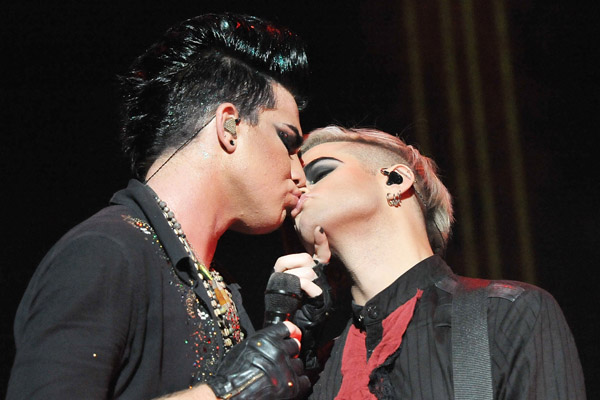 Yup. We've come a long way since Boy George, baby.
Adam's antics aren't Ozzy-Osbourne-eating-the-bat-style irrational or Madonna/Britney/Christina kiss-style calculated, either. Adam adjusts rationally when necessary, like for morning talk shows and concerts in Malaysia, and like Gaga (who dressed down for the HRC and took off her sunglasss for Barbara Walters), it's his true-to-his-art authenticity that enables him to responsibly navigate these standards in shades of grey.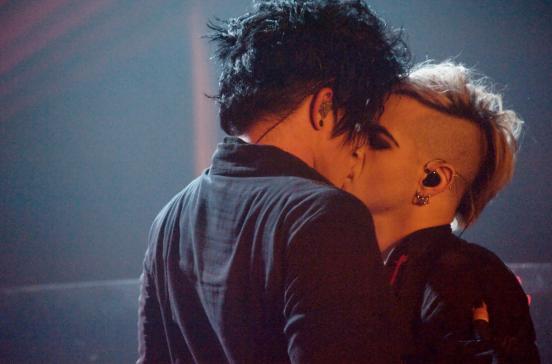 In Paris for a Glam Nation concert on November 18th, Lambert covered Jimi Hendrix's "Purple Haze," changing "excuse me while I kiss the sky" to "'scuse me while I kiss some guy." (Fun fact: Kissthisguy.com, the archive of funny misheard music lyrics, is named for that famously misheard Jimi Hendrix lyric and Hendrix himself liked to switch up the lyrics sometimes).
In Amsterdam, Adam Lambert sang the song, fully lit a joint on stage, requested that the audience excuse him while he kissed this guy, and then proceeded to kiss this guy (Tommy, of course):
DRUGS AND HOMOSEXUALITY!!
+
Anyhow, MY POINT IS that basically, while watching this fantastic E! True Hollywood Story, the Oracle spoke to me and it said: "I have a feeling that Adam Lambert's second full-length album is gonna be intensely fucking good. He has it in him — we know this now. Like it's gonna be the album that some indie brooklyn veganindieponyhipsterdinnerfork dotblogspotdottumblrdotcom has to give a positive review despite the fact that it's the guy from American Idol, because it's that good."
See, For Your Entertainment is pretty awesome, is charting well, and (most fans and) I obviously would make love to it any day of the week AND Soaked & Whataya You Want From Me are killer tracks any which way you cut it. But in my experience, it doesn't surpass a casual music-snobby listener's presupposed notions about Adam-from-Idol at first listen. However, I really have a feeling that his second full album is going to be out-of-your-mind-incredible and will be on a lot of critics top ten lists. In other words, we're talking about "art" here.
Also exciting? The potential of "Adam Lambert Acoustic," due out December 6th. HOW FUCKING SEXY IS THIS PICTURE?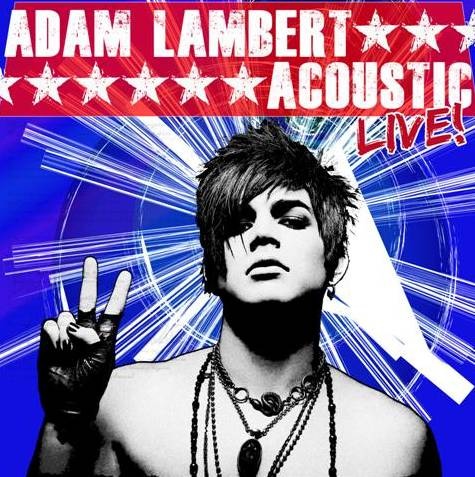 Conclusion:
Ultimately though; it's not the boy-kissing and theatrics and genderf*ckery that makes Adam's performances so meaningful for his fans. That's just part of it. The other part, I think, is that when Adam struts up to the edge of the stage and gushes, "you're all gorgeous, and beautiful," you believe him because he's looking at you when he says it. And somewhere in that crowd is an awkward, lonely, singing/dancing kid (or his Mom) like the kid Adam Mitchell Lambert used to be, who for one moment realizes that he is, really, gorgeous, beautiful, and definitely not alone.
Ok I'm gonna go have some more Vegan Zucchini Chocolate Nut Bread left over from Thanksgiving right now and listen to Dar Williams.