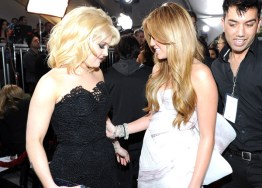 Well, last year at the American Music Awards, Adam Lambert and his special friend Tommy swapped spit onstage and everyone died. That's why this year nobody was alive to watch or care about the American Music Awards, which happened last night. Actually nobody who works here has a television or cable, more or less.
But luckily other people watched it, like the smartie cleverpants ivyboys of my second-favorite website, The Awl. These are my favorite parts of The Awl's Liveblog:
8:02 p.m. Now, Rihanna is traveling through a kudzu field of glowsticks while wearing a bikini top that looks like it was crafted from dip-dyed dish towels while performing her version of Beyoncé's interpretation of Axl Rose's snake dance.
8:20 p.m. Stomp meets Jersey Shore meets my living room being about 95% brighter than it was before this performance started.
8:23 p.m. Oh, no, my bad, next up is Miley Cyrus' homage to Alanis Morrissette Unplugged.
8:33 p.m. There is also the matter of the callback to Bobby Brown's outfit from the "My Prerogative" video.
8:35 p.m. Oh great, everybody get excited for Taylor Swift to pull her "omg I'm really popular I can't believe it" act out for the 23,405th time.
8:49 p.m. I like how Fergie is embracing the Peas' "cover every demographic base" aesthetic with an outfit that incorporates Gaga's cage, Katy's cleavage, and Ke$ha's muddy glitter.
9:06 p.m. Uh oh… here comes the gospel choir…
9:33 p.m. REMEMBER THE '90S?????????
9:46 p.m. And now here's Taylor Swift to be the buzzkill. And continue with the "people descending from the sky" motif.
9:47 p.m. At least Taylor's set is inspired by the cover of Fall Out Boy's Inifnity On High.
9:51 p.m. Important question: What is love?
9:52 p.m. Justin Bieber thanks Michael Jackson: "Without Michael Jackson, none of us would be here." OK, so his geography misstep is a bit understandable, but come on.
10:17 p.m. Oh man, a Dove ad just broke out on stage!
10:56 p.m. I didn't even like the New Kids when they were a "thing" but that synchronized crotch-grab? Ticket, purchased.
Sucked, right?
Anyhow we made a gallery.
+
+
These are our observations:
1. New Kids On The Motherfucking Block Y'all
I expected to like this but ended up feeling sad for everyone. Receding hairlines. Also, I'm not 8 anymore.
2. The Death of Fashion
Fashion died tonight. No really it did. Pull out your stirrups and turtlenecks ladies, the game is over, and fashion lost. It's dead on the floor, where Jada Pinkett-Smith, who is, btw, a total lesbian and you don't have to believe me but trust me one day this will come out in the open and you will be like, oh JUST LIKE AUTOSTRADDLE SAID, anyhow where Jada found it, birthed it, BELTED IT, and then put it on top of an innocent child who she then escorted to an awards show while wearing Xena's training bra and some crepe paper.
3. Here's who won:
Favorite Soundtrack Album: Glee: The Music, Volume 3
Favorite Rap/Hip-Hop Male Aritst: Eminem
Favorite Rap/Hip-Hop Album: Eminem, Recovery
Favorite Latin Music Artist:: Shakira
Favorite Country Female Artist: Taylor Fucking Swift
Favorite Country Band/Duo/Group: Lady Antebellum
Favorite Country Album: Carrie Underwood, Play On
Favorite Alternative Rock Music Artist: Muse
Favorite Soul/R&B Female Artist: Rihanna
Favorite Soul/R&B Male Artist: Usher
Favorite Soul/R&B Album: Usher, Raymond v. Raymond
Favorite Pop/Rock Female Artist: Lady Gaga
Favorite Pop/Rock Male Artist: Justin Bieber
Favorite Pop/Rock Band/Duo/Group: Black Eyed Peas
Favorite Pop/Rock Album: Justin Bieber, My World 2.0
Favorite Breakthrough Artist: Justin Bieber
Favorite Artist of the Year: Justin Bieber