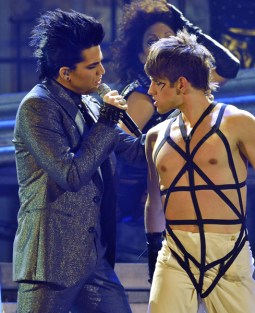 GLAMBERT: Bless The Smoking Gun for doing the right thing and filing a Freedom of Information Act request with the FCC to obtain more than 5,000 complaints the FCC received following Adam Lambert's late-night display of homosexy beeejerocity.
The Smoking Gun has pulled a few of the best ones — some are clearly liberal pranksters jerking the FCC's chain, one person misidentifies Adam as a "lesbian," some were writing just to say they enjoyed the performance and quite a few actually found the entire show offensive, which is nice, the equal opportunity prude reigns supreme. Oh yeah, and then there's the lady who is offended that Taylor Swift was subjected to perform with such perverts, and wishes death upon ABC.
SKINS: Kathryn Prescott tells DIVA magazine: ""I think teenagers now are very accepting of gays and lesbians. When you hear someone say something homophobic it really ages them. It sounds old-fashioned." Also, "although Kathryn, 18, has a boyfriend, she does admit in the February issue of Diva magazine that her boyfriend looks like another big lesbian icon: 'I think my boyfriend looks like La Roux!' (@queersighted)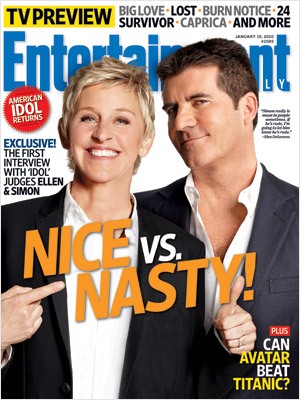 ELLEN: Simon Cowell & Ellen DeGeneres talk homophobia in Entertainment Weekly's cover story; Simon says he doesn't believe in being PC and Ellen says she thinks political correctness is important 'cause there is still homophobia and racism in the world. But that she's more concerned about animal rights. The full issue hits the stands on January 8th, which is like today, basically.
Ellen: Simon, I guess this is as good a time as any to tell you – I'm gay.
Cowell: Are you serious? No one told me that. Let me tell you something: We are the least racist, homophobic show in the world.
CYNTHIA NIXON: This week Cynthia Nixon will be kicking off a campaign to repeal Florida's ban on gays and lesbians adopting in Miami. The Florida ban is the only law in the country that categorically prohibits gay men and lesbians from adopting children. (@baywindows)
GLEE: The list of songs for the Madonna-themed episode of Glee has leaked! My bet is on Rachel handling the "Like a Virgin" honors. (@gleefan)
DON'T GO CHASIN' LESBIANS: Tionne "T-Boz" Watkins, one of the original members of R&B group TLC, went on the defensive early this week when Atlanta-based gossip blogger Sandra Rose tried to call her sexuality into question: "Do you want me Sandra Rose – is that it boo? Don't try to make me be on your team. I'm strickly dickly." (@blackgaygossip)
GLAMBERT: An announcement on Oprah's web site is calling for all crazy Adam Lambert fans to be in the studio audience for his big upcoming appearance on the show. (@advocate)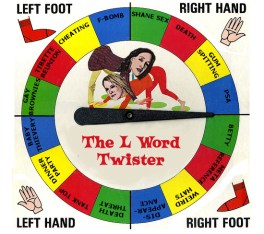 THE L WORD: Jennifer Beals' L Word Book Update: Looks like the book is now scheduled to be released later this month. Also; StuntDouble over at AfterEllen has created an L Word version of Twister.  (@afterellen)
LETTERMAN: GLAAD & HRC are demanding an apology from David Letterman over the  skit that mocked Obama appointee, Amanda Simpson, this week. (@pamshouseblend)
NINE: The reviews are in and it looks like Chicago was so much gayer than Nine. What did you think of Nine? (@gracethespot)
CASEY: The Ex-Girlfriend Twitter Battle to Say Goodbye to Casey Johnson: "We get it. You both loved this girl, and you'll miss her desperately. But there is no Twitter in heaven, and your competition to fawn the most over your fallen lover is excruciating." (@queerty)
KATHY GRIFFIN SVU: Kathy Griffin has been filming her episode of Law & Order: SVU this week, where she plays a lesbian activist.