PROP 8: 82,000 people signed a petition for it and San Francisco federal judge Vaughn Walker has decided that the Gay Marriage Trial Can Be Shown on YouTube: "[Walker] becomes the first federal trial judge in the West to make use of an experimental program put in place recently by the 9th Circuit Judicial Council, the policy arm of the federal courts in nine states, including California… to allow federal trial courts to broadcast nonjury civil trials, just in time for the Proposition 8 proceeding, which is scheduled to begin Monday and last two to three weeks." I hope they weren't planning on using any copyrighted music 'cause YouTube will take that shit down. YES even covers!
Intern Megha: "The fact is that the theory behind cameras in the courtroom never coincides with the practice. In theory, they are supposed to protect against a miscarriage of justice and provide the public with knowledge and information about the judicial process. In practice, well, you get the OJ Simpson trial — a media circus that reduces the level of discourse to witty affirmations by the defense and cheap jokes on Jay Leno.
That's why Judge Walker's plan is so genius. The man understands that media coverage of a trial — and especially this trial — can be used to inform and engage when it is in the right hands. Which is why, in his words, "it's important for the transmission to be absolutely within the court's control." The court has an incentive to show the nuances of the judicial proceedings, unlike corporate media, who's only incentive is to turn a profit…read more"
Riese: I have an idea, I think that if we lose the trial, we should spend the rest of the year as commando LESBIAN AVENGERS traveling the country, going to the weddings of conservative right-wing a-holes, and when we have a change to object (speak now or forever hold your peace, etc) we all should stand up and start chanting. Since they got to vote on our marriages, we should get a say in their's. Am I right, Ladies??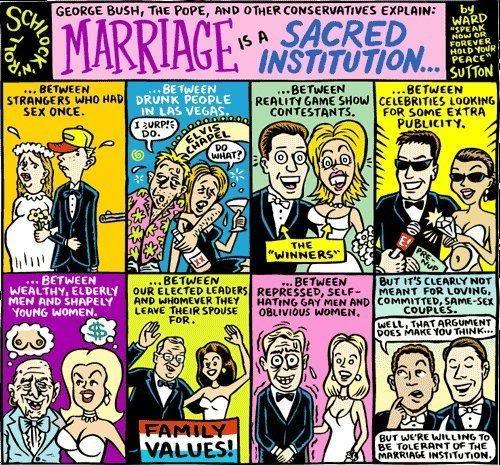 NEW JERSEY: A round up of all things New Jersey Remember our liveblog of the NJ gay marriage vote? Well here are some articles on that topic to wrap things up. Thus entitling it "a round-up." We're all on the same page here; yes, just checking.
"What happened this week in the New Jersey state Senate was an absolute disgrace. There's no explanation for it that makes any sense.  It never makes sense when elected officials sworn to uphold not only the Constitution, but the rights of each citizen to life, liberty, and the pursuit of happiness do just the opposite." (@star-ledger)
A breakdown of the vote, scroll down all the way for a video and slide-show. (@nj.com)
The New York Times article with some colorful quotes
Lambda Legal To Sue In NJ Supreme Court. (@joe my god)
Michael Doherty and the Bigoted New Jersey Senators Who Want to Keep Marriage Discrimination Legal. (@queerty)
Marriage bill defeated in New Jersey Senate with a statement from Gov. Corzine: "While I appreciate the Senate's willingness to publicly debate the marriage equality bill, I am deeply disappointed by the final tally on this common-sense measure that would have assured equal rights for all New Jerseyans." (@bilerco project)
PROGRESS: Portugal's Parliament has voted in favour of same-sex marriage: "It's a slight change to the law, it's true. But it is a very important and symbolic step towards fully ensuring respect for values that are essential in any democratic, open and tolerant society: the values of freedom, equality and non-discrimination." OH HM IMAGINE THAT: EQUALITY AND NON-DISCRIMINATION. Big ups, Portugal!
GLENN BECK: Glenn Beck says "African-American" is a made-up term: "African-American is a bogus, PC, made-up term. I mean, that's not a race. Your ancestry is from Africa and now you live in America. Ok, so you were brought over — either your family was brought over through the slave trade or you were born here and your family emigrated here or whatever but that is not a race." (@huffpo)
MAYOR: After having a private swearing in ceremony the 2nd, the mayor of Houston Annise Parker took a public oath with her partner standing at her side. She also had some pretty cool/inspiring things to say! "Do not fear to dream big dreams," she said. "Bring your whole self to everything you do. Face the whole world with dignity and integrity. I promise you the pain is worth the reward."
OUTING: Right Weighs in on 'Outing' of GOP Congressman: Some interesting debate from the conservatives on "outing" GOP members.