The New Jersey Senate is debating RIGHT NOW the bill to allow same-sex marriage. The Senate majority leader assured everyone the bill had NO CHANCE. How nice. But I guess we'll see!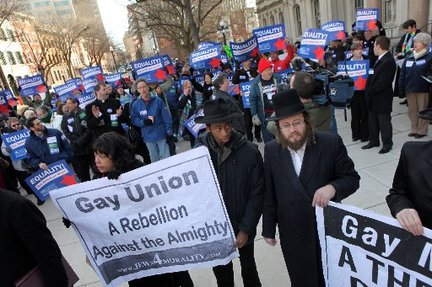 You can watch the live video feed here and play along. Ready? Go!
(Disclaimer: These quotes are approximate. We're pulling them from a video feed and they may be misheard. Also, all times are in Central Standard, cause that's where I live.)
---
3:53 PM: And that's a wrap, dear readers. I'm sure we'll meet again soon when some other legislature somewhere decides equality is lame.
Feel free to keep sharing your feelings in the comments though! Open thread!
3:47 PM: Oh hey, it's Sarah Shahi! How did she get in here?! Blame Laneia.
3:45 PM: So that went about how we expected. But don't worry, love still exists. LOOK AT THESE ADORABLE ANIMALS WHO OBVIOUSLY LOVE EACH OTHER VERY MUCH.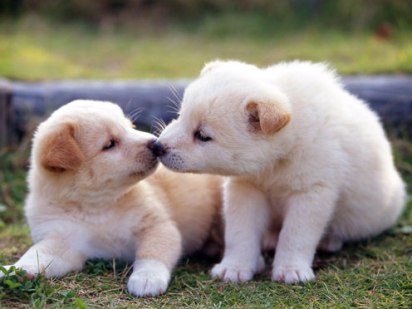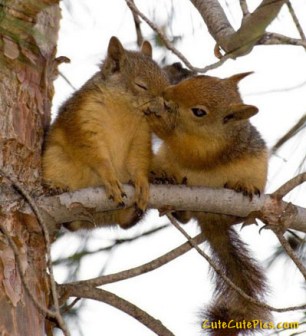 3:38 PM: And it was defeated. The clapping when he said "defeated" made me nauseated.
3:37 PM: THIS IS IT. THEY CALLED THE QUESTION.
3:35 PM: A senator whose name I did not catch, sadly: "It's important for me to stand up and say that everyone has a right to fight for their life, for the kind of life that we all want because that is the American dream. …We all need to stand up, and not judge, but stand up and support others fighting for rights."
3:32 PM: Are you ready to see some chicks making out? Yeah, I thought so. That's what these liveblogs are really for.
3:30 PM: Sen. Gordon gets it: All of the major civil rights victories in the past 100 years came from the legislature, not from referenda. Exactly, letting the majority vote on the rights of the minority is stupid. HOLLA.
3:27 PM: She's done. She was so great! Love her ending line: "Let these same-sex couples be full participants in society."
3:25 PM: Here's a history of this bill from the New Jersey Star-Ledger.
3:23 PM: "We cannot abdicate our responsibility. Once we take a state action, that action must be constitutional in its equal protection." She's my new favorite person, btw.
3:20 PM: She's making some pretty compelling arguments about why this is indeed a civil rights issue. Good point: women wouldn't have the right to vote had legislators not taken a stand. Just because this isn't a racial injustice doesn't mean it's not a civil rights injustice, she says.
3:14 PM: Sen. Nia Gill is up! I remember her from the Judicial Committee hearing. She also just brought up that the "traditional definition of marriage" used to not include interracial marriage.
"There is nothing you can do to tweak the civil union law to change the fact that same-sex couples are denied the benefits of insurance under national insurance policies because we had a separate and unequal system."
3:07 PM: Sen. Bono sounds like she's with us? She's being really vague. OH YES IN FAVOR, GOOD. Thank you, ma'am. Probably not the most effective speech, though, if I couldn't tell how you were voting until the end.
3:03 PM: Shit, he's voting no! But we gentrified his neighborhood! This is lame. He's from the gayest district in Jersey! WTF.
2:59 PM: Sen. Keene says that gay people turn neighborhoods around. We push out the drug dealers, he says. Yeah! The power of the rainbow flag, kids.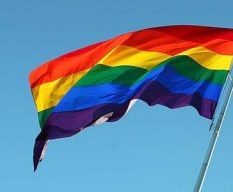 2:56 PM: There are a lot of senators talking about how the people of New Jersey should vote on this themselves.