by carolyn & riese
Books! They are really great. You just won't believe how great they are. You may think that the Internet's great, but that's just peanuts compared to books. Welcome to the very first edition of Lez Liberty Lit, our new column about literary shit that's happening that you should probably care about. We're aiming to put one of these together twice a month.
The name "Liberty Lit" was inspired by the short-lived literary journal produced by Angela Chase at Liberty High School in 1994.
Header by Rory Midhani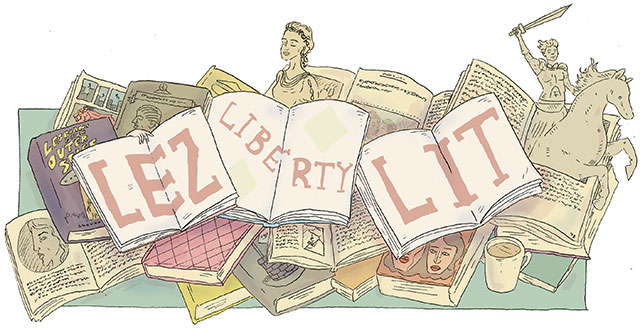 ---
Literary Internet Place of the Week:
The Lesbrary was created by Danika Ellis, a 22-year-old in B.C., Canada, and is run by thirteen awesome lesbrarians interested in lesbian/bi/etc books. It's an amazing resource with loads of links and original content. They recently reviewed Rubyfruit Jungle, The Mere Future, and Why Be Happy When You Could Be Normal? You should read the Lesbrary for: really poignant reviews of old and contemporary queer books and lesbian literary news.
+
Lez Liberty Lit Links:
In the Boston Globe, Cindy Aron writes about the history of "light" summer reading and how it corresponds with the invention of the modern vacation, which only really happened in the mid-nineteenth century.
The Women's National Book Association has launched a Women's Writing Contest for poets and fiction writers: "After years of celebrating published authors, extraordinary book women (see our WNBA Award under "Awards") and others in the field, we have decided it is time to celebrate emerging writers."
Goodreads reached 10 million users this month. Founder Otis Chandler says, "We've come a long way since Elizabeth and I built Goodreads from our living room, motivated by the belief that there was a better way to discover and discuss good books — and that we could build it."
In "Penis Rays, Self-Loathing and Psychic Voodoo: Autobiographical Cartoonists on Truth and Lies" at the Awl, Kim O'Connor sets out to "speak to a variety of prominent autobiographical cartoonists about where they draw the line between fact and fiction, both as creators and readers," including Allison Bechdel, who you love, and Lynda Barry, who you also just-so-happen to love!
Fun Fact: Oscar Wilde's first office job was editing a women's fashion magazine.
The Rumpus interviewed queer writer and performer Ivan E. Coyote about Gender Failure, her show with Canadian folk singer Rae Spoon; publishing; gender and identity; Persistence; and work.
Literary Jukebox, a new project from Brain Pickings, pairs books with songs by theme, such as Susan Sontag's As Consciousness is Harnessed to Flesh with The Magic Numbers' "I See You, You See Me," and Virginia Woolf's The Letters of Virginia Woolf with Astrid Williamson's "I am the Boy for You."
Female authors dominate NPR's recent poll of the 100 Best-Ever Teen Novels (on which Stephenie Meyer's books somehow rate higher than those by Scott Westerfeld, Robin McKinley, Kirstin Cashore, and Libba Bray, but that is a whole other post or twelve). In the Atlantic, Meghan Lewit discusses why YA favours female authors and audiences while other genres don't. She writes, "Even as teen fiction has become increasingly complex and dystopian, the genre comfortingly harkens to a time when reading was an act of pure joy and escapism," and notes that as a result, YA mostly ignores critics and gender snobbery. In Salon, Laura Miller wonders if something else is going on: male authors avoid YA because it isn't prestigious enough.
At Indiewire, Andre Seewood writes about Octavia E. Butler's short story, "BLOODCHILD," and how the need to place a racial framework on African American science fiction and fantasy writing excludes the parts that are about science fiction or fantasy, to the detriment of the work itself.
If famous dead authors had written in JavaScript, this is what it would be like.
UK publisher For Books' Sake is collaborating with the London Rollergirls on an anthology of roller derby-themed fiction. Submissions are due at the end of October.
Orange, the mobile phone company that has sponsored the Women's Prize for Fiction since 1996, withdrew its funding in May. Apple and Kobo are both in talks to be the next sponsor. The decision will be announced in September.
In the Bold Italic, Sam Harnett explores San Francisco's independent bookstores in light of Adobe Books' closure.
In the LA Review of Books, Lauren Eggret-Crowe interviewed performance artist and author Miranda July about It Chooses You, her new collection of essays, interviews, and narratives about the multiple cities within LA, as well as about connection, anxiety, and dislocation: "The feeling of dislocation is liberating because you're not in your usual place. You don't have to have your usual anxieties. You're not procrastinating on your usual things. And that's the relief. That's what's liberating to me."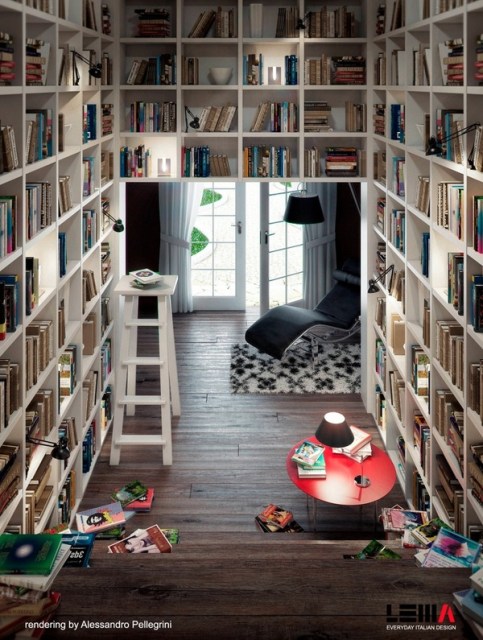 +
Books (and Events) to Watch Out For
Later today, Chloe Sevigny, Justin Vivian Bond, Eileen Myles, Karen Finley, and Johanna Fateman will be reading court room statements, prison letters, and other material from Pussy Riot detainees at the Ace Hotel in Manhattan. The event will be streaming live at 7:30 p.m. EDT.
Queer Between the Covers, Montreal's queer lit book fair, is this Saturday, August 18. The book fair highlights queer materials and culture, which is particularly important in the absence of a local queer bookstore. It is happening at the same time as, but is part of an alternative to, Montreal Pride. Check it out at Centre St-Pierre, 1212 rue Panet (metro Beaudry) in room #1205 (the space is wheelchair accessible).
Rae Spoon will be releasing their first book, First Spring Grass Fire, this September. First Spring Grass Fire is a coming-of-age book about a young person growing up queer with a strict Pentecostal family in Alberta: "I would stare at the slivers of the Rocky Mountains that I could see from my bunk bed and imagine crawling over them like they were tiny pebbles to the ocean. I would look into the clouds for messages that confirmed my doubts and found nothing―just a huge God-filled sky over the dry grass on Nose Hill, brown after the snow had melted and waiting for a cigarette to set the first spring grass fire."
By Cecile, by Tereska Torres, is also coming this September. Part of Feminist Press' lesbian pulp fiction re-releases and set post-WWII, a girl marries an older man only to take up with his mistress and write about her life using her husband's name as a pseudonym.
The first four chapters of Adaptation, an upcoming YA sci-fi thriller from Malinda Lo, author of Ash and Huntress, are available to read online. Here is how it starts:
"The birds plummeted to the tarmac, wings loose and limp. They struck the ground with such force that their bodies smashed into dark slicks on the concrete.
'What the—' Reese Holloway pushed herself out of the hard plastic seat facing the foor‑to‑ceiling windows. Outside, heatwaves rippled over the oil‑stained runway. She glanced back at David, her forehead wrinkled. 'Did you see that?'
David Li looked up from his book. 'See what?' His dark brown eyes refected the hard, bright daylight in tiny dots of white.
Reese tried to swallow the flutter of self‑consciousness that rose within her as David met her gaze. She pointed at the windows. 'These birds just fell dead from the sky.'"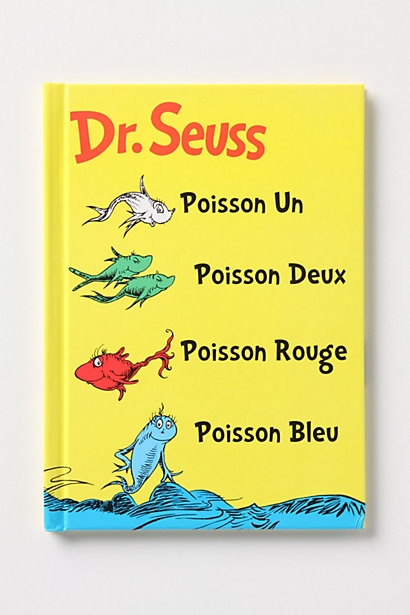 In Case You Missed It on Autostraddle This Week…
Malaika reviewed Shani Mootoo's "Cereus Blooms at Night", then she also told you where to find a billion literary tumblrs, Fonseca got to know Gore Vidal and we made a list of the best YA Novels for queer girls.
If you have an awesome literary website, event, or book that is about queers, feminists, ladybusiness, or just might be relevant to our interests, tell Carolyn about it on Twitter.