Hi! Welcome to your Weekly Tuesday Televisionary, which we're dishing up "team style" this week. We ambitiously cover very many shows that were on the teevee during the past week including My Life on the D-List, Nurse Jackie, Weeds, Intervention, 10 Things I Hate About You, True Blood, Better off Ted, and Drop Dead Diva and we bring you two hot girls of the week since last week we forgot.

True Blood
(by Laneia)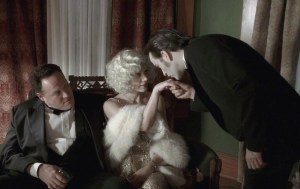 First of all, the little preview thingie before the episode introduced me to a new HBO series, Bored to Death, with Jason Schwartzman. So I looked it up and you can watch the trailer! Exciting, y/n? I have one word for you: KristinWiigAndParkerEffingPoseyOMG.
I hate to call Best Episode of the Season without having seen the entire season , but this week's True Blood was ahh-maze-zing! Strong contender for Best Episode of the Season, amirite?! Allan Ball brought out the 1926 flashback and I nearly fell out of my chair. Hello! Vampire sex on the bloody deathbed of a flapper wannabe who is still gushing from her neck?! This is why I watch this show, Allan! Thank you!
"Fuck prohibition!
[laughter]
If you'd like, after your other guests leave, Guillaume and I could stay and we could all fuck … prohibition somewhat further." [Lorena entices the unwitting couple]
After Mama turns off Hoyt's phone, he's forced to tell her the truth about Jessica. Oh that's right, ladies. Jessica's not a money-hungry slut, she's a vampire!
"I told you I would only let you date a girl like that over my dead body, and I meant it" [Mama drops a little foreshadowing?]
Sam finally asks Yawn Von Boringstein where her scars came from and all I can think about is how filthy that pool table is. I mean, raise your hand if you want to have sex on a pool table at Merlotte's. Ugh. But whatever — her answer seems plausible enough and we all get on with our lives. And they start having sex, again. Just think of the amount of chalk and beer and fried food and germs on that table, you guys.
Hey, Isabelle has a Hugo! He's a human and loves her very much. I'm a human and I love Isabelle's mouth very, very much. I'm not sure I paid much attention to the rest of this scene. Look at those lips!
Jason and Luke get to make a platform for "Meet the Sun", which is this super cool ceremony in which a vampire gets chained to a cross and burned at sunrise! If the evangelicals in True Blood are supposed to be a thinly veiled metaphor for how Christians view gays, should I throw up now or later? [Read Ball's take on vampire = gay here]
Right, so Hugo and Sookie take a trip to the Fellowship of the Sun under the guise of engagement, which eventually gets them thrown in the basement because Steve and Gabe know they're fakers. Omg! Panic! Also, Terry has to tell Andy what's what when he gets a little rough with our dear Lafayette.
"You weren't on any damn gay cruise! Because if you were, you woulda come back with more pizzaz, not less!" [Andy questions Lafayette's wherabouts]
Jason makes a vow of abstinence which he breaks in under 12 hours! Have you ever been to a church lock-in?! Daphne is that crazy pig! Eric sends Pam to force Lafayette to sell more V! Maryanne-induced orgy in the woods! Sam's a sacrifice! I love this showwwww!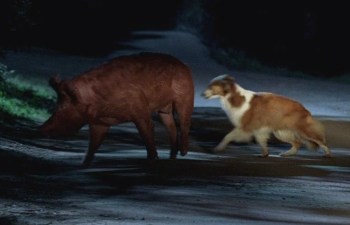 Drop Dead Diva
(by Intern Lily)
I will do anything Margaret Cho tells me to do. So when the Facebook version of Margaret Cho told me to turn on the channel that makes women cry (Lifetime) at 9 pm every Sunday, I happily obliged. Luckily, Drop Dead Diva is not tear inducing. The premise is that Deb, a Price is Right model hopeful, died in a car accident (involving grapefruits) and, once in heaven, hits the wrong key on a computer sending her back to earth to live the life of an average-sized lawyer. It seems ridiculous, but T.V. is magic.
This week Jane (played by the seriously talented Brooke Elliott) and Stacy, her best friend from her life as Deb, decide that "playing lawyer" every day is exhausting and therefore a road trip to Palm Springs is totally necessary. My first thought, obviously, was that the writers should have turned this episode into the Dinah Shore episode. Unfortunately, Lifetime wasn't listening. However, they managed to do next best thing possible…a guest appearance by ROSIE O'DONNELL!!!
Rosie plays the judge in the case that holds Jane back from taking the trip to Palm Springs and also holds Jane in contempt when she goes crazy in court, calling one of the witnesses a "big fat frickin' liar". Meanwhile, Jane's trusty assistant, Teri (Margaret Cho), calls out Jane's nemesis, Kim, for being a "Venus Flytrap with boobs" when she manipulates the new lawyer in the firm (AKA Deb's old boyfriend) into having dinner with her.
All in all, Jane ends up winning her case (like always) and the hovering music in the backgroundindicates the inspirational moment of the episode. The show might be a bit predictable but the spirit of the characters, the wittiness of the writing, and the quality of the acting makes tuning in completely worthwhile. Much like the Lifetime channel itself, Drop Dead Diva is incredibly addicting.

Nurse Jackie
(by Intern Vashti)
Last week on Nurse Jackie: God! Money! BABIES!
(Cue opening sequence that, even after seven episodes, I still don't understand. Are things going forwards, backwards? Both?)
The show starts off with Jackie and Eleanor outside of the hospital talking about how Grace is going to start school at Immaculate Virgin ("Isn't that a bit redundant?") and money issues. Dr. O'Hara offers to pay the tuition because "even in this economy [she's] bulletproof." This is the part where I butt in and tell Jackie one of the life lessons I learned during my first year of college which is that friends and finances don't mix. Jackie gives Eleanor the ol' "thanks, but no thanks." Also, Eleanor is super stressed out you guys! Just look at her shoes!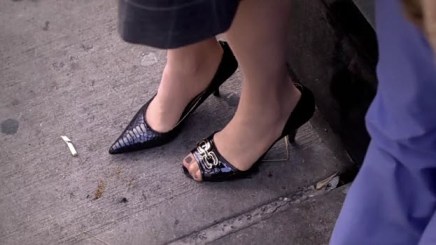 Back in the ER, Akalitus discovers a seemingly abandoned baby on one of the counters. First off, I'd like to know why no one saw the baby before she did. I mean, I realize an emergency room is a busy place but I'd like to think a crying infant in the middle of the nurses' station would garner more attention. Anyway, she picks up the baby and starts making the rounds asking "Whose baby is this?" to no avail. Next episode let's get an answer on that? Kthx. Akalitus "gives up" on her search and instead takes the baby back to her office to wait for social services and give her/him paperclips, you know, for funsies. Clearly she's really just a big old softy underneath her cold-hearted exterior.
Upon receiving a textual message from Eddie saying that he has something for her, Jackie heads over to the pharmacy. Surprise! It's their one year! Jackie is caught off guard and slips up by saying "it's not March" which is obvs her and Kevin's anniversary. She opens the gift from Eddie and makes the "I can't believe this affair has been going on for a year already and even though I care about him I could never wear this bracelet LEST I BE CAUGHT BY MY HUSBAND!" face, seen here:
Eddie calls her out for using him to get her pill popping fix. "Too bad it's not made out of vicodin." Zing. Roasted.
After God, the "homeless guy with an apartment," who talks shit all day tells Zoey she has a bald spot, she goes to Mo-mo for comfort which leads to the best line of the episode and another reason for me to love Zoey:
Mo-mo: Daddy's gonna fix this.
Zoey: Mo-mo! Don't! God's mean!
That evening Dr. O'Hara goes to Jackie's place because, after finally letting her guard down, she admits that her life is "in shambles" due to the supposed criminal activity of her stepfather. She does a good job getting wasted and insulting Kevin. The next morning, she tries to steal Jackie's bills so as to pay for them herself but Kevin finds them in her purse. He gives Jackie the "who does this rich bitch think she is?" look.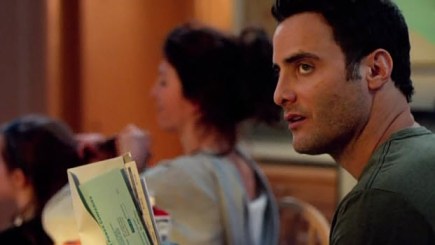 There are a lot of intense/loaded facial expressions in this show. Just sayin'. Also! Fiona is adorable and I love her.

Intervention: Danielle
(by Riese)
This week's Intervention was about Danielle the everything-addict. Danielle's from Canada, where she takes advantage of the relatively low cost of prescription drugs to ingest a pharmacy's worth of meds every day, including 50 daily percocet.
Danielle's fine though obvs, 'cause unlike her (5-years-sober) alcoholic sister, she's "never peed the bed." The fact that Danielle has yet to pee in anyone else's bed, therefore requiring subsequent sheet-changing and clothes-washing, is apparently Danielle's crowning achievement and proof of her well-being as she cannot stop talking about it.

Danielle cuts/burns herself & neglects her two children & emotionally abuses her tender twinky whipped husband Rod & fights physically with her sister in front of the kids. Once again we have the hets producing more human lives before they get a handle on their own damn selves. Speaking of unnecessary reproduction, we learn that Danielle's Mom let the girls party from a young age 'cause Danielle's Dad was an abusive alcoholic (a "fun drunk" says Mom), D did mushrooms, acid, etc., and dropped out of High School at 18. She went on anti-depressants which worked, then Mom gave her a percocet for pain one day and apparently this one pill set off an endless downward spiral.
I wanted to like Danielle, b/c I know personally how misunderstood major depressive disorder is—people think you're selfish or you're lying about how crippling it can be. But zomg, by the time we got to the intervention itself I didn't care about ANY of these people! Not 'cause of her addict behaviors, I realize it's a disease, and I understand depression —  but 'cause she was ignorant & rude & kinda just stupid, surrounded by vacant enablers who seem to lack joy in their lives besides taking care of the neglected children of the day. The kids were real cute though!
One thing I noticed straight away — where was the part of the photo montage where everyone is like "until the age of 5, [ADDICT] was such a sweet girl!" "she just lit up the room!" "she was in the marching band, everyone just loved her!" "the moment she was born I knew she was so special!" The photo montage instead was all about how she got into drugs and her Dad beating people up.
At the Intervention I was mad at Dad for talking all condescending about D needing to be there for her kids while meanwhile he was drunk for his kids' entire childhood, and strangely his new sobriety routine allows him to drink from October 23rd to Dec. 31st every year because that's how much he likes scotch.
She went to treatment and got better and I left wondering: what meds is Danielle on now that she's all better? Probs Wellbutrin, that shit fixes everything. And "who did her husband meet while she was in treatment, 'cause that divorce seemed to come out of nowhere?" and 'was it a dude, 'cause he had frosted tips."

Next: 10 Things I Hate About You, Weeds, Better off Ted, My Life on the D-List and TWO hot girls of the week!
Pages: 1 2See entire article on one page