Rollerderby is real you guys it's not just in the movies and also it happens to be really hot! Crystal checks out the Sydney Roller Derby – read now read. Tuesday Televsionary will drop before nightfall.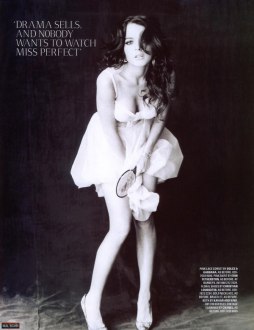 ON AUGUST 15TH You are going to have to make out with someone of the same sex. It's like large-scale soft-corn porn or else a political movement/action referred to as the National Call 4 Non-Violent Civil Disobedience Kiss-In. Read all about it!
IT'S ELECTRIFYING! Is John Travolta Scared to Leave Scientology Because They'll Out Him? Want to know what I think? Okay I'll tell you! YES! That's what I think! Yes! (@queerty)
PALINISM: We know we're behind the 24-hour news cycle on this, but we can't believe Sarah Palin's speech actually happened : watch her descends into complete nonsense like a Stepford Wife coming undone. (@gawker)
LILO: Lindsay & Sam continue to have drama. The other night, the paps heckled LiLo while she was trying to pull a simple Melissa Eth move on SamRo by camping out on Sam's porch, 'cause she'll be home, she'll be home, she'll be coming home soon.  (@tmz)
KATHY GRIFFIN IS NORMA GAY: K-Gee is actually serious for one second, and it's to state her new dedication to Prop 8 activism. She hits up "power lesbian" Melissa Etheridge to discuss her shame over California's vote & her desire to win an Oscar. Hilarity ensues. Check out Kathy's Bravo TV site, with a new gay rights focus. Here's an un-aired clip of Kathy aka "Norma Gay" saying we need more than just unions, we need marriage!
#STRAIGHTPANIC: The straights are dancing in her face guys! And I agree! (@velvetpark)
WATCH: Out in Silence – When a gay man puts his wedding announcement in his hometown paper, he's shocked by the hate mail he gets. So he goes home to ask the question — has anything changed in 25 years?

GOD HATES FAGS ETC: Learning to Tolerate Intolerance when Westboro Baptist Church strikes: "Since being obnoxious does not violate the Constitution, and since these people were clearly beyond reasoned argument, and since there were only three of them, you might have thought that a wise response would be to ignore them." (@nytimes)
I TOOK MY WIFE'S LAST NAME: This is an insanely cute essay from a recently married man who took his wife's name and explains why he chose to. (@the globe&mail)
BROADWAY: Buoyed by reliable cash-cow productions like Wicked and West Side Story, Broadway's latest season racked in record revenues, prompting speculation over whether the theater world would break the $1 billion mark in the near future. (@advocate)
TRANS-SEX: This week's Sex Diary is The Female-to-Male Pre-Op Transsexual – There are a lot of good-looking women as I bike down Fulton Street. Try not to stare at boobs, as I am basically a 15-year-old boy. I'm still learning this. I have been on hormones for two-and-a-half years, and am transitioning, female-to-male. I am fully passing, and pre-op. Being on testosterone has made me a much more, um, visual person." (@nymag)
L WORD THE MUSICAL: Ilene Chaiken finds herself standing in front of a group of women paying attention to her, begins talking about The L Word Movie, and how it's gonna happen. (@dorothy surrenders)
REALLY, PAPI! REALLY! Interview with Janina Gavankar –  "Being able to walk away from a project having Pam Grier as a career advisor, yeah, it's infinitely valuable.  These women are so intelligent and in tune with themselves and grateful for the careers they've had and still feel like they're just starting.  They have a newness about them that I was just honored to be around." (@bitchbuzz)
COLLEGE: More bogus college stereotypes. Like apparently Smith doesn't transform women into lesbians unfortunately. (@the daily beast)
REALLY PAPI REALLY? NOT RACHEL MADDOW? "Pop singer Pink is claiming that Christina Aguilera eyes out women and told her herself once that she wouldn't mind a fling with American actress Lindsay Lohan." (@allmediaweb)

Auto-Straddler of the Day:

↑ Prime-Time Goes Trans- Friendly: an episode of Mental features "a child "brought in with what appeared to be Body Dysmorphic Disorder, but come to find out, the teen girl was actually a boy who experienced a botched circumcision and was force feminized.
↓ Gays heckled at Sarah Palin's Goodbye Party. If that's the only heckling they got all day it was probs a friendly day in Wasilla.
↑ A Senate panel, after prodding by New York Sen. Kirsten Gillibrand, will examine the future of the military's "don't ask, don't tell" policy governing gays in the military.
↑ So the first annual International Gay and Lesbian Chamber of Commerce has released the most gay friendly companies in the world, which includes "The BT Group," IBM and the Dow Chemical Company … bla bla bla the interesting part is thate they quote the "Senior Champion for Sexual Orientation." what a job! I want it!
↑ The United Nations granted official status to a gay and lesbian organization from Brazil on Monday, allowing it to participate in U.N. meetings ranging from health to human rights.
↔ Rep. Nadler's repeal of DOMA will not create new recognition for same-sex civil unions or domestic partnerships at the federal level, it will just strike down DOMA's rule that prohibits the FedGov from recognizing same-sex marriages and force states that don't to consider them valid from states that do. Queerty says this ain't enough.
↑ And in the end … it's all about the Benjamins. For the first time yet, the pro-gay marriage group spent more than the antis. It happened in Vermont. And we won.
from Alex:
Sometimes, a cartoon explains/says it best. Here's 'daily life.'