Sometimes it feels like spinach and chickpeas are the new beans and rice, in that I've eaten them every possible way there is. But I always forget about this one, and then remember, and then get really excited and hungry because it tastes so stupid good. Granted, I make some changes to the recipe, because I'm broke and it's cold and going to the grocery store to buy things I don't already have sounds expensive and hard. But whatever you do to cut corners on this recipe, don't leave out the smoked paprika, because it will be the best thing that's ever happened to your mouth. Trust.
Spinach and Chickpeas
via Smitten Kitchen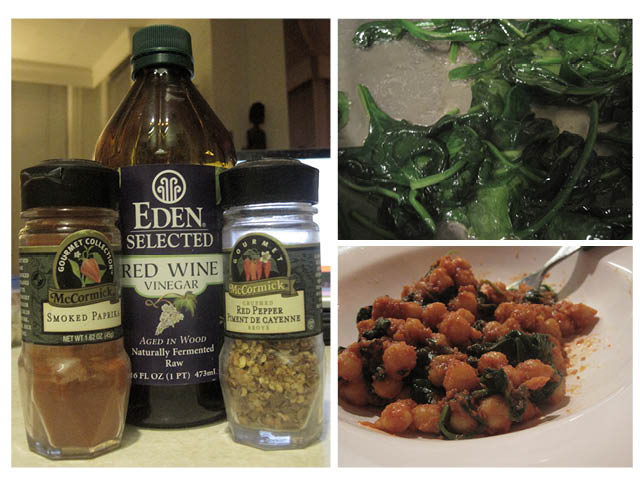 Ingredients:
About two 15-ounce cans of chickpeas, drained and rinsed
6 tablespoons olive oil
1 pound (450 grams) spinach, washed
A hefty 1-inch slice from a country loaf or about 2 slices from sandwich loaf bread cut into small cubes
1/2 cup (4 ounces) tomato sauce (I used canned stuff I keep around) (ed note: I used tomato paste)
3 garlic cloves, thinly sliced
1/2 teaspoon ground cumin
Pinch of red pepper flakes
1 1/2 tablespoons red wine vinegar
1/2 teaspoon smoked paprika
Salt and freshly ground black pepper
Lemon juice, to taste
1. Heat a bunch of your olive oil on medium on the stovetop, and add your spinach a few handfuls at a time. As it wilts, you'll be able to fit more. Stir often; the idea is to get the spinach coated in oil and just wilted, but not mushy or destroyed. Once it's all cooked down, remove from the pan and set aside in another dish.
2. Here is where my interpretation of this recipe seriously diverges from the original. She recommends frying the cubes of bread along with the garlic and cumin and red pepper, and then adding the fried chunks of bread to a food processor along with the red wine vinegar. After processing into a paste, you're supposed to add it back to the pan along with the tomato sauce and chickpeas. To me, this sounds like a bad reason to have to clean my entire food processor. Instead, I put the (toasted) bread cubes into my coffee grinder until they're breadcrumbs, and then fry the breadcrumbs along with garlic and cumin, and then stir in the tomato paste and red wine vinegar once they're golden brown. It takes some stirring to mix, but at least all I had to do was wipe out the inside of my coffee grinder with a paper towel. (I guess you could also just use storebought bread crumbs?) In any case, once you have your bread/garlic/red pepper flakes/tomato/vinegar mixture in a pan somehow, add the chickpeas and stir that stuff around.
3. Once you've added the chickpeas and they're warmed through you can add the spinach back in, and also salt, lemon juice, and smoked paprika to taste. Smoked paprika is pretty strong, but also pretty delicious, so I would taste a few spoonfuls to see how much you want to add.
4. Mazel tov, you're done! You can eat these on their own, on toast, or even probably on rice. They're also great leftovers the next day, and I think they're even good at room temperature.