History and political buffs are a special kind of people for me – I am one, and I grew up with a very hardcore one as a mom. But some people don't understand how many fun gift ideas there are out there for people like us. So let me be your guide as I walk you through the Autostraddle Holigay Gift Guide for history and politics fans.
(Note: As far as politics goes, I'm going to assume the people you'd consider buying political gifts for are left-of-center. Are you really going to encourage your angry Fox-News-watching Tea Party uncle? Exactly. And I apologize that most of the cool political stuff I know will be centered around U.S. politics.)
Nate Silver: The Signal and the Noise ($28, $17 with Amazon Prime)
What political junkie isn't totally obsessed with Nate Silver this year? That's right – none. He got every single prediction right except for North Dakota's Senate race. That's a pretty impressive record. So of course every political nerd on your list (as well as a lot of sports fans and math/statistics nerds) will be furiously writing Santa for his new book, The Signal and the Noise, where Silver explains how to tell the good predictions apart from the bad ones in everything from politics to baseball to hurricanes.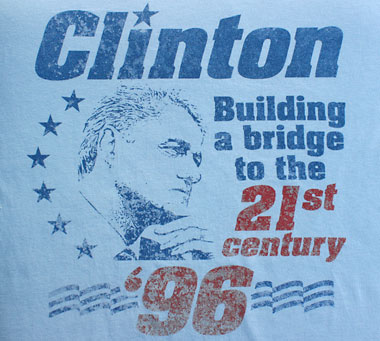 Retro Campaigns T-Shirts ($20)
Do you have a friend who yearns wistfully for the days when Democrats were as strong-willed as FDR or LBJ? Let her advocate for her real favorite candidates with t-shirts from Retro Campaigns, a site that celebrates historical presidential candidates. Both Roosevelts and Lyndon Johnson are here, along with Clinton, George McGovern, Lincoln, all three Kennedys, Jesse Jackson and others. If you really want to show off your U.S. history smarts, you can even get a shirt of William Henry Harrison's "Tippecanoe and Tyler Too!" slogan, from one of the earliest modern campaigns all the way back in 1840.
As for those who prefer to look forward, CafePress has a ton of "Hillary 2016" gear.
Interactive History Mugs ($13)
Nothing is better after a long, cold winter day than a mug of your favorite hot drink (coffee? tea? hot chocolate? heavily-spiked eggnog? use your imagination) by the fireside. But why not have a mug as awesome as your drink? The Unemployed Philosopher's Guild is pretty much the one-stop shop for humanities nerds of all stripes, and their set of "disappearing" mugs (where parts of them disappear when the mug is hot, but reappear when it cools) covers just about every type of history or politics buff. For example:
"Great Gays of History" Mug: Make sure to get this one for your favorite LGBT history nerd – even if that's yourself! It features some of the most influential queers in history, from Sappho to Tchaikovsky, Alan Turing to Gertrude Stein, emerging from the closet as the mug gets warmer.
Disappearing Wives of Henry VIII Mug: If you have any Tudors-obsessed friends, or people who are into English history in general, this is the gift for them (if they don't already have one!)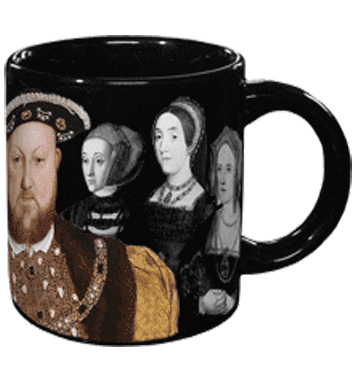 Disappearing Dinosaurs Mug: For those whose historical interests are more prehistoric, there's this mug that lets you watch the dinosaurs go extinct. I don't think "vanishing as a result of warm coffee" is a popular theory with scientists, though.
Disappearing Civil Liberties Mug: For that friend who is a card-carrying ACLU member and loses sleep over the Patriot Act and Tea Partiers trying to write Biblical law into the Constitution.
Great Supreme Court Cases Mug: For your favorite political science major or aspiring lawyer, watch the cases that have been overturned or invalidated disappear as the mug gets hotter.
Global Warming Mug: For the passionate environmentalist on your list who is always trying to reduce her carbon footprint. You can watch the continents shrink from rising ocean levels as the temperature (literally, in this case!) goes up.
Historical Finger Puppets ($6 each, four for $20)
In more fun from the Unemployed Philosophers' Guild, did you know that you can get finger puppets of your favorite historical figures and philosophers? And they're also magnets! My mom owns the ones for Joan of Arc and Macchiaveli; you can choose your own adventures with historical figures from all over the world, from famous to obscure – and there are a lot of women, people of color and queers in the mix. Whatever era your favorite history buff enjoys, there's bound to be something for her.
I personally think the Michel Foucault finger puppet would also make a hilarious gift for your favorite queer academic.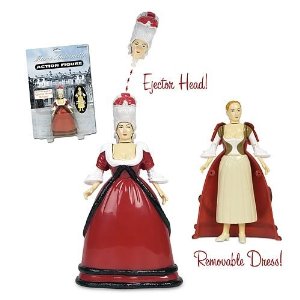 Marie Antoinette Action Figure with Ejectable Head ($13)
My mom also owns this thing, which I think is just amazing and will be appreciated by any history buff regardless of his or her particular specialty. Yes, Marie Antoinette not only has a removable gown and wig but her head actually pops off! For added Jacobin fun, you can get an authentic-looking desk-sized guillotine ($25).
The same company that makes Marie, Accoutrements, also has a number of other fun historical action figures.
Political Magazine Subscriptions
Every political junkie has to constantly stay on top of the latest polls and analysis, and so you'll be their best friend if you ensure they'll be well-informed for the next 12 months by gifting a subscription to their favorite mag. The New Republic offers a year of issues for $30, Foreign Policy for $36 and The New Yorker for $40. You can get eight issues plus two free to The Atlantic for $15; Harper's has a similarly good deal for only two cents more. For people who want distinctly left-leaning media, there's The Nation ($32/yr), and Mother Jones ($15/yr).
Political Donation
But sometimes the best things you can do for a friend, girlfriend or family member feels strongly about politics is to show your support by giving their favorite cause a donation in their name. Is she passionately pro-choice? Give a donation to Planned Parenthood. About marriage equality? Give to Freedom to Marry. The sky is the limit here, and it really depends on what the person's pet cause is and what they want to do with it. Make sure to do your research, though, through groups like Charity Navigator, which has a Holiday Gift Guide.