Learning to feed yourself can be one of the most terrifying things. Am I about to give myself food poisoning? If I eat this too often will I end up with scurvy? How can I get the most nutritional bang for my buck? Why does this still taste like ass?
With Ode to My Pantry, learn to navigate a grocery store without having a meltdown in aisle three. Give a man a fish and feed him for a day, teach a queer to cook and stave off malnutrition for another semester.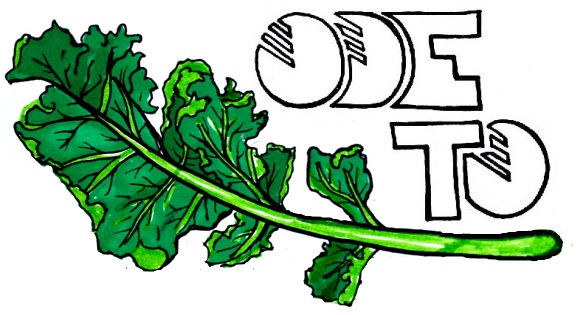 ---
Really now, I don't even need to title this article. Everyone has four thousand feelings about kale, politically minded or not. It's so tasty, nutritious and cheap! Whether you're preaching about it steamed, fried, chipped or raw, there's always something new to learn. Originally I was going to thank you for signing up for kale facts, but I figured I should try my hand at shitty poetry to fit my title. I have no grasp on strophes or antistrophes and I'm putting off limericks for another day, so this is what you get.
Latin meaning "stem" or "stalk"
Same deal with collards
Or it means money
I'm okay with both
Calcium-rich too!
Need sulfurophane?
To help fight cancer
Harvest when it's cold
But I've no green thumb
Unless you like wilted greens
Just bathe to revive
Wash leaves carefully
Unforeseen protein
Give leaves a massage
By rubbing between your hands
Poof! Now less woody
Like you're playing "Tree or Bush"
Less work than chopping
Cut on the bias
To make the stalk edible
Just use like frozen spinach
Throw it into sauce
Impossible to swallow
Maybe try stalk-free
Toss your chips with oil or fat
Or you will make dust
When in doubt add oil
Garlic makes the world go round
Tastes more like itself
Sub in for spinach
That don't wilt too fast
Meatballs and torn kale
Simmer with broth and orzo
When in doubt add beans
Perfect winter dish
What is next for kale?
Maybe something sweet like cake?
Tell me if it's good
Or try kale ice cream
I'm not that brave (yet)
Write me a haiku
On how much you love these greens
'cuz I know you do