Two nights ago I watched Fat, Sick & Nearly Dead, and I had a lot of feelings about micronutrients and putting an end to  being the unhealthy mess I've become. I texted a friend back home to make her vow to do a long distance juice supplement with me, then almost cried because I'm unemployed/broke/didn't get the juicer in the breakup.
But I do have a blender! After some Googling I decided to try blending my way to fresh, green juice.
You guys, I could hardly fall asleep that night. I woke up the next morning, made a huge mess and ended up with a glass of green juice that I coaxed out of the blended bits with a metal sieve and a dish towel. Feeling juiced up and ready to go I headed out to get more fresh ingredients.
I picked up a steamer cloth at the local Asian market, since they were out of cheese cloth. Apparently folks online have had great results with nut milk bags, but for now this works swell. I gathered extra ingredients from the garden this morning and attempted round two, with much success. If I can do it, then you can, too. I believe in you!
Ingredients:
3-4 stalks of kale, leaves removed from the stalks (or not!)
one large cucumber
1-2 stalks of celery (not pictured, I didn't want to be judged for my elderly celery)
2 medium carrots
1 granny smith apple
1 golden delicious apple
half a thumb-sized piece of ginger, peeled with a spoon
juice of one lemon
1/2-1 cup water
Hardware:
blender/that thing that usually makes frozen margaritas
large bowl
fine mesh sieve
cheese cloth/steamer cloth/nut milk bag/dish towel
1. Wash your hands! You're gonna be all up in the finished product, so scrub well.
2. Chop your cleaned vegetables and fruit into manageable pieces. Be nice to your blender, especially if it was a $5 yard sale find — it shouldn't have to do all the work, just the part you can't do on your own.
3. Once everything is in suitable chunks, think strategically about placement. What works well for me is celery on the bottom (so the strings achieve maximum obliteration), then kale and then some cucumber.
4. At this point I add water and start to blend to get things moving along. You might have to push down on everything to coax it into the blades, but please remember to stop the blender first. I have ingested countless bits of wooden spoon over the years and I'm still alive, but you're smarter than I am.
5. After the magic starts to happen I add the lemon juice, ginger and remaining ingredients gradually. By the end of this juicing session my blender almost was overflowing, so start slow until you find out how much yours will hold.
Next comes the hands-on part!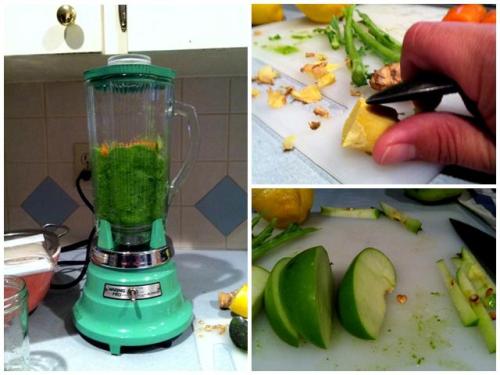 6. Place your cloth into the sieve, overlapping the edges, and then put the whole thing over the bowl. Slowly pour the mixture into the cloth. You might want to wear one of your older, darker v-necks for this endeavor, since my nice new white one now has splashy green polka dots around my middle. Again, be smarter than me.
7. Once you've filled the cloth/sieve combo, gather up the sides and slowly squeeze. Add more of the contents from the blender and repeat. Keep squeezing and twisting until what's left in the bag looks like, well, the photo below.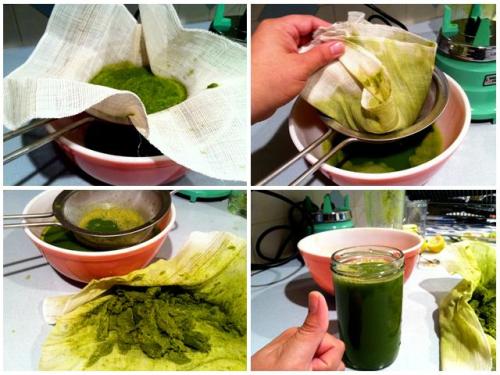 8. Give the contents of the bowl a stir and carefully pour yourself a nice glass of juice. Take a sip and then ruminate on all the flavors and healthy micronutrients while you wash the blender. Seriously, do it now, because if you sit down to drink your juice you might end up on tumblr and then it'll be three hours later and you'll come back to a crusty, hard-to-clean blender. Give it a rinse first and then go tumbling. Don't forget to refrigerate your extra juice for later!
You did it! Do you feel healthier already? Once you have the basics down go wild. Hate kale but love spinach? The world of juicing is your veggie playground! Tomorrow I'm going to change it up and add beets.
What flavors do you think will go well together? Do you already juice, or did you see Fat, Sick and Nearly Dead and have some feelings to share?