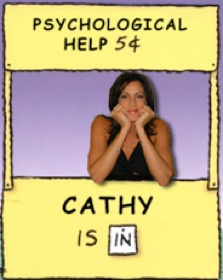 Cathy DeBuono first arrived in the lesbian online consciousness via What's Your Problem, the video blog which combined her knowledge of psychology (she holds a masters degree in Clinical Psychology and is a Licensed Psychotherapist in the state of California) and passion for entertaining (And Then Came Lola, Out at the Wedding) to create a unique forum for girls seeking advice from an LGBT perspective. Cathy answered letters in each episode concerning coming out, romantic relationships, drug abuse, depression, friendships and family intermixed with celebrity guests (Erin Foley, Jill Bennett, Suzanne Westenhoefer, Thea Gill, Maeve Quinlan).
After two years of What's Your Problem, she went on to executive produce and star in We Have to Stop Now, where she played a lesbian therapist alongside real-life partner Jill Bennett.
Today, Cathy launches her very own radio show, Cathy Is In, which echoes the advice driven mission of WYP, but explicitly incorporates Cathy's unique gift as an energetic intuitive. Cathy describes this as a way to "perceive information about you from your energy field.  It is an ability to acutely attune to your energetic state of mind, body or emotion (soul).  Often, energetic intuition will offer new perspectives that can reveal variables of your issue/problem that you may not be aware of." Do you love our Formspring advice columns? Then you need to get involved in this situation ASAP.
But wait, there's more! In conjunction with the radio gig, Cathy is now offering one-on-one sessions if you'd prefer some private TLC from Cathy via video chat, phone or email.
Cathy Is In airs live every Tuesday on LA Talk Radio at 12pm PST (call in number 818-602-4929) and archived podcasts will be available for free download as well!