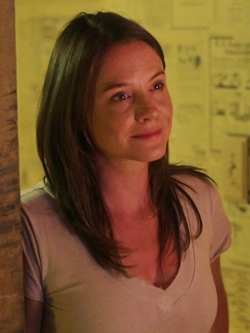 I last chatted with out actress Ashleigh Sumner back in 2010 when she was promoting the lesbo-comedy And Then Came Lola (it's cute, you'll enjoy. Netflix). Lately she's been busy with her thriving art studio and a recurring role on the NBC show, The Event. The good news is Ash is BACK in a starring role in a super intriguing new indie film, Bruno & Earlene Go To Vegas, written and directed by charming Brit, Simon Savory. Bruno & Earlene is a road movie centered around the friendship between the troubled Earlene (Ashleigh) and the mysterious Bruno, a wandering intersex teenager she meets at Venice Beach. Together, they set out into the desert to find themselves.  The film will have its world premiere on July 13th at Outfest, the Los Angeles Gay & Lesbian Film Festival, so be sure to grab your tickets now if you are in the LA area!
How did you first meet Simon and become involved in the film?
Simon worked for Peccadillo Pictures, the distributor for gay and lesbian films in the UK. They distributed the And Then Came Lola across Europe and they brought me and the rest of the cast our to the British Film Institute's Gay and Lesbian Film Festival and Simon was kind of our guide… he took us all around London and that's how I met Simon. And little did I know four years later Simon was sending me an email saying, "I'm finally directing my own film and I'd love for you to be involved!" I'm really literally had not heard from him since the film festival four years ago, except for little tiny correspondences in between. It just goes to show you how the universe connects you with people you meet in life.
What's interesting is that originally Simon had a completely different storyline for this film: he had booked all the locations out in the U.S., had  come out six months prior and started prepping with cast and crew and I was just going to be a supporting character. It turned out that one of these actresses he was bringing over from England couldn't shoot the film because she had a problem with her green card, so it was two weeks before production and Simon was already out here, he came to me, to my loft and was saying , "I've got a major problem. I'm going to rewrite the script. I'm going to use all the same locations, because I paid for them, and this is the idea been thinking about… and I want you to play the lead. Will you do it?" Of course I said yes, and we sat in my living room and fleshed out a few ideas, and he went off and wrote the script… 11 days later I had a script in my hand. 
That's incredible.
That's Simon, he's an epitome of the British attitude of "keep calm and carry on." He did not panic the entire time, he was like this is what I got to do, these are the locations, I want you to do it, can you do it? And I was like, "of course," and it turned out beautifully. Beautifully. I've never worked on anything quite like it and it's not like anything else you'll see.
Where did you guys film?
We filmed out at Area 51 in Nevada, in the middle of the desert.
So you must have had zero communication with the outside world?
Pretty much yes, zero communication. I had cellphone reception and internet for about one or two hours a night, before bed, after shooting.
What did you take away from that experience – unplugging?
Oh my god it was wonderful… your brain just sorts of opens up. You know, and actually talk to people. It's amazing how people would sit and just talk. And you admire the sunset. We're out in the desert… just watching the weather roll in… and it's the most entertaining thing you'll ever see. With cell phones and texting we would miss those beautiful moments that only the desert could provide.
Where else did you film aside from the desert?
Venice Beach, a couple scenes in Paris, Santa Monica, the desert, a few locations around Downtown LA.
How would you describe your character Earlene?
I think Earlene is… just a fucking mess, she's at the end of her rope, she drinks too much, smokes too much. The film opens and you see her with a positive pregnancy test in her hand. Ashen in the face, and you know she's completely distraught, she's broke, and she doesn't know anything else to do. In the background you see someone sleeping in the bed and she's make the decision, while he's sleeping, to throw some clothes in a bag, steal his money, wallet, gun that she didn't even know he owned and finally his car and gets the hell out and heads West. Doesn't know where she's going, whether she's going to keep the kid, she's just got a few bucks, a gun and car.
She ends up at this beach with a bottle of whiskey, and comes across this kid, kind of this androgynous skater kid (Bruno), who's a street urchin and homeless, bouncing around from couch to couch. We learn that he's intersex and feels no one could fall in love with him… it's all done in such a nice, delicate way that the British are so good at. They're both lost souls kind of on the run, and that's the start of the movie: the relationship between the two of them. The film takes off when Bruno explains that his mother was French and that he always carries around a mini Eiffel Tower figure in his backpack as a reminder that he wants to go to Paris one day…  And she says well, there's an Eiffel Tower five hours from here, its not Paris, but what the fuck. So they set out, to Vegas and find these good people on the way, and that's the film right there.
Do you relate to your character's journey throughout the movie?
Everybody, at least I have, at some point in your life, you have these moments, these crossroads, where you question what you're doing, and either something changes or you're like this is the road I'm going to walk, I'm going to do this. And something is not the same. And that's what I related to.
Tell me about the actor who plays Bruno. 
Miles Szanto is great young, 21 year-old Australian actor. He was on a television series down there (The Elephant Princess). He's very focused and kind of that sexy bohemian, a really soft spoken, plays the acoustic guitar guy. Very very nice, just easy energy about him.
Have you seen any queer films this year that you absolutely loved?
Well, I'm in another film coming out this year called I Do, and that's queer. I'm so thrilled that Glenn Gaylord (director) who dedicated his entire career to gay film has this theatrical release right now. He did Leave it on the Floor, and the Eating Out series. So I'm just really excited about this one because even as an indie film to get a 20 city theatrical release is amazing. But then to take that as a queer indie film that doesn't have Annette Bening or Heath Ledger behind it, I just think is amazing and a hint of the direction where we're going.  The movie's about a gay guy who marries his lesbian best friend (Jamie-Lynn Sigler) so he can stay in the country to take care of a family issue, but then he is forced to deal with all of the politics around gay marriage when he falls in love.  And I play Jamie Lynn-Sigler's girlfriend. I would say that's probably my favorite, and I'm not just saying that because I'm amazing or anything like that [laughing].
[Joking] "Not to brag but I think my work is amazing."
[laughs] But I think with timing, you know with the Supreme Court and everything. Actually, wait! Here's my all time fucking favorite of the year. It's called Tomboy, you've seen Tomboy, right?
I haven't!
Oh my god. It's French and it's queer and it's about this 10 year-old girl who disguises herself as a boy in this little French town. You have to see it, it's amazing. Just find it on Netflix.
How was your experience working on The Event, probably your most mainstream "Hollywod" experience vs. your indie film work?
Everybody in the [Event] cast  was lovely — that was just really incredible and amazing experience. I was working right beside the Dexter stages – unbelievably awesome. But comparing the two… TV has a much different rhythm.  Everything moves so, so quickly. And every week, 'cause this was the first time — you know I had a small role on The Event —I  was there every week, especially toward the end of the season. So, I got to see the full picture instead of just doing a one or two day episode, guest starring for several episodes. And you know, TV is so ruled by the ratings. Every week, people are obsessed with the ratings, the ratings, the ratings. And I think that's a major difference with film versus TV. Like film, you shoot this beautiful project that has its own rhythm and that works better for me as an actor. You shoot from beginning to end, and you're making this thing just as it is. There's not these outside forces of ratings hanging over your head. Does that make sense?
Totally, it's a complete, uninterrupted process.
And there's a lot more freedom. You know, with Bruno and Earlene, there was time for rehearsal. And with TV, it's a machine, man. The pages come down, you just say those fucking pages, and you're out of there. So while the money's amazing, I prefer the experience of independent film. It's just very different. I'm grateful for both—both experiences. Believe me, so grateful.
Are you still auditioning for mainstream stuff?
I took a little bit of a break from mainstream stuff after The Event because it wasn't as fulfilling experience as I wished it was. Immediately after the show, I started having meetings with big agencies and things didn't quite go my way. So, I needed time to reassess—honest to God, I just went back to painting in the studio [Sumner Art Studio], and just really got clear on what it was I wanted to do. I will focus on an independent film when it comes, but right now it just feels really right to focus on painting. So, I kind of lost myself in the studio for a little bit, which was awesome, and then I Do came along, and then Bruno and Earlene kind of eventually fell in my lap. And that's kind of the story there.
What's the release strategy post-Outfest — to get into more film festivals throughout the summer and the fall?
Outfest is big because it's the most respected LGBT film festival in the world, so it opens doors to all of the other festivals. What happens is the different distribution companies go to festivals and offer to buy your stock, and it's a matter of whether it goes to DVD or if you can get into theatres. I know Wolfe has been sniffing around Bruno and Earlene already. So, I feel good about it and I'm excited to see how it's received. I feel really really good about the performance in this one. The Event was so small, you know, it was just different, and stressful in a lot of ways.  But, I feel really good about this performance. So, we'll see..
What are you working on next?
I recently did a short (The Lull Breaker) with the Toronto Film Festival's director's lab about domestic violence. It was directed by Mako Kamitsuna who edited Pariah.  She's fucking brilliant. That's what I did most recently. I've been focusing so much on the art these last few months. I opened an exhibit in Barcelona in March,  so now I'm kind of taking a break and seeing what Bruno and Earlene will bring.