A Prairie Homo Companion is a regular column that celebrates the Canadian prairies, canola fields and big skies, and the paradoxes of being a fine-ass lady prairie homo.
Header by Rory Midhani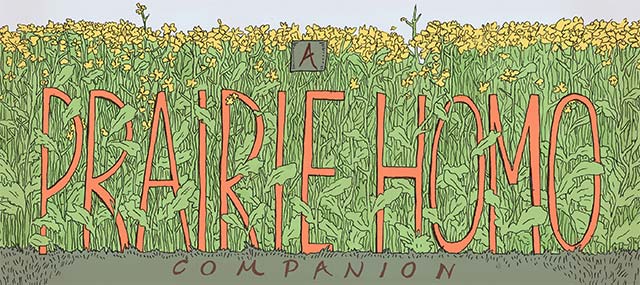 ---
On the plane home from LA after A-Camp, I sat beside a cheerful, grey-haired businessman with whom I covered many interesting topics such as how he loved the Republican party but I didn't and how I was "a lovely young woman" despite my dislike of his party. As we began our descent over my city, I discovered he had an opinion to share on Edmonton. Flying into Edmonton at night isn't like flying into LA or London after dark. Sure, you're greeted by city lights, but they aren't super bright compared to those of other cities. Nor do they go on forever. From the sky past sunset, Edmonton is only a moderately bright city bubble surrounded by a comfortable darkness…or at least I find it comfortable, cozy even. Next to me the businessman openly hoped he wouldn't be bored this time around in Edmonton (I had given him a list of places to check out) and complained that it got so cold and the sun set so early. I guess to him the darkness signalled an end to fun, to bright-light, night-life excitement.
"I have to come here on business every now and again," he said. And every time I fly all the way up here, I feel like I've reached the end of the world." He leaned back with a chuckle, and I stared out the window angrily chewing my gum.
The end of the world? Why? Just because when you fly into Edmonton at night it's still pretty dark, unlike LA, which looks like an electric light circus, it doesn't mean Edmonton's the end of the world. It means Edmonton has what is becoming increasingly rare in cities across the globe – a nighttime that gets relatively dark instead of the sickly greyish pink colour that happens when night catches the light-pollution flu. A dark sky is something to be proud of! I'm happy that growing up I could see the stars from my backyard.
As a prairie homo, I have a lot of feelings about the night sky. Because the land is flat, it doesn't get in the way of the sky. Living in a prairie province, you realize just how much sky there is. And here's where I get scared of going on and on about how much I love big prairie skies, waxing poetic about staring up at the stars and thinking about all my queer girl writer dreams, that time I saw a shooting star and life felt magical, and all sorts of deep things about darkness and night. But I can't help it, you see, cause night and I go far back and have shared many memorable gay experiences together. I came out for the first time at night, sitting with my friend on her couch, talking about how we should sleep but before we did I just had one little thing to mention. I had been planning on telling her I kinda-sorta-maybe liked girls during the day, but night just seemed safer; and well, I didn't want to put it off for another day. I kissed a girl for the first time at night. I had sex for the first time at night. I've had a lot of firsts at night, and so have you and that girl over there, and oh hey, you too!
Darkness makes me feel protected and brave, but it's more than that – dark – actual dark, not greyish pink – relaxes Me and You and Hey You Over There, like nothing else can; and when I'm relaxed I feel most like myself. There's something to be said for the hustle, the bustle, the ambition of daylight; but night forces us to slow down and listen, make a move, write a story.
"That earthly places – rain forests, wetlands, prairies – are disappearing is commonly bemoaned, but the sky is disappearing too. Ecologically speaking, the ozone layer is thinning, and so we are losing our atmospheric protection from the cosmos; but aesthetically speaking, thicker and thicker layers of humanly produced stuff intervene between us and the cosmos…In a national park last summer, I heard an astronomer who was pointing out constellations assert that the sky is the most important place to save, because it is available to everyone-"
Rebecca Solnit, from "Excavating the Sky" in Storming the Gates of Paradise: Landscapes for Politics
The sky is available to everyone, but I would argue that it's more available to some than others. The prairie sky, that gets dark and has northern lights, is more alive and available than the sky of the LA Republican on the plane. That's what I should have told him, but he probably would've thought I was crazy. Or maybe not. He seemed to think I was a lovely young woman no matter what I said, so maybe, after discussing the availability of the sky I should have continued and explained that flying into a dark city is not a marker of an end but of a beginning.
"The sky isn't just a reflection of mood, but a creator of one, as anyone exalted by a storm's ferocity or made joyous by sunshine after rain knows."
I like my sky like I like my friends and lovers and family members and pets – full of variety. I feel like the more we turn off the lights and let the sky do its own thing, display its various stars, constellations, and undulating, unpredictable northern lights, the easier it is for us to begin to do our own thing as well – at least, that's been my personal experience. I wouldn't be the prairie homo I am today if I didn't live under the beautiful prairie homo sky that's allowed to get dark at night.
---
Special Note: Autostraddle's "First Person" personal essays do not necessarily reflect the ideals of Autostraddle or its editors, nor do any First Person writers intend to speak on behalf of anyone other than themselves. First Person writers are simply speaking honestly from their own hearts.