Editor's Note: The following review of Sam Jay's comedy special "3 in the Morning" includes a discussion of rape and sexual assault.
I live in Chicago, which I have been told is one of the comedy capitals of the world. I mean, I am friends with some stand-up comedians, I've fucked a few improvers and our mayor is a complete joke — so I'd say that moniker is rather close to being accurate, but I can't say for sure. Other than supporting homies and a few cute dates, I don't go out to too many comedy shows. It's mostly because I have a little bit of a fear. Some people worry that they will get second-hand embarrassment from watching someone bomb, or witnessing an improv scene go just a few minutes too long. My fear is getting made fun of Comicview style from the comedian for no reason AT ALL. I panic about what to wear, where to sit, how to laugh, and do all that I can to avoid being the target of whoever is on that stage.
That's why I like watching comedy specials at home, where I am sure to be safe from random roasting. So at approximately 8:43 PM on a Tuesday me, my commitment issues and the remainder of a bottle of vodka, cozied up to watch Sam Jay's new Netflix special 3 in the Morning. The plan was to actually watch it at three in the morning, but I spent most of the day before taking my braids down, watching Moesha (thank you, THANK YOU Jasmyn Lawson!), and sending poorly timed sexts so I knew I wasn't going to make it.
This special may be a first for the Boston born and bred comedian but Sam has been around for quite a bit. She has been a writer at Saturday Night Live since 2017, with sketches for folks like Eddie Murphy making it to air, and her 2018 comedy album Donna's Daughter was met with adoration and high acclaim inside and out of the comedy circles.
From the jump I was doing my shriek laugh, no doubt spreading particles all over my living room but it's fine because I'm single and live alone. The cause? Sam talking at length about traveling with her girlfriend. I am a firm believer in traveling to whatever destination with your partner — separately. I don't want the "let's cozy up on the plane" moments; I'm much more of an "I'm not waking up to catch a 9 am flight so love you but bitch I will meet you therewp_postskinda girl. I am also a panicky traveler and I would much rather freak out alone.
Listening to Sam talk about letting her girl struggle with bags and having post takeoff whisper fights did make me kinda miss having a partner — but only for the hour or so run time of her first project for the streaming platform. Watching Sam walk about the stage calling out the cis men (and queer folx) who make assumptions of her based on how she presents was great and then my favorite thing — hearing her openly talk about (and make light of) her past with men.
Countless queer women hide their past with men and that may be because of how judgmental our community can be about our sexual histories with them. Queer women are well known to utilize a chart of homo hierarchy, complete with monikers like LUG, Goldstar, Hasbien, and more, to determine just how queer you actually are. Kissed a boy? Minus two points. In a relationship with a man for more than a year? Minus seven. Sucked a dick or two? Minus 25 and you can only use the rainbow flag in your bio if there is an asterisk next to it.
So much of the special felt like a TedTalk on gender presentation and queerness. It doesn't feel like that's how Sam set it up to be, but that's just how it hit for me. She's just being herself, effortlessly filling the stage and doing something that she so very clearly loves.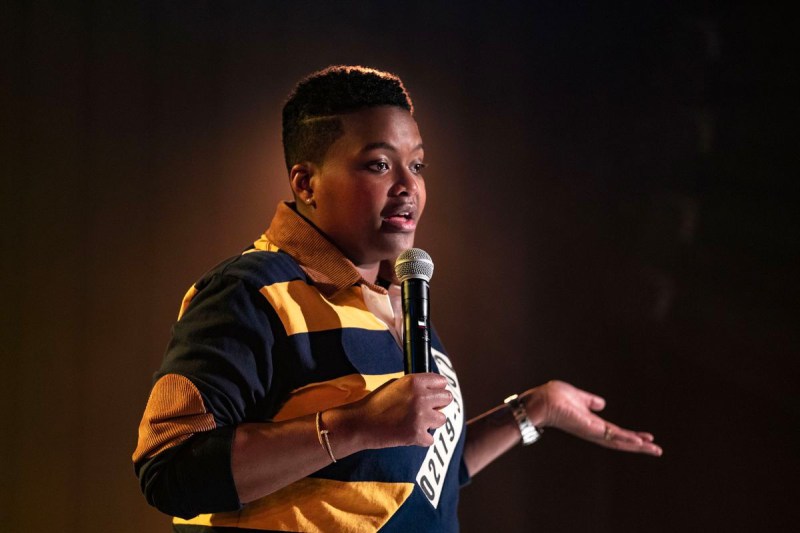 As much as Sam Jay made me laugh and relate, there were also major moments of cringe that I simply couldn't ignore. Jokes on ableism, autism, and the ones that hit closest to home for me, sexual assault and the trans community. Sam makes sure to let us know that she supposedly embraces trans women but then for about six minutes, goes on to make jokes that were transphobic and unnecessary.
I'm truly dedicated to making sure that I do my best to stay true to supporting and uplifting our trans community, while also staying in my lane. One way I'm confident in doing that is through my work, so writing about the moments in the special that made me uncomfortable is necessary. In short — it's upsetting me and my homegirls, and if they can't even chill out while watching a comedy special as a momentary means of escape from the absolute trash way that much of the world treats them — well damn, where the hell can they go? In 40 seconds Sam says trans women are women but also says terms like "regular bitches" and "trans bitches." That verbal separation denotes that perhaps she actually doesn't see trans women as equal after all. To have this special on the same streaming service that also has the Disclosure documentary is confusing to me, yet it makes me happy. If someone gets uneasy feelings from some of Sam's jokes, they can click out of the comedy special and over to the documentary to begin addressing their discomfort. They can use it as one of their first tools in becoming an ally to the trans community.
My own waves of discomfort and irritation kept coming when just a few minutes later, a bit of #MeToo jokes started, especially when it came to the talk of women having "a choice." Granted, I have my own experiences with sexual assault, and while there are many others who also have those experiences and are okay with lightheartedness about it, I'm not sure I'll be at that point anytime soon. Sam says "you can always choose, and sometimes choosing to say 'fuck you' is the most illest choice you can make." In one situation, I was too young to say fuck you, I was a child who was overcome with fear and overpowered by someone who should have known (and been taught) better.
In another situation, I did say fuck you. It was one of those dire situations that Sam spoke to and I did fight as hard as I possibly could. However, the choice was already taken away for me from the jump, but then my rapist offered up something else. Either stop fighting and let the inevitable happen or die in the back of a cab. I wasn't presented with a choice — I was given options. And to me in this situation, that's not just semantics. I selected the option that would hopefully, allow this moment to end and give me the opportunity to heal and move forward in life. Sam continued on to say "..and if we don't pass that down to young women, then what the fuck are we saying?" When one begins to teach about sex, we should teach all genders that if they are ever sexually assaulted, it absolutely is not their fault. Along with teaching all genders about respecting consent and boundaries — that's what I think we should be saying.
As the special closed, Sam got off stage and was  greeted by her girlfriend and some of the SNL crew while the title of the special splashed across the screen. If you follow me on Instagram, you know what a fan I am of title cards and closing credits, they usually signify some form of a happy ending. I thought I would be jumping on social media right after I watched, lauding Sam with clever gifs. and using up my character count with congratulatory emojis. Instead, I sat up on my couch, safe from being randomly roasted, but disappointed and saddened while the yellow-hued credits gradually rolled, and the jazz track that played over them gently faded out.
---