This week on Bomb Girls: almost everybody gets lucky, and the untimely end to my fetus-as-Italian-pastry jokes. Take note: this is your final opportunity to learn about the sweets of the Appenine Peninsula through semi-tasteless humor that compares Lorna's baby to buttery treats.
Just typing out the words "Italian pastry" makes me want to cancel my plans and go to the Italian Market and eat all the goddamned cannoli right now. I hope you appreciate the extreme sacrifices I am making for you, just like the sacrifices the characters are making to survive their tumultuous time period.
Kate has a nightmare that she's dressed entirely in white and running away from her father, who tells her that, like my third grade Furby, he is impossible to kill. Even if you drop him in a bathtub and make his batteries froth, he's only going to repeat "yum" at a more frightening volume. A dangerous man indeed.
She wakes up in Betty's room. Betty is propped up in the corner between her door and her dresser, her physical discomfort a metaphor for the plight of pre-1990s queer existence. Kate says they need to return to the scene of the crime and make sure her father is actually dead and not just pretend dead. Betty says she will put aside all pre-existing commitments and do whatever Kate asks. Pretty sure if Kate said that her father's body was hidden in an alligator-infested swamp that could only be accessed via setting one's self on fire and jumping off a cliff, Betty would go get the matches and her alligator-beatin' stick.
Somebody slides a note under the door. Is it from Albus Dumbledore, reminding Betty and Kate not to use their lesbian magic outside of class? Is it from Amazon.com, telling them that Sum of her Parts is all sold out?
Nope! It's from Gladys, who just so happens to be bright-eyed and fancy-tailed at this early hour. She comes in with a giant knowing grin, giving her favorite lesbian friends a "Good morning, girls!" that reminds me of every college friend who ever dragged my ass to brunch post-night with a pretty lady.
Gladys continues to be the best wingman she can be, and gives Kate a card that subliminally tells her she is in love with Betty.
Gladys says she's moving out of her totally lame parents' place, and will be crashing with the girls at their giant lesbian commune/boardinghouse for a while. Betty and Kate are like "Okay right well I hope you like quinoa." Gladys goes to take a long diva soak, only to discover the joys of communal bathrooms. Numero uno on my list of things I do not miss about dormitories.
Over at le factorie, Lorna is holding her employee's new baby. Even though she is talking about the worker's situation, you know she is thinking about her own ricotta-filled situation.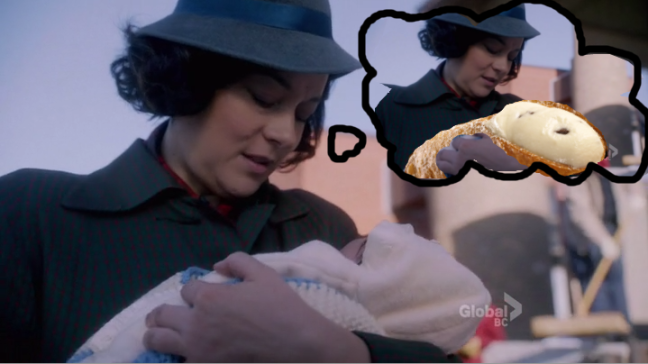 Gladys has made her minion Carol drag all her things to the factory because who can say no to that angel face, am I right? Minion Carol says that Gladys' mother predicts Gladys will be crawling back home as soon as she needs her underwear washed. Gladys is now extra determined to prove her independence and ability to wash her own underwear.
Down in the canteen, Marco the Italian Stallion comes busting out of a heart football team style. I can't make this shit up. It's Valentine's Day, and apparently the factory does not fuck around with Valentine's Day because the decorations alone are pretty intense. Somehow in wartime they have found the budget to outfit the men in fairly elaborate togas and wings? Victory Munitions, your priorities are adorable.
Marco is handing out valentines that are attached to real arrows. Real arrows, guys? If this was Pretty Little Liars, that arrow would be stuck through, like, a doll representing Lorna's baby and pinned to the factory wall with a note from A. Gladys gets a bundle of arrows because she has the face of an angel, but she gives them back because girl power. Also, because she is loyal to her soldier boyfriend and taking these cards would be disloyal to him. Idk girl, accepting compliments is a valid component of self-love, and radical self-love is important!
Since they'll probably be spending Valentine's sans cuddlebuddy, Vera and Gladys decide they are gonna get some rum and go drunk bowling tonight. Again, I can't make this shit up. That plan sounds AWESOME and you and I both will be super disappointed when this scene does not come to fruition.
Ivan has decided to make Betty his valentine, a crucial error on his part if he was going for a mutual valentine situation. I can't be mad at his little puppy face, though. I just feel really sorry for him the same way I feel sorry for my high school boyfriend.
Ivan wants to take her out to the Jewel Box tonight but Betty says her best friend is in town, aka who is he kidding? As if she would spend Valentine's Day without her lady love at her side, butch please. Ivan says he'll bring a buddy and make it a double date. Are you there, God? It's me, Kate. Can you make this a double date where Ivan realizes he is in love with his buddy and Betty makes out with Kate? Thanks, God.
Marco decides this crowded room and very short cupid costume is the perfect environment for discussing baby logistics with Lorna. Oh, Marco. So pretty and so dumb. Lorna says she couldn't drink the tea because she felt the little struffoli doing flips. Marco says she has to quit the factory job so she doesn't overcook the sfogliatelle.
Everyone's favorite lesbians are checking to make sure the pastor didn't go zombie. Betty tells Kate about the double date in an adorable way that implies she is really hoping Kate will say no. Ugh, Betty. Seriously, you make my heart feel like it's being gnawed by kittens. Kate's entire justification for the double date is to support their alibi so they don't look like suspicious killers. Betty may have a Gay Beard, but Kate is getting a Murder Beard. Kate 2.0 aka Lady Vengeance Kate is too awesome.
They discover that oops, the body is gone. Betty still thinks they need to go to the police or something, but Kate wants to go rogue. This is a great opportunity for them to touch and walk away holding each other.
Lorna is turned down in her plea for a job in the kitchens, or anywhere else there will not be continual exposure to toxic chemicals. This actually makes me wonder if all of the factory girls, aka my precious babies, are going to eventually die of horrific diseases. I'm going to pretend that was never a thought that crossed my mind. Let's pray that Kate and Betty at least make it to the sixties so they can move to New York and get Sterling Cooper Draper Pryce to design the business cards for their gay enterprise.
Gladys and Vera are about to head out and get their drunk bowl on when surprise, James the soldier boyfriend returns. Turns out that he is on leave before shipping out to Deathsville, Europe (Am I too excited for this? Maybe). Vera's expression says it all. Kudos, girlfriend. I am so over his lame ass, too.
Vera heads into town to find herself some man meat because she is not about that third wheel life. Vera is probably the wisest person on this show, can we be real?
Over at the Jewel Box, Betty and Kate are letting their beards out for exercise.
Betty flirts pretty shamelessly with Kate and I wish Gladys was here to give her a knowing bro glance.
Betty: Lime cordial.

Kate: My favorite.

Betty: I know. I still keep a bottle.
Betty and her flawless dyke swag, I tell you.
Kate hallucinates her father and Betty's Lesbian Spidey Senses go off. Since she is always expertly tuned into Kate's Deepest Emotions FM station, she knows it's time to take Kate home. Ivan and Buddy are confused and disappointed as they thought their boots were gonna get thoroughly knocked tonight, even though they are on the cusp of realizing their love for each other. Buddy makes a joke about Ivan not having to put out. Hahaha…ha…haha.
Pages: 1 2See entire article on one page