It was such a week for TV! The new season of Jessica Jones landed and Valerie Anne wrote about that. She also had some feelings about Petra's bisexuality manifesting IRL on Jane the Virgin. Now that Riverdale giveth the bisexuals, Kayla giveth the recaps. Carmen brought you another brilliant, heartfelt Black Lighting recap. Carmen's working on a standalone piece about The Fosters' season finale (are Stef and Lena getting their own spin-off?) And Natalie's glued to Women's March Madness with you.
On this Sunday night's Madam Secretary, Sara Ramirez's Kat Sandoval will be coming out as bisexual and Carmen will be writing about that!
Most of the rest of what happened on TV this week just fits into our Quick Hits section, so that's what we've got for you today. If we missed anything, hit us up in the comments and let us know!
---
9-1-1 109: "Trapped"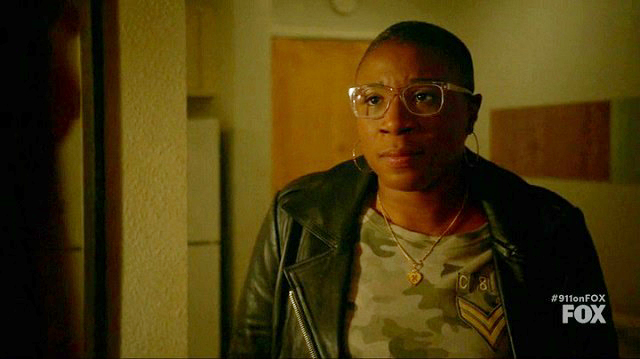 Shonda Rhimes has built an entire empire around the idea that people excel in their professional lives to escape the messiness of their personal lives, but when the person overcompensating is a first responder — thrust into situations that are inherently dangerous — those actions become a bit more fraught. Throwing yourself into your work when you're doing medical research is one thing, throwing yourself into your work when you're rushing to save someone from a garbage compactor is an entirely different thing.
Thankfully, though, Hen finally stops putting her own life in jeopardy and goes directly to the source of her troubles: Eva. Hen's ex readily admits that her custody case isn't about her son, it's about Hen and getting her back. Hen shatters the fantasy that Eva's concocted by reminding her that they were once together and Hen wasn't enough for her. Hen refuses to go down that path again. Eva's assurances that prison changed her are met with disbelief and a promise that Hen will never let Eva near Denny again. — Natalie
Legends of Tomorrow 314: "Amazing Grace"
Ava wasn't in this week's episode, but I wanted to come here to report that Sara Lance's ponytail game was really strong and I wanted you to have this gif my friend Nic made. Also I wanted to let you know that I'm a little stressed out about next week because there's a Death Totem on the Waverider and I know Sara's conquered death like five times over but I'd still rather not push it, you know? I know cats have nine lives, but how many lives do Canaries have? Also the description of Episode 16 says that dreaded phrase again — "the truth about Ava" — and I'M SCARED. Okay that's all thanks for listening. — Valerie Anne
Lucifer 317: "Let Pinhead Sing"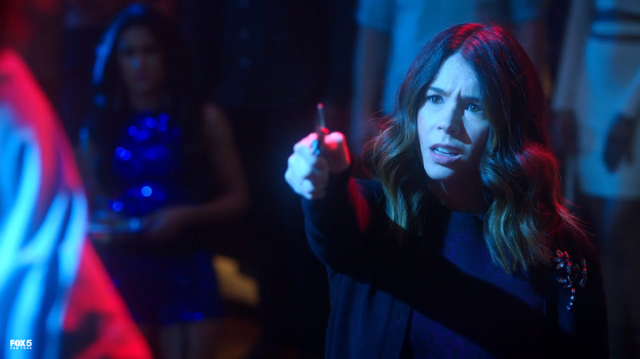 Okay so listen, I know I've talked about Lucifer before, because I love this show, and I love Lauren German, and I love that Maze and Lucifer are both bisexual…but last week I had to tell you about the whole body-snatcher situation, and now this week I'm here to tell you that the villain-of-the-week was a woman who was secretly in love with her pop star best friend to the point of doing murders for her and…I'm…I'm starting to wonder if maybe Lucifer doesn't know what they're doing re: LGBTQ+ representation. And I'm surprised! Lauren German played lesbian firefighter Leslie Shay and her and Lesley Ann Brandt have always been very publicly supportive of the community…I don't know what's happening. I do believe their heart is in the right place. I just think their execution is missing the mark a little. Because while Jillian Rose Reed delivered a great speech about being in love with her best friend and wanting her all to herself…I'm not sure the show has earned a serial killer lesbian subplot yet. — Valerie Anne