Last week on Black Lightning, Lady Eve died and I have worn black all of this week in mourning. My sweet, vicious purring voice! Why oh why did you have to leave us so soon! At least Jill Scott channeled her inner Okoye on her way out the door. As far as I'm concerned, Lady Eve's last words were "Wakanda Forever." Prove me wrong.
Also, in case you forgot, we are dealing with zombies now. Thank you for asking, no I'm still not sleeping.
The local news tells us that search for Black Lightning, who was framed for Lady Eve's death, continues — but Jefferson and Anissa are holed up in Gambi's lab, playing "Everybody was Kung Fu Fighting" on the 8-track and training together. Gambi has a virtual reality simulator that creates 3-D "urban crowds" around our superhero team.
Anissa spots a white man with a confederate flag t-shirt in the virtual crowd and holds her breath, shaking the ground the fake-racist walks on and cracking his ankles into little fake-pieces.
Jefferson stops the stimulation, telling his daughter the passerby "may be racist, but he wasn't a threat."
HOLD UP JEFFERSON! If I see an arrogant young white man in a confederate flag shirt walking around plain as day in a majority black space like Freeland, I am going to assume he's looking to stir up trouble. That's called self-protection, and it has served our people well for the last four centuries. Don't act brand new.
Jefferson's tough on Anissa, tricking her to let her guard down and then purposefully whooping her ass. It's life or death out there. Better she learn that now.
On their first joint superhero outing, Anissa and Jefferson break into the city mortuary to find Lady Eve's corpse (EVE, I MISS YOU!! COME HOME!!). Jefferson is busy trying to teach Anissa a morality lesson about the importance of human life, while Anissa uses her super smarts — ok then, medical school! — to puzzle together that Eve was in fact not killed by a lightning strike. Her flesh is burned, but it doesn't have the lichtenberg scarring traditional from lightning. Lady Eve was killed by a portable nuclear weapon.
The Pierce duo track down the nuclear weapon used to kill Eve in the woods outside of Freeland. In the dark. Late at night. Anissa, clad in her already iconic black hoodie, lays down by far the best line of the night:
"You know how I feel about the woods. Black people die in the woods."
Yes baby girl, they sure as hell do.
Jefferson tries to calm her nerves, telling her that only happens in horror movies (What does he think he's in the middle of right now? THERE ARE ZOMBIES WALKING AROUND! But I guess he doesn't know that yet). Plus, as Jefferson reminds us, black people only die after the token white nerd. Since there's no nerd, they are safe.
That sounds like faulty logic to me, but sure, let's go with it.
Jefferson uses his Black Signal phone to call Commissioner Gordon Inspector Henderson and point him towards the weapon, exonerating Black Lightning once and for all. While waiting for Henderson, the Pierces encounter a dirty cop who arrives at the crime scene first. Jefferson warns Anissa to stay back as he explores closer, but Anissa realizes at just the right moment that they are both in danger.
She takes off at a run — breathing out "Dad!!" and breathing in deep, using her indestructible body to protect them both from the nuclear bomb that goes off.
Also, Gambi is holding secret parking lot meetings with Martin Procter, a head figure of the ASA. Procter's played by an actor I mostly remember as Senator Hollis Doyle, a his pitch-perfect parody of Presidential candidate Donald Trump in Scandal's fifth season. I'm guessing that the production team of Black Lightning also looks back fondly on his performance in that role, because he's back and playing another hardcore racist. Proctor hates Freeland. He thinks that black people are lazy and dirty and only eat fried food (side note: Everyone eats fried food in America. It's unhealthy, but it's delicious. That's not unique to black people. Asshole.) As far as he's concerned, the only thing the black residents of Freeland are good for is human experimentation.
Procter's going on and on about how the ASA should have killed Black Lightning when the spy organization had the chance. Now Lady Eve is dead and they have no one to continue the Green Light Experiment that they've been covertly running in Freeland. He's ready to declare open season on Black Lightning's "black ass."
The minute I heard the intentional wording of the "Green Light Experiment", a shiver ran down my spine. The phrasing is a purposeful callback to the real life "Tuskegee Experiment", where over 400 black men in rural Alabama during the 1930s – 1970s were left untreated with syphilis while being actively lied to that they were receiving healthcare from the federal government. It's one of the United States most horrific public health crimes against its own citizens, and obviously because those citizens were black, we don't often talk about it. The revelation that the ASA has been secretly pushing Green Light into the black communities of Freeland via the One Hundred gang and Lady Eve comes with a similar sinister intent. The implication that a federal agency is behind a drug epidemic that's ravishing the black community also alludes to the silent role that many believe the CIA and DEA played in cocaine's explosion in South Los Angeles during the late 1970s and 1980s. Once again, Black Lightning is using seemingly light-hearted comic book fare to draw parallels to real life black suffering.
While cleaning up her lab with Jennifer, Lynn realizes that the break in from two weeks ago was a cover up to steal Grandaddy Pierce's research on enhanced humans. Following the crumbs on that particular gingerbread trail leads Lynn directly to Gambi. Grandaddy Pierce's research is 30 years old. Gambi has been in Freeland for almost exactly 30 years. It doesn't take much for our resident neuroscientist genius to put two and two together. She has the heartbreaking job of telling Jefferson that something is wrong with his supposed mentor.
Gambi, meanwhile, is wrecked with guilt. He even went to church over it! And building on that theme, he finally gives Jefferson his full confession:
His real name is Peter Esposito. 30 years ago he came to Freeland as an agent working for the ASA. The organization was doing human testing, giving black people a vaccine that would keep them passive during a time of militancy and political upheaval. When Gambi realized that the vaccine had the side effect of giving certain kids super powers, he leaked the information to Jefferson's father. As we all know, Jefferson's father paid the price for that research with his own life.
Gambi swears that he only ever wanted to protect Jefferson, which is already a stretch to believe if you ask me, but now he can't even do that. The ASA is going to kill Jefferson. Then they will find Anissa, and they will kill her too.
Our superheroes are in mortal danger! While that's sinking in, let's pop on over to the high school.
Keisha, Jennifer's best friend and the resident Party Queen of Garfield High, is running for student council. It'll look good on her college apps — I see our favorite bad influence is taking the age old motto "Work Hard, Play Hard" to heart. While climbing a weak scaffolding to tape her campaign poster high on the wall, Kiesha falls. Jennifer panics, watching as her bestie plummets, and her eyes flash orange!! Her hands glow and burn!! And OH MY GOD YES THE MOMENT I HAVE BEEN WAITING FOR HAS ARRIVED!!! JENNIFER PIERCE HAS FINALLY COME INTO HER SUPER POWERS!!!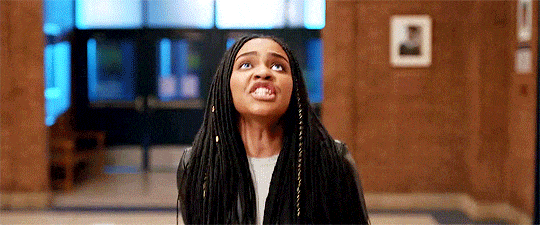 Both Jennifer and Anissa's powers came from a moment of fear, but the circumstances coloring their transformation are different. Anissa was was worried about her and Jennifer's safety; Jennifer was worried about Keisha. Jennifer didn't have panics after the motel kidnapping, because her big sister was there to protect her. No one was there to protect Keisha. I love that for both Pierce women, the strength and support of female relationships ultimately helped them find their own power. I really love that for Jennifer, that impetus was her relationship with her best friend.
Later, alone in the safety of her incredibly pink bedroom, Jennifer recreates the self-start fire all over again. She focuses and closes her eyes, not stopping until she once again sends sparks to her cell phone. I'll give the younger Pierce sister this, she's figuring out the ins and outs of her powers much quicker than Anissa did at the start of the season. Maybe Jennifer applying to Harvard isn't so far fetched after all.
Jennifer continues her hot streak (sorry, I couldn't help it!) of good ideas by taking all of this new information to her older sister. At first Anissa waves her off, thinking that Jennifer is just being her nuisance self again, but she stops cold when she sees the pain-stricken look on Jennifer's face. Her first thought, "Are you pregnant?"
Then Jennifer presents her with her phone. Burned and charred to pieces.
Next week my dreams are going to come true, and we will have a Pierce Sisters super power team on our hands! Can you imagine?? Until then, I hope you are all enjoying that extra hour of sunlight that Daylight Savings brought us. Love you!