One of my big goals for this, the year of our lord (Hayley Kiyoko) 20gayteen, is to seek out more explicitly LGBTQ media. I am 32 years old and I've gotten real sick of relying on subtext or blink-and-you'll-miss-it "representation" over the course of most of my life. These days, I constantly crave queer ass stories about queer ass characters. Give me soft butches in love and nerdy non-binary people saving the day; show me bi women solving mysteries and trans superheroes fighting against evil. I want all. the. queers.
Luckily for us all, there are some incredible indie game creators who are here to give the people what we want: gays! I played two games recently that made my heart dang near burst out of my chest in very different ways: Butterfly Soup and GENDERWRECKED.
First of all, thanks to all the commenters who suggested Butterfly Soup — you were 100% dead on and I welcome any of your future recommendations. Butterfly Soup is described as a "visual novel about gay Asian girls playing baseball and falling in love," so if that didn't already sell you then I feel like you might need to reevaluate your priorities in life.
The length is fairly standard for a visual novel, about three hours total, and I loved every second of it. The game is split up into four sections; in each one you play from the perspective of a different main character, experiencing a mix of present day action and flashbacks to the girls' younger days. The structure helps to establish the girls' depth of character, and you really get to know and root for them all in a short amount of time.
In a lot of ways, Butterfly Soup is a classic coming of age story. It's about a group of kids learning about themselves (and each other) as they try to navigate the world around them. They deal with pressure from their parents and stress out about having crushes; they fight with each other one second and joke around the next. But instead of focusing on a group of straight white boys, as so many coming of age stories historically have, Butterfly Soup is unequivocally Asian and female and queer.
A big pet peeve of mine is when straight creators or actors talk about their characters and describe them as people who "just happen to be LGBTQ." And I think I understand the intention, well-meaning as it probably is. They're trying to say, "Hey, we're all humans and we're not so different," but it never fails to annoy me. My being queer does make me different from a straight person, and that's not a bad thing. Because I'm queer, I've had different experiences and I have a different point of view — and that's cool! You might also be queer, but have had a totally different life than me — and that's great too! Diversity is really neat.
The girls in Butterfly Soup don't just "happen to be gay" or "happen to be Asian," those are quintessential pieces of who they are. And when authentic representation is at the core of the story instead of a peripheral afterthought, you get something that feels real and specific and somehow also universal. Even though I'm not Asian and I wasn't out in high school, I was able relate to parts of all the characters. I feel Min's rage at how unfair gender can be. I make jokes to cover up my insecurities, just like Akarsha. I empathize with the academic pressure put on Noelle. And most of all, Diya's love of dogs speaks to me on a deep, spiritual level.
The game is really funny and almost painfully cute, and it somehow made me wish (for a very brief moment) that I could go back to high school — a feat I didn't think possible. It also focuses on positive young queer relationships, rather than trauma or tragedy, which was a refreshing change of pace. You can get Butterfly Soup right here for PC, Mac, and Linux, and you can name your own price, so you should really do it right this second.
Like Butterfly Soup, GENDERWRECKED is a visual novel that tackles queer topics — in this case it focuses heavily on, you guessed it, GENDER. It's shorter (only about an hour long) and stranger and far more figurative than Butterfly Soup, but that doesn't mean it's any less authentic or affecting.
In GENDERWRECKED, you embark on a quest to learn about gender by exploring a post-apocalyptic landscape of forgotten islands. While traveling, you encounter all sorts of monsters — some more friendly and helpful than others — and you can choose to interact with them in whatever way you think it will most help your quest. One way to learn about gender, apparently, is to make out with monsters, which I recommend 10/10.
Despite the game's fantasy setting and bizarre cast of characters, GENDERWRECKED's central quest felt real and solid and truthful to me. I have spent a lot of time thinking about gender (both as an abstract concept and how I personally relate to it), and I've often struggled to put words to my feelings. GENDERWRECKED is the first game I've ever played where I felt completely seen and understood as a person who tentatively identifies as genderqueer. This game provides so many beautiful descriptions of gender, it was almost overwhelming to see them all represented in one place.
GENDERWRECKED isn't all heavy, though, there's actually a nice balance of absurd humor mixed in with the more serious conversations. Plus, you get to wrestle with Jolene, who is a tree.
I really can't recommend this game enough, especially for folks like me who have had a tough time articulating their gender or even knowing how or where to start thinking about gender. While the game is quite short, the characters are memorable enough that you'll probably want to play it more than once. You can get started on your very own GENDER quest here for PC, Mac, and Linux.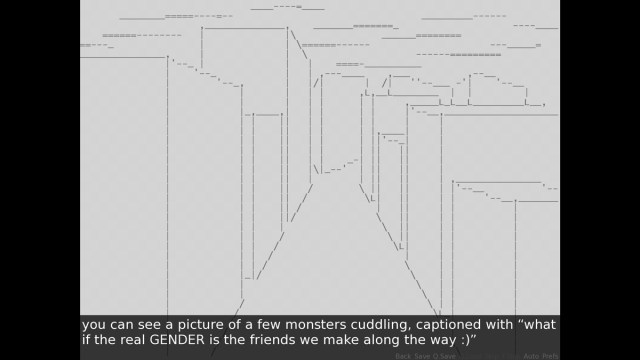 Here's to hoping the rest of the year is filled with as many wonderful queer games as these first few months have been! I've already heard about one called DATE KNIGHT, "a light hearted comedic LGBT dating sim where you date gender ambiguous knights," which you can support on Patreon if you're able to.
What queer games are you looking forward to over the next few months?