Under the guidance of costume designer Cynthia Summers, the original L Word was beloved and teased in equal measure for its early explorations of L.A. lesbian chic — Bette's giant collar shirts, Shane's gauzy t-shirts and skinny ties, Helena's pencil skirts, Jenny's poofy dresses. For The L Word: Generation Q, the mantle was passed to Deirdra E. Govan, whose twenty years in the industry include designing for Sorry to Bother You, The Sun is Also a Star, The Big C and The First Wives Club. Gowan was a huge fan of the original series and was eager to step up to reimagine the queer style of the much-anticipated reboot. This time around, we found our beloved characters expressing themselves in Wildfang suiting, designer jumpsuits, boxer-briefs, cheeky button-ups and pants with rises as high as their wearer's ambitions.
I caught up with Deirdra on the phone two weeks ago when she had a brief moment of time off from her current project, an Amazon comedy from Girls Trip writer Tracey Oliver, to talk about FASHION.
---
Riese: So for Generation Q, what did you consider in terms of how to portray queer style or lesbian style specifically — in a way that'd be clearly different from heterosexual style?
Deirdra: I actually think it's a blend. I think the important thing is to have a clear understanding that there are some distinctions but as we've evolved, I think style is as style does. There's the typical stereotype that people tend to look at when you're looking at lesbian or queer style — how do you identify a femme from a butch from a masc and all of that. I took those things into consideration because that's the kind of show I'm doing and it has a history and a following. But I really worked hard not to fall into stereotype. I've known The L Word very well and was extremely familiar with the characters so I knew the history and was ready to take the ball and push it forward into the future.
I will say the hallmark of "lesbian chic" — meaning suit dressing — is a thing that I really wanted to play with. Bette's style is power dressing. Historically, power suits are a part of Bette's style but I wanted to do some things differently to address someone who's transitioning from running an art gallery into a political powerhouse. Clothing has a lot of subtext. Everyone has their opinion so I try not to say "this is dyke culture." You know — "this is butch, this is masc." I let the character that I'm building trying to speak that language on their own.
Riese: So did you see the original L Word when it was airing?
Deirdra: Yes, absolutely. Of course. I was a fan of the original one. I watched it religiously. So it was a true honor to get the opportunity to design the re-envisioning of it for a new generation.
Riese: Was there anything that struck you at the time when you were watching about their style that you were drawn to or confused by?
Deirdra: I was mostly drawn to the fact that nothing like it had ever existed before. When you're well traveled and worldly you see many variations and definitions of "a lesbian" and this was the first time that I had experienced that on a TV show, outside of my own culture and my friends and my relationships. It was truly trying to articulate something that was no longer hidden.
In my opinion — I mean I try not to take it too seriously, you know? A lot of people would say it's a telenovela but I just love the whole exploration and "out there" aspect of it. It's as far off the beaten path as it could be. I just loved the fact that these women were finally being shown. What I think was joyous for me going into Generation Q is that this is a new opportunity. Things are so different now when you're talking about LGBTQIA. The blinders are off. That's very invigorating and exciting thing in and of itself.
Riese: So you were talking about how you brought Bette to the next professional level in her lives through style. How did you conceive of that when you were thinking about Shane?
Deirdra: My journey with Kate was pretty special. She's an East Coaster, so we related in a lot of ways. I knew I wanted to take a risk with her and bring Shane into the world of color — to get her out of the blues and grays and typical silhouettes that people were used to seeing her in. I mean there are some mainstays: low-waisted skinny jeans, the boot. But I wanted to push some color and prints. That was a ball that I threw and she caught it and we ran with it.
She was the one that I really didn't worry about because her identity was so solidified by the end of the original series. She's coming back as a woman of the world who's made money — she's sold her boutique hair salons now she's trying to make her own way, asserting her personal identity, seeing what relationships she's lost and what she's gained.
Deirdra: My bigger challenge was identifying Bette and taking those notes. Taking on a political role; some of the riskier things she could wear back then, we have to consider differently for the political stage. How do we keep that sex appeal? That that whole "attraction" that everyone has had for Bette for so long? I wasn't trying to make her dry in her style of dress by any stretch of the imagination, but more evolved. I feel Bette was always sophisticated in her own right, but we really kicked it up a notch. Showing those layers of her elegance was something I was really striving for.
Riese: Well I think you achieved it!
Deirdra: Thank you, thank you it means a lot, I'm always up here in my bubble like oh God did I do okay?
Riese: You talked about using color with Shane but honestly I felt like all of the outfits had more color than we had in the original. Like it was much more vibrant visually than the original in that regard.
Deirdra: Color tells a lot of story. I really use color the most with Alice. Leisha's evolution as Alice is extraordinary and I felt really drawn — I love all these characters but, it's a rare opportunity to create Alice 2.0. The chart has now evolved into a fully formed talk show! How do I depict Alice as a woman who also has evolved, has means, and also is in love? With a woman who has children and an ex-wife? Her show was trying to tell you lesbian stories and true stories and have real conversations — as tongue in cheek as they could be. But I loved it. Her power suiting was an intentional decision that we discussed — how to differentiate her show her "show life" from her "family life" then from her "just hanging out going out life"? It was a lot of fun getting into that, identifying it, exploring it and then nailing it.
Riese: So I noticed that there was a lot of Wildfang and also some Tomboy X —
Deirdra: Yes!
Riese: I'm wondering — did you reach out to them, did they reach out to you, were you trying incorporate queer designers intentionally?
Deirdra: It's very ironic that you ask this, because I'm currently designing for another show right now where we also have a queer leading female and it's — I mean Wildfang and TomboyX are just woven into the very fabric of lesbian culture.
Riese: Yep! Absolutely.
Deirdra: If you don't know who they are it's kinda like okay… have you been under a rock? So I felt it was important. I did do quite a bit of research trying to find local designers who were within the LGBTQIA cultural domain, but not all of them had the ability to meet the demands of a television series. We will go fast and we have to shop quick. Wildfang has always been there. Our showrunner famously touts Wildfang. I mean it's — you can't not use Wildfang.
TomboyX also just worked also because the girls knew the brand, they were comfortable wearing it personally and on the show. So it was a no-brainer. There were whimsical moments where I really loved Sophie in some comical Wildfang briefs which were fantastic. The first thing you see Finley in is her Wildfang popsicle underwear. That was an intentional and immediate call out to her character in a very tongue-in-cheek way. So using these brands for me is not just a one-off. It's really personal and intentional. I just wish there were more [queer designers] who were really able to have the quantity and meet the demand.
Riese: Speaking of TomboyX, I'm interested in how you thought about underwear in general? There's also a few characters who often don't wear bras at all.
Deirdra: Undergarments and underwear and lingerie — all of these details really don't come into play unless they're written within the storyline. I really wanted to place close attention to like, who's wearing the Calvin Klein bralette? Who's wearing the racerback? Who's wearing just the bra? And, you know, who's not wearing one at all? That also goes into the line of actor comfort. If you look at characters like Gigi there are many occasions where she's not wearing a bra because it just really wasn't part of her everyday. For Finley, right out of the gate — Jacqueline wears racerback sports bras.
Riese: Yes I was like absolutely, that is correct, that character would absolutely wear sports bras.
Deirdra: For sure. She'd never ever wear a regular bra ever.
Riese: Yes.
Deirdra: Honestly for Rosanny, it was out of comfort. She doesn't like underwire and ironically the racerback bras were perfect for her because she was busty, so it was very important for her that her décolletage read well and that she was comfortable so we just fell into that with her as well. So when I think about the underwear it's based on character of course, but also bringing the actor into consideration and what they're truly comfortable wearing, and what the storyline calls for.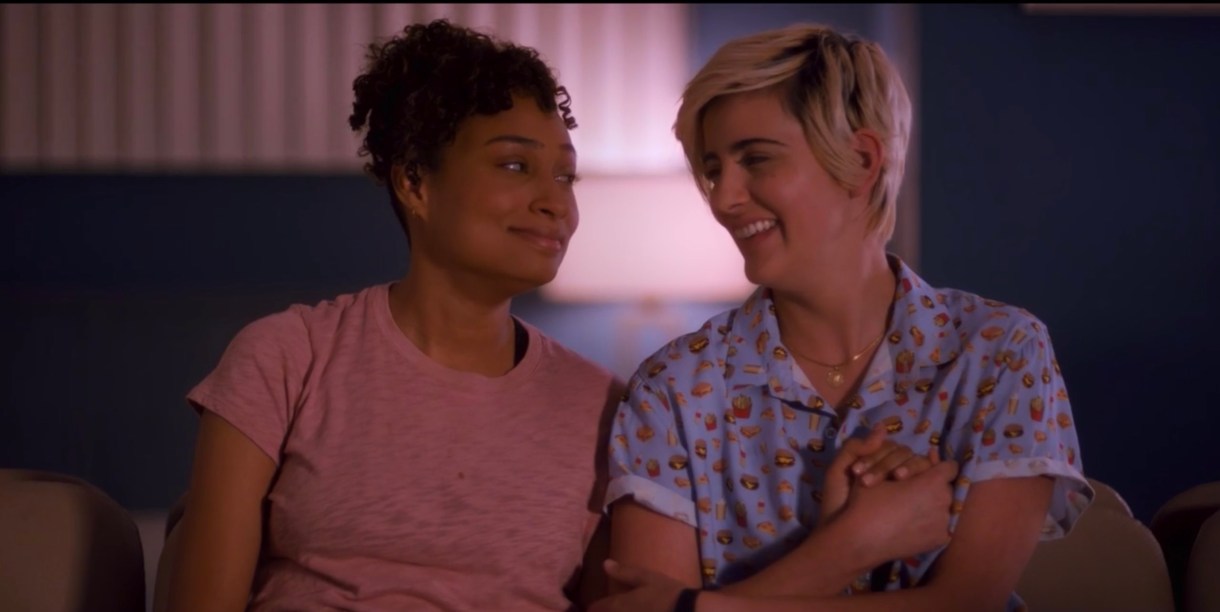 Riese: Is it ever challenging to dress people who aren't wearing bras in terms of the traditional silhouette that bras create for people, like when you're picking out shirts?
Deidra: That's a really good question and yes I do! Bras are all about gravity. For me personally, they're annoying necessities. I wish I didn't have to wear one but I do. And I feel like a lot of my friends these days are just totally getting rid of the underwire or opting to wear the bralettes or bras that don't have that "support" because they're just like, okay, my boobs are what they are! So there's something of a natural silhouette movement building, with brands like Lively and Third Love trying hard to change the bra game. I think that's an exciting frontier and for me personally — I think the whole structure of bras can be somewhat restrictive and uncomfortable but you know it's been around forever. It's the sister of the corset.
I do feel when I'm dressing for shows especially shows that the cast is mostly women, bras are a very big conversation, because of how they shape you, what they hold, what they define — there are some bras that kind of push you down and hold you. So it's an interesting conversation it's a it goes into a deeper conversation of binding for for dyke culture and all of those details. It's a very interesting conversation! I've never had someone ask me that before.
Riese: Oh really?
Deirdra: Yeah, and it's ironic because I was just shopping for bras today!
Riese: So — with Finley since she was supposed to be supposed to be on a really tight budget — first of all, she did repeat clothes, right?
Deirdra: Yes.
Riese: Which was cool, no one ever does that on TV! I was like, oh there are those cut-offs again. How did you think about dressing her in a way that — obviously on television we use designer brands for poor characters all the time, it's just TV — but did you take her income into consideration when dressing her character?
Deirdra: Absolutely. 100%. It was very clear. Finley was probably the most clear out of the new bunch. She had no money, she was coming from the Midwest, and she's trying to start anew. Technically speaking, we talked about maybe she came with one duffle bag and one backpack and that was it. Jacq came through the door as Finley. And the interesting thing about it is that Jacq is a bombshell. I mean she's a model, she's got legs that go on for days, she's beautiful. But she completely walked through the door as Finley. So my work in terms of transforming her really wasn't that difficult. It was very simple: same cut-off jean shorts, some track pants. She wore Vans and Converse, maybe had some Air Force Ones or some Nike Airs in her closet but she was not rocking a multitude of pieces.
There weren't a lot of designer brands per se, but there were staples. The biggest staples for her were Vans, TomboyX, the Calvin Klein bralettes and just some button-front shirts from Penguin. We tried some Fred Perry polos but ultimately didn't use them 'cause they were too pricy and the danger of putting someone in that just because it looks good can put you on the radar to get called out and I didn't want to do that. So I just tried to lean into her character wholeheartedly. I mean her evolution really doesn't really happen with her clothes, it really happens with her character.
Riese: You mentioned some brands for Finley, were there other brands that you found yourself going back to for the other characters as well?
Deirdra: Um, yes. I mean Sophie definitely had a mix of some designer pieces and Wildfang. They were really generous in working with me. She had some incredible lug sole shoes and she had some great little lace-up oxfords that she wore.
Dani did more edgy designers. But she's kind of in that world — people would liken her to Bette. She's not, but you can see why people would draw that connection. So she definitely rocked designer dressing in a different way and I had a myriad of designers for her. I had her in Dries Van Noten, R13, Sandro, a few pieces from new avant garde designers. For her it was about how to make a business style more edgy.
Riese: Were you ever intentionally thinking about how outfits would look with what other characters in the scene were wearing? Like there was a scene where it seemed like Dani and Bette were wearing the same colors but reversed?
Deirdra: They weren't! I'm glad that you asked that question so I can clarify. That was a situation due to camera. If I can recall correctly — Danny was wearing a navy blue blouse and her pants were silk with a navy blue background and red paneling detail. Jennifer's top was a fuschia-magenta Stella McCartney blouse with these incredible wide leg pants. They were iridescent and they were almost like a basket weave of purple, blue and fuchsia. So they were distinctly different. In my mind, it's two women who were of equal stature in their own right meeting and having a conversation. So I thought it was really interesting what people really saw that and were like oh my god they're twinning! Their silhouettes were similar but unfortunately the camera doesn't always read clothing well. Especially the way we shoot in high def. Some details do get lost which is the sad part when you're using lenses and your design team or your hair and makeup team is not aware of that. But I'm glad everyone really loved it.
Riese: Yeah I thought it was a good thing!
Deirdra: Yeah it was! But I was like no they're different!! But the silhouettes were the same. Most definitely the silhouettes were the same.
Riese: So this next question… isn't a question. I've just written down in my notes "ask about jumpsuits and high-waisted pants." So um, jumpsuits and high-waisted pants! Were those choices made just 'cause they're in style or was there a specific vibe you were looking for? They were all great by the way.
Deirdra: Thank you Riese, thank you. I think there's been a huge movement towards high waisted jeans for a long time and the high-waisted wide-leg pants has been in fashion for a couple of seasons now. What's interesting is when I get in the fitting room with the actor I always ask them what what kind of jeans do you like to wear? Jeans are very personal. And surprisingly every single actor said they hated low waist, they hated a mid-rise. Everyone wanted a high-rise.
And in terms of a jumpsuit — who doesn't love a jumpsuit? I'd wear a jumpsuit every day if I could. But I felt jumpsuits were so much a part of the fabric of the characters. I tried to avoid overkill — but when it looked great, it just worked, and it's very much on the pulse of fashion. I don't think our jumpsuits will ever go out of style, there'll just be different iterations.
Alice's jumpsuits were perfect for Alice, and Sophie's jumpsuits were perfect for her. And you know, even Jennifer donned a jumpsuit twice — the grey Max Mara jumpsuit from the day she picked up Angie from school — which was by far one of the most incredible jumpsuits I've ever seen because it was so beautiful in its detail. And then she had a Maria Carnejo blue black ink jumpsuit during the whole campaign. I think one of my favorites also was Alice's Rachel Comey gold jumpsuit in the first episode.
Riese: What were you thinking about when you dressed Micah?
Deirdra: Micah I wanted to be simple. I didn't want him to be contrived. You know, Leo is such a beautiful soul and I didn't want him to come across as just a J Crew guy, I wanted him to feel like someone who was just accessible — he had a uniform, but it wasn't too fussy but it was just very simple and very him. Uncomplicated in juxtaposition to our other cast of characters. He definitely had his share of details that I worked through but I didn't want to make him — I don't know, I just wanted to keep it simple.
Riese: So The L Word pretty legendarily doesn't operate on like the normal time system. When you were doing this did you have a certain season in mind in terms of like — fall winter spring?
Deirdra: Absolutely yeah. This time around the show was actually in California, so we absolutely were playing into the weather. California nights can be chilly, which I wanted to take advantage of — any time I had the opportunity to throw a coat on or a sweater, I did it. You have that moment when Felicity and Bette were outside meeting on the park bench and she has on a suede tie-front jacket and Bette has donned her blazer from the day. In moments like that I definitely did try and play with the weather and I think that actually turned out to be quite a chilly night. It dipped down into the forties, which was so bizarre.
Riese: Is there like a favorite outfit that you put together?
Deirdra: Oh my Gosh, I have many. Bette's grey jumpsuit was one of my favorites, I dressed her in a lot of Maria Cornejo. I loved when Shane had on the red Saint Laurent blouse on. I loved her black tuxedo shirt for her birthday. I loved Alice in her jumpsuits. I have a list — Dani's R13 shirt and her teal slacks were fabulous.
Riese: I loved that outfit so much!
Deirdra: Thank you! I loved her election outfit, her Sandro black polka dot top underneath. She had some sneakers on, it was so cool. I actually liked her her ending outfit — she had this amazing split back satin jacket and these gold Gucci sneakers and jeans. I thought that was very L.A. style. And Alice — I have a list. I could go through Alice's closet on my own and just have a field day. She had so many great looks. I loved her suits, especially the one the day that she was interviewing Megan Rapinoe.
Riese: So you also worked with Jillian Mercado who I know is a model —
Deirdra: Let me tell you…. she's incredible. She's such a good soul and she's so incredible and just a solid person. I could go on. She's a style queen.
Riese: Yeah, totally! I knew of her vaguely but I didn't know of her in detail before Generation Q and now I follow her on everything. Were there specific challenges or considerations with dressing her, because fashion historically has been reluctant to make outifts for all types of bodies?
Deirdra: I have to say Jillian is so open, very open. I think it's my job as a designer to do the work to understand and ask the right questions. When we talk about her dressing, there wasn't really anything that was off-limits. We did have to take into consideration that she is a woman with a disability and how clothes look on her because she's sitting all of the time. I wanted her to have some style and flavor.
One of my favorite looks was the scene when Sophie confesses to her that she kissed Finley. I had to fight to keep the hat on her and they were like no it's covering her face and I was like, this is an important moment! I want someone with a disability to be seen as fashion forward. I wanted her to be seen as sexy and beautiful and cute. She's a badass! And I loved her for that!
Riese: I loved her outfit in that scene and also Sophie's polo?
Deirdra: I'm so glad! That shirt was a battle. I bought it earlier in the season. I tried unsuccessfully to get that shirt on Sophie. It was shot down. I try to let everyone know like this this is a moment, it means something! I just love the comedy of her "oh my god i kissed my best friend and I'm wearing a rock lobster polo." It was great. It was important for me because Sophie had that bit of comedy about her and I didn't want her personality to just get lost in the chaos that was her life, and being torn. I wanted to inject some kind of laughter somewhere without it being jokey, if that makes sense? I didn't want a slogan t-shirt or anything like that. But that I was like, this is a moment where I could use this shirt.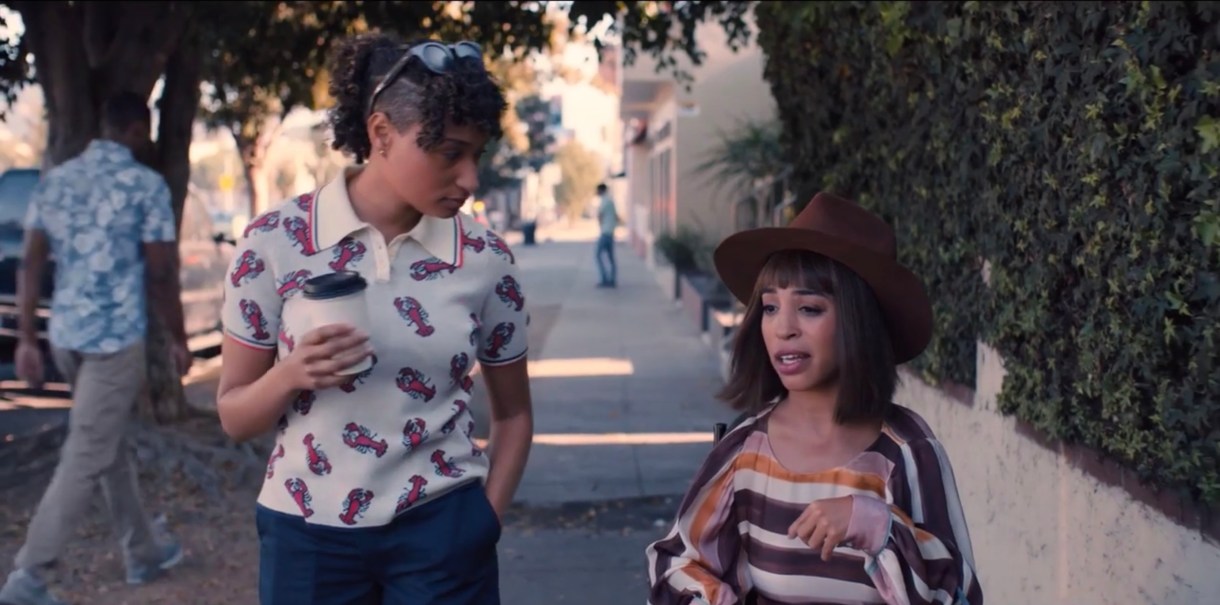 Riese: What was Gigi's vibe?
Deirdra: Sepideh. I'm in love with her. She's a really really incredible person. I mean they all are! But she came in like a gust of wind and literally blew me over. Dressing her was fabulous. We definitely were going for a little bit of masc with a little bit of femme without it being too over the top. It was a mix of Alexander Wang, really high end designers — you know one of my favorite looks she had was her blazer with these asymmetric jeans that buttoned over the center front. Her t-shirt said "Bullshit" over her left breast but you couldn't see it because the blazer covered it. Then these Alexander Wang animal print boots.
Her first look — when she nailed the wedding band to the door — is a re-worked Greg Lauren jacket with a wool shawl collar and an army fatigue body. And a t-shirt and just some grey wool pants. We were definitely playing with a bit of androgyny. I was shopping one day and I picked up this suit and I didn't realize til I got into the fitting room that it said "The Gigi." That was the suit she wore for the birthday party — the jacket, the pants and the bralette. It was so perfect because it was hers, it was Gigi.
Riese: Okay so…. did Alice ever wear the same pair of glasses or was is it always different glasses?
Deirdra: We pretty much plotted them out to be different. She did wear the sunglasses in two episodes but she probably had roughly like 4-5 pairs of glasses and two sunglasses. But we tried to stay consistent. There was a big concern about them being a distraction but Leisha and I both felt that they were a defining aspect of her character. I was going back in my mind into the Sally Jessy Raphael Days — those red frame glasses she always wore> I grew up watching that and I kinda wanted to pay homage to that, but kick it up a notch and have all these incredible frames on her face. We didn't want it to be comical. I feel like we struck the right balance.
Riese: It was really cute, I thought it was fun. I did think of Sally Jessie Raphael because when I was a kid I made a parody of Sally Jessie Raphael with my video camera starring my brother as every part. It was a classic film that I haven't gotten into Outfest yet.
Anyhow, as there anything about working on this so that surprised you? That you weren't expecting?
Deirdra: I think what was really awesome was the guest appearances. I mean… Roxane Gay! I'm a huge huge fan and I was so excited to work with her. She wanted to make sure that she looked good and I was very confident and comfortable dressing plus size women and giving her a style that was still hers. And I just loved it. I loved meeting her and of course who doesn't geek out meeting Megan Rapinoe?
It definitely was a good ride. I tried not to think of the pressure, but in the back of your mind you know the special place that so many people have in mind for this show. And I didn't want to let anyone down. I wanted to do my best, and that's what I focused on.
Riese: So what was your pathway to this career?
Deirdra: I've been doing this since 94/95. So, 20 plus years. I went to Parsons School of Design. Tim Gunn accepted me into the program. I did my undergrad in fashion design and finished with that and a Bachelor of Business Administration in Strategic Design and Management. [Deirdra also has an M.S. in Interior Design from Pratt] I knew right away that I wanted to go into film and television. The way I saw was just so theatrical. I was blessed and fortunate to have a family who fed my imagination for film and television — for movies, for art, for culture, for reading, for books, for traveling the world — and I did. Film and TV takes a certain type of personality. It's not glitz and glamour. We work hard. It's grueling, it's laborious, it's hard on the body and the mind. It can be harder on your soul and you have to love it.
I think for me — I hate this typical term, but I think I'm in the field that I was born to do. I love telling stories. The narrative of clothing is very special. It's very unique. The challenges are many, because people feel that because they wake up every morning and get dressed that they too could be a costume designer. But it's been a climb.
I started out in theater as a costumer on Broadway doing shows like Les Miserables and Miss Saigon and Phantom of the Opera. I did a tour over in Europe for about a year and then came back and was asked to do a TV show, and that was my first one. I started doing TV show after TV show, and then graduated into films I think a summer or two later and I didn't look back. Then I moved up through the ranks from a costumer to a key to an assistant supervisor then to supervisor and then I made the jump back over to the design world because that's where I had always had been. I started assisting designers that I knew and had cherished and admired their work and you know — here I am. This has been definitely not a "oh I just fell into this," this has been a slow climb to this level. So I hope it only continues.
Riese: Well, I think it will!
Deirdra: Thank you!
Riese: Have you noticed at all over the course of your career, any shifts in terms of — I know when I was growing up there was only one type of body that was allowed to exist on TV. I'm wondering if you have noticed that at all in your work with dressing actors over time?
Deirdra: I've not only noticed it. I've done it. Right before The L Word I designed this series called First Wives Club. Tracey Oliver took that film and based it around multicultural group of women and two of those women were plus size. The thing that I love about that is this slow inclusivity keeps happening. I think I'm that designer that is that rare find that I believe you should be able to dress any body, not just a size 2 or 6.
I think that's where your mental dexterity comes into play — with knowing form. I credit my education and my draping, my pattern making, my understanding of body to that ability. It's all come into play, especially with the evolution of and the acceptance of different kinds of bodies on screen. It's very exciting. It's a great great time and it's not going to go away it's going to continue to accelerate and I welcome it. I think it's pretty awesome!
Riese: I think all my questions unless there's anything else you wanted to talk about!
Deirdra: No I'm excited to have finally gotten the chance to speak with you. I'm a huge fan of Autostraddle and I love the site and your guys' writing style! It cracks me up.
Riese: That's great thank you!
Deirdra: So it's really cool to be interviewed by you guys about The L Word and I thank you for looking at the work and I appreciate it.
Riese: I loved so much of the fashion! I was always looking stuff up. I finally found a website that kind of tracks some of it? Like tracks the brands?
Deirdra: Yeah! They actually called me. I probably get like two or three people a week hitting me up like "where did you get this from?" and I keep saying — you know, I need to sit down and just do a deep dive and pull out my Top 5 or Top 10 looks but I'm already doing another series and I just don't have the bandwidth!
Riese: Yeah I mean people ask us! And I'm like, I'm not a designer, but I will look! I did somehow manage to find that one outfit of Ari's on Shopstyle and I felt VERY proud of myself. Of course the pants and the shirt were no longer in stock.
Deirdra: So many people were like where do I get that? And I'm like, it's no longer available! The studio set a very tall order of demands but I was very prepared. They wanted to make sure it was inspirational and aspirational. That's how I saw these women so I easily delivered that and then some. I love when people respond to what they're seeing on screen and want to buy it. I try to do things in a way where people can see themselves or maybe want to try and emulate a look. That's that's the whole joy of getting lost in a series.
Riese: Yeah! People were also very interested in where Finley's shirts were coming from.
Deirdra: You'd be surprised! They came from everywhere. They came from some hipster boutiques in Silver Lake of course. Some of them came from like the most unbelievable places — TJ Maxx is a real thing!
Riese: I love TJ Maxx!
Deirdra: Yeah, some of her shirts came from TJ Maxx!
Riese: That's cool because that's probably actually where she shopped in Missouri.
Deirdra: Well you know you have to put yourself in the mind of the character. Where would Finley shop? She would most definitely hit a TJ Maxx and thrift stores. Her cutoff jeans were from a thrift store. That's the idea of playing with the high and low which is something that was kind of like a hallmark of my design process anyway. So no matter how much high style I'm doing there are tones of jewels that can be found if you just look in the most unexpected places.