Okay, calling all lesbians and poets: the Earth has got a tiny little girlfriend! Why don't I have a tiny girlfriend? Because I'm not a bajillion years old and stunning I guess.
This tweet by twitter user @ka_waltz garnered a lot of attention which brought this incredible news to our radar.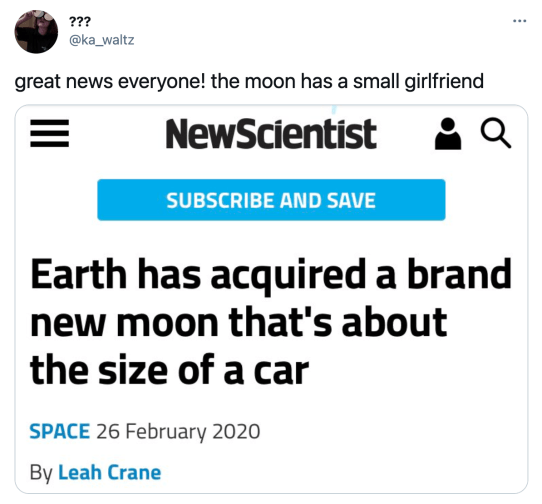 Who is she? What's her name? It's 2020 CD3 and she's a tiny moon that's gonna put "2.15.2020" with a ring emoji in her Instagram bio any day now. My favorite thing about this news is on the New Scientist article about it, it simply states "Earth normally has just one moon" in the most matter-of-fact tone that I find absolutely delightful. The earth is in a polycule with one pint-sized tender butch and one fat, beautiful lesbian moon. This is the stuff I write poetry about. I have quite literally written a poem about this. I called it "The Moon is a Lesbian" and wrote it for an ex-girlfriend. I tried to find it in my google drive but it may have been one of the many poems I wrote for her and only her. She kept them in a little box so if you want to read this stunner about lesbian love you'll have to ask [redacted].
Back to this petite moon though. She was first noticed the day after Valentine's Day by the Catalina Sky Survey team based in Arizona. After calculating it's orbit with six additional observatories, it was determined that mini moon has been around for about three years! The Minor Planet Center, which keeps track of "small bodies in space" (and aren't we all just like, small bodies in space?) thinks this is just an asteroid that got caught in the Earth's devastating gravity as it was passing through but, isn't it fun to believe that the earth has just found a new lover? That she's putting on lipstick and dancing to "You're Making Me High" by Toni Braxton just thinking of the date night they're gonna have. Since we human's are about three years behind from when she showed up, I'm sure they are at the point in the relationship where they fight a little bit, but always come back to mantras likeI see you and I hear you just like their couple's therapist taught them. It's estimated that 2020 CD3 is about the size of a car, which is the cutest thing I've ever heard in my life. A car-sized moon, I'm smiling ear to ear, I know absolutely nothing about science but I can't get enough of this news.
Scientists say that the orbit isn't stable, which sounds like every fling I've ever had with an Aries, so I can empathize. At any moment 2020 CD3 will be whisked away from the Earth as she's not one for long term, monogamous relationships and really "enjoys her independence." Don't sleep on the Earth though, she apparently has pulled many mini moons in her day and is equally unattached to all of them. So many lesbian lotharios in one quaint solar system, who could have dreamt of such a world?
In this fabulous little polycule who do you think has the rich parents and which one makes the skillet cornbread for dinner on special occasions? Which one is the artist? Trick question, it's all three. Which one do you want to be your girlfriend: mini moon, thicc moon, or mommi earth? Sound off in the comments!