Well, friends, here we are again. Here I am recapping my 72nd episode of The L Word franchise. I have recapped The L Word in three parts of Florida, in New York City and in Oakland and in Michigan and in Los Angeles and in Austin and in middle seats on airplanes, at hotel desks and in the chilly back office of my Mom's house in suburban Detroit. I have recapped while crying, while drunk and high, while having a violent allergic reaction to my friend's new cat in her otherwise impressive Nyack lakehouse; in my underwear with my laptop on a pile of pillows and my back against another pile of pillows, my face lit up by computer-screen glow next to a naked sleeping girl who'd wake up for work at 7am and ask "is it done yet" not because she was worried about my physical health (these burdens are our own to bear, I'd made that much clear) but because she wanted to read it on her subway ride downtown. I was recapping The L Word when I started dating my first-ever girlfriend, when I started this very business with my next girlfriend and was recapping The Real L Word when I moved in with the girlfriend after that. Now I host a podcast that recaps The L Word out loud with a friend I used to watch The L Word with when it actually aired. This is the way, it's the way that we live. These burdens are our own to bear.
Today's "To L and Back" podcast episode is a live recording of our interview with the Gen Q cast that we did last week at the Los Angeles LGBT Center, and on Thursday, the first Generation Q episode of "To L and Back" will debut with its new hosts! In subsequent weeks, the Gen Q podcast will come out on Mondays, like the TLAB podcast did and will again after the Gen Q Season One finale.
TV recaps have changed since I used to do this, though: they're not popular in the same way they once were. So I'm curious to know what you'd like out of these recaps! Do you want the same formula I did before —  the blow-by-blow? Or would you prefer a shorter review or some other clever and brief format? Let me know in the comments!
Until then, I'll be recapping in the same manner in which I performed my original L Word recaps, which's to say I will be counting Sexy Moments and Squabbles and picking a quote of the week. Unfortunately, I cannot do a Jenny Moment because… Jenny is dead.
So, here we go: welcome to the first recap of the first season of The L Word: Generation Q, brought to you by the same network that brought you The L Word, a show about a super-hip skateboard shop called "Wax" and its singular salon chair! Let's begin, shall we?
---
We open on a picturesque Los Angeles morning. The birds are chirping, the sun is shining, the grass is growing, the climate is changing and the lesbians are carpet-munching. Let's not waste any time!
Lesbian Sexy Moment #1: Bloody Heaven
The Players: Dani and Sophie
The Pick-Up: Happened before our arrival but Sophie reveals, post-orgasm, that she 'woke up so horny' so I think we can imagine there was some spooning transitioning into sleepy ass-to-groin grinding transitioning into full cunnilngius.
Hot or Not? Yes! What a way to start the show, you know?
Now Dani's hand is bloody, like Macbeth's, because everything is normal and our bodies are beautiful. She reminds Sophie that "this happens every month." You know what else happens every month? Ovulation. As Tina pointed out to Bette in the first scene of the original series! It's the circle of life, it's the wheel of fortune, it's the leap of faith, it's the elastic waistband of hope.
Thus we now know biblically and otherwise that this is the beautiful golden couple: Dani Nuñez (Arienne Mandi) and Sophie Suarez (Rosanny Zayas). I promise I won't do this for the entire recap, but Rosanny and Ari had a lot of cool interesting things to say about this scene on this week's episode of "To L and Back!" Seriously it's not-to-be-missed.
---
Elsewhere, Finley (Jacqueline Toboni) is creeping out of somebody's very nice bedroom in her boxer-briefs, clutching a pile of clothes to her bosom, likely in hopes of making $2 at Crossroads.
Her car won't start, so she very kindly steals her date's bike and leaves her dead car in the driveway, probably blocking the live car in that garage, which means the girl she left behind is gonna have to Demolition Derby her way to work this morning, which's very butch, if you think about it.
Finley's flash of armpit hair feels as deliberate as opening the show with a period sex scene between two women of color — we're still in fantasyland to some degree, but rooted in something undeniably authentic.
We're then treated to a montage of Silver Lake / Echo Park street life, including Finley biking past a man who tells her to smile. She reminds him that "time's up, jackass!" Just a note that the original script said "motherfucker" and the preview said "bitch" so that was probably quite the journey for everybody involved.
---
Finley rolls up to Sophie/Micah/Dani's little palace and spots a shirtless man with a significant pectoral region carting some boxes and jets inside to interrupt Micah's phone call with a student to ask him if he HAS SEEN WHAT'S OUTSIDE. (Micah is Dani's best friend and ex, and is played by Leo Sheng!) You know what? There's a better view from upstairs, so let's just run right upstairs and bolt right into Sophie and Dani's room…
I feel like I know a lot of Finleys, you know? Like that friend who just really wants the best for you and gets more excited about your life than you'll ever be while maintaining only the most chaotic grip on their own. They've been through it — but you'd never know, looking at that smile. Finleys can be a nightmare to date but a dream to befriend.
Sophie cracks that Micah and Shirtless Man will probs get married before Dani proposes to her. So Dani's definitely proposing to Sophie this episode.
With Finley and Sophie safely off-set, Micah's like "what are you waiting for, propose!" and Dani's like, listen, I will, I just have to tell my Dad! [Trivia: this scene was re-shot — the original, which provided us with a very popular episode still of everybody in the window, felt too hokey to showrunner Marja Lewis-Ryan when she saw it, so they redid it. This and more interesting tidbits coming your way when I publish the interview I did with Marja later this week!] [Let the record show that Ilene Chaiken has STILL not invited me over for dinner to look at her birds.]
---
Cut to Bette's Enormous Home, where our Lady of Porter looks fantastic on the phone giving design feedback on her campaign materials (her first line is "Hello Again", as per promotional materials) while her daughter, a now fully grown up Angelica Gaymo, is texting in the bathroom.
Angie's texting with her friend Jordi who wants Angie to "not bail" on their plan today, and Angie says she won't, and starts to text "I'm sooooo excited" but then deletes it, which means Angelica is gay and has a crush on Jordi. It must be the gay gene. I bet Marcus Allenwood is bi. Angie tries to leave without saying I love you but then is like, JK I love you!
Three generations of queers: I love to see it.
---
Cut to Nat's house! Nat (Stephanie Allyne) is Alice's girlfriend who has two (2) children. Her son Eli is intently reading the back of a cereal box and Alice can't find the fucking spatula! Alice, like Bette, also looks fantastic!
Alice: "You know, when i was a kid, my Mom made me split a Slim-Fast Shake with her for breakfast."
Olive: "You're not our mom."
Alice: "Oh yeah sure I do know that!"
Who's at the door??? IT'S GIGI (Sepideh Moafi)! Yup, Nat's ex-wife and the Other Mother of these two fine young specimens appears out of the clear blue, pulling off a camel-colored blazer/trouser combo and looking, if I may say so, obscenely attractive.
It's time for our first throwdown!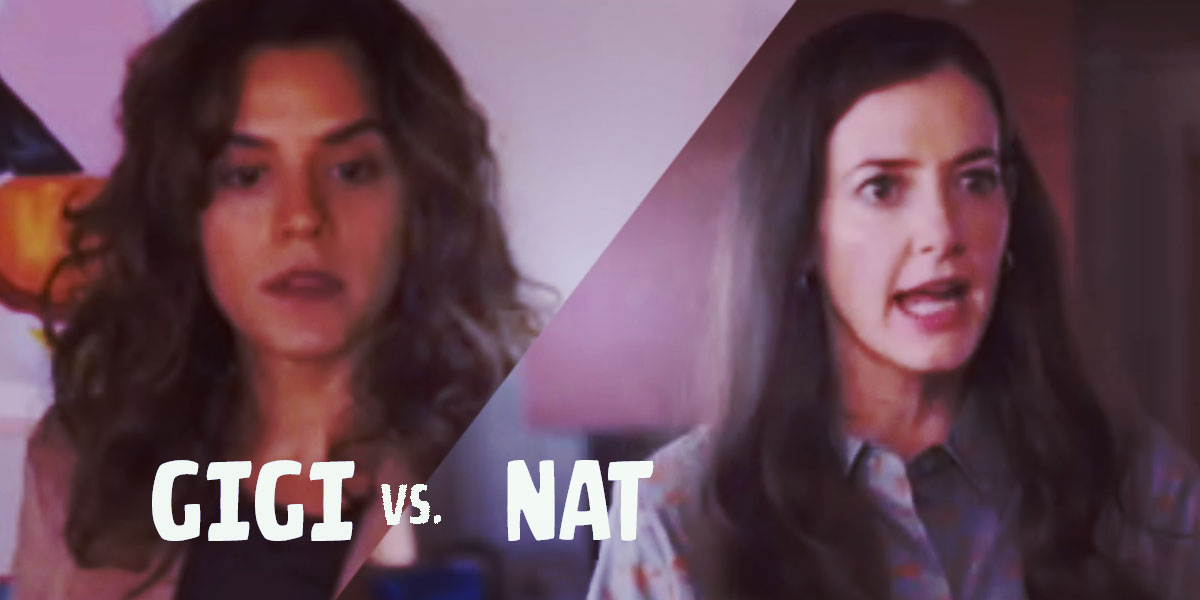 Lesbian Squabble #1: A Marriage Story
In the Ring: Gigi vs. Nat
Content: Gigi acts like she didn't know it was Alice's day to drop off the kids at school, which Nat finds VERY upsetting as it's thwarting her plans to get Alice to feel like part of the family as per their deliberately non-partisan shared calendar. The kids, clearly scarred by that time Alice was scream-crying post-yoga in a hoodie and barrettes while car-chasing Dana through multiple-lane roads in Malibu, wanna ride with Gigi.
Who wins?: Gigi. She's the fun Mom.
Gigi saunters up to Alice and informs her that her manicurist loves Alice's show and finds it very "cute." Also, Gigi is emotionally undressing Alice, this woman could probably seduce an oak tree or a box of paper towels. She and the kids exchange some dialogue in Persian 'cause guess what, Gigi is a Persian character played by a Persian actress! HOW FAR WE'VE COME!
Nat wants to process but Alice isn't in the mood for therapy talk, but… it looks like everybody woke up horny today.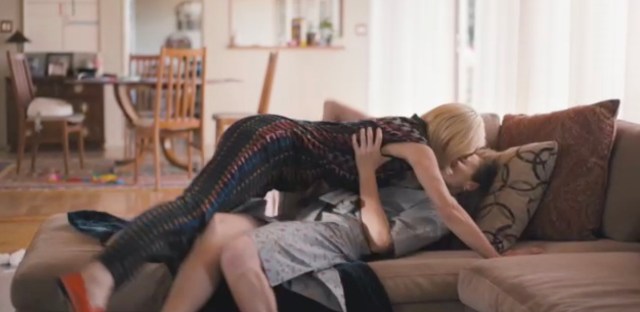 Lesbian Sexy Moment #2
The Players: Alice and Nat
The Pick-Up: "When do you have to leave?" "In seven minutes" "Wanna see if we could do it in six?"
Hot or Not: Feels like they got off to a solid start besides the bleating plush toy wedged behind the throw pillow? I wish them all the best.
---
Uhh, then we arrive at the um, tarmac? You know, the thing where PRIVATE JET OWNERS de-plane onto a slim red carpet, wearing sunglasses and holding a single duffle. It's Shane. Shane pauses at the top of the stairs, scoping the air for errant owls and reflecting, it seems, on her return to Los Angeles for the L Word reboot.
"I look forward to seeing much more of you in the future," says the flight attendant with the perfect ponytail. In other words: they're gonna bang. And my friends: they do. Shane's gotta Shane!
Lesbian Sex Moment #3
The Players: Shane and the Air Hostess
The Pick-Up: I'm gonna guess "hey."
Hot or Not? Of course.
Jsyk this is our third set of boobs and we are ten minutes in. Shane remains in full dress for the duration of the scene. Shane does her scoop-in-lean-kiss, she removes her shirt, she unhooks her bra, she lifts her ass onto the kitchen counter, slips the thong onto the kitchen floor and my friends, WE HAVE LIFT-OFF.
---
Cut to a golf cart outside of The Aloce Show, where Finley's telling Sophie about her last-night romp, which involved a bartender who just broke up with her boyfriend, texted "u up?" and because Finley WAS up, she hopped right on over. In Finley's words they "fudged" and it was "awesome," but then she woke up and her car wouldn't start 'cause she only had enough gas for a one-way trip, so she had to steal the girl's bike.
Finley: "Look at us, still on time for work and shit though!"
Firstly, that is b a n a n a s, now this entire town is gonna know Finley as the girl who stole that girls bike. Secondly, I love the ease and the gentle ribbing of this friendship. Thirdly, there is no greater gift than that of how much time TV characters have to hang out before work / school.
On set at The Aloce Show, Finley's gotta get Alice's take on if she wants the one or two lips coffee mug ("vagina lips or mouth lips, impossible to tell at this point") when an ominous figure jaunts into the arena, clapping her cum-soaked hands for no discernible reason.
IT'S SHANE!!! AND THE CROWD* GOES WILD!
*alice
Alice: "I can't believe you're really here! Do you really live in LA again?"
Shane's like, holy shit, look at what you've done for yourself, it's outstanding!
---
IT'S TIME FOR AN EXPOSITION BRUNCH WITH SHANE, ALICE AND BETTE! One topic not covered in this brunch is how exactly everybody's skin is so firm, supple and radiant?
Exposition time:
1. Shane sold her salon in Paris and her salon in New York
2. Shane has not "spoken to her" (her wife, we suppose) since leaving, and "does not plan to"
3. Something spilled in Alice's backpack
4. Alice got Shane a house, which is big and empty
5. Alice is gonna send Shane a bed and also a Finley to put the bed together
6. Shane doesn't need Alice to send her a bed
7. Too late, it's already done
8. Alice keeps stepping on legos
9. Bette and Alice are both parents now wow how we've grown
10. Bette missed Shane more
11. In all honesty, Shane believes she missed Bette more
12. NO Bette missed Shane more!
13. No Shane missed Bette more and it's not a contest
14. Yes it is, and Bette's gonna win
15. Nat and the kids didn't move into Alice's house because it would've been a "whole thing"
16. Alice's Mom is living in her house
Which brings us to…
Shane: …and how is Lenore?
Bette: Oh stop.
Shane: What?
Bette: No, really, stop!
Alice: Are you going to fuck my Mom?
Shane: I'm just asking you how she is!
Alice: I can't believe you still wanna fuck my Mom!
Shane: She's an attractive woman, Alice.
In all, the reboot is a lot less wacky than the original, which I have both good and bad feelings about. But regardless I relish this opportunity to bring some wack back. Then, Bette gets a phone call.
As we say in the hit podcast "To L and Back," IT'S TINNAAAAA.
---
Angie's at school, doodling through a Don Quijote lesson in her GAY ASS SHOES.
But who needs school when you've got a badass best friend willing to call the school, pretend to be your Mom, get you out of school on account of your "Grandma being sick" (which is impossible b/c Tina never mentioned having parents and Bette's are dead) and then pull up in a lil car pumping hip-hop!
It's Jordi, played by Sophie Giannamore! They're gonna vape, just like the teenagers in the drug PSAs! I love this trope, all my teenage novels had Jordis in them.
---
At Bette 2020 HQ (Bette is running for mayor of Los Angeles), Bette, standing of course in front of a giant picture of Bette, is trying to convince imaginary phone Tina that Angie can handle her AP courses and the school play. NOT IDF SHE KEEPS VAPING.
Bette's super important, which's established by the number of humans who attempt to join her walk-and-talk, including Kacey (Lex Ryan), thus far our butchest character, who took another stab at Bette's piece; and Bette's assistant, Pierce Williams (Brian Michael Smith), who has set up a series of meetings with very important political donors who are friends of the party as well as Rodolfo Núñez, head of a minority-owned investment firm with "deep roots in the Persian and Latinx communities." "Jesus, that's half the city," Bette says.
---
Cut to an airy office building where Dani walks around in power-suits like someone who can put on a strap-on in less than 45 seconds. Dani's gonna take Daddy's Two PM 'cause he got called away for something important and probably terrible. Lucky for her, her Two P.M. is Bette Fucking Porter, who, if elected, would be L.A.'s first openly gay mayor. Dani is Rodolfo Núñez's daughter.
---
Pages: 1 2 3See entire article on one page