It's time for a production meeting at The Aloce Show! The team is pitching Alice  ideas like "Dr. Oz," a noted vaginal steaming advocate. Alice wants to keep her show progressive and queer or queer-adjacent, but the network has bad ideas. It's suggested that if she goes along with vaginal steaming then eventually they can have Roxane Gay on the program.
Alice: "I did vaginal rejuvenation in '04. Have vaginas changed since then?"
Sophie: "No they have not."
Intergenerational dialogue! Sophie's got a pitch of her own, though:
Sophie assures Alice she can secure Kamala Harris for the show and Alice is like, "I cannot wait to ask her real but also inappropriate questions." Someone's keeping Dr. Oz warm as a backup. Love a warm man.
---
Ladies and gentlepeople, it's time for a top-off!
Lesbian Squabble #2: Prosthetics Don't Pay For Themselves
In The Ring: Dani v Bette
Content: Bette wants to know where their foundation gets its money, like specifically, does it come from "Big Pharma"?
Bette: And the funding for the biomedical research, does that come from the sale of pharmaceuticals?
Dani: We design prosthetics for wounded warriors.
Bette: I understand. Do you also invest in the production of opioids?
Dani: Prosthetics don't pay for themselves—
Bette: I see.
Dani: Our only interest here is finding the best person to run this city, and we believe this person is you.
Bette: I'm not buying what you're selling.
Dani: Our current mayor bought it.
Bette: I'm not him.
Dani: Miss Porter —
Bette: Do you know why I'm running for office?
Dani: I can't say that I do.
Bette: It's because of people like you. The products you're pushing are the cause of suffering, they've contributed to the worst opioid crisis our city has ever seen. That property you wanna turn into offices? That could be used as a long term rehab facility. And while I might understand the willful ignorance of a straight white man I'm having a hard time figuring out how you could turn a blind eye. So I guess what I really wanna know is: how the hell do you sleep at night?
Who Wins? Bette — but that being said, Dani holds her own like a future Bette. She doesn't flinch, and every fluster is quickly finessed. She's a fucking pro.
Pierce is like wow Bette, I think we blew that one! He also says he's aware of her "sensitivity" "around that particular issue," by which he means opioids, and wow guys, I'm really nervous about what exactly has become of Kit Porter!!!!
---
Back in the glass tower of power of terror, Dani looks out over Gotham and feels pensive, and then learns from her Dad that an employee's son just died of an overdose and it's her job to go make sure he doesn't blame himself or, you know, the company that sold the drugs.
[Also I'd just like to sidebar real quick that in addition to the myriad lives lost or damaged to opioid addiction due to the ruthless marketing of painkillers by the Sackler family, there are also lots of people who genuinely need those medications to manage their pain who now cannot get prescriptions because of how they've been recklessly prescribed in the past. I feel like those people often left out of these conversations.]
Dani tells the grieving employee that they're all a family and they can't let the media tear them apart because his son is not a statistic? He's like good point, he was my little boy! Okay.
---
Cut to Porter 2020 HQ where Bette and Pierce are admiring The Employee's performance on the news. Pierce says it was clearly Dani who coached him well and Bette's like "too bad she's working for the wrong side."
Meanwhile on the wrong side, Dani's Dad is like "good job, grasshopper." She says thanks, but she's holding back, too: she's not proud of herself. She wants to use her talents for good.
---
Micah's got his sweat band on and he's gonna make it happen with the hot guy who carries boxes around. Actually scratch that he's got his sweat band OFF and he's gonna make it happen with the hot guy who carried boxes around but has now switched gears to poorly moving furniture around. Micah's nervous but he's gonna make his move!
The hot guy's name is Jose and he just moved ALL THE WAY FROM ECHO PARK and Micah's so excited about how much he loves Echo Park that he slams a chair through Jose's front door. It's ok Jose is the new property manager, so he doesn't even need to call anybody about it.
Micah asks him to dinner, Jose thinks it's a group dinner, and Micah boldly assets that no it is not, it is definitely a date; and he's like yeah sure sounds fun! A tip of the hat to Micah, asking your neighbor on a date is almost as terrifying as dating your neighbor. So far this is very cute and also, I love dinner!
---
Back at The Aloce Show offices, Sophie says she was unable to book Kamala, who deemed Alice's show "too small."
Lesbian Squabble #3: For the People
In the Ring: Alice vs Sophie
Content: Alice is like, wow, that was "super fucked up" that you said you could get Kamala, and Sophie is like, I really thought I could b/c of [various connections[], and Alice is like, do not overpromise, and Sophie is like, okay, and then Alice is like "I can't wait for Dr. Oz to mansplain my vagina, it's gonna be a great day at work."
Who Wins? What happened here! I'm a person who never really worked under a manager who couldn't have benefited from an anger management class, some valium or perhaps a tiny fan, so I'm always extremely interested in observing managerial behavior in the media as if I can learn from it what I couldn't learn from my own. This feels like an uncool way to talk to your employee! I get that Alice is pissed and has a right to be, but damn. I'm giving it to Sophie 'cause there's no way to just hug her in real life.
---
Cut to Shane's Palace in the Hills, where Shane's developed significant biceps from punching things, just like Kate Moennig! Finley put Shane's bed together like a girlfriend who's had a lot of experience constructing GRÖNLIDs and KVALFJORDs, but there's some screws missing so Shane's gotta watch out next time she invites twins over. .
Finley: "If you get any more furniture and need me to put it together — or  I can build stuff. Anything! Built ins, tables. I'm like a traditional lesbian when it comes to tools, so."
There's something surprisingly withdrawn about grown-up Shane — young Shane could be wrapped up in her own shit but that attitude felt more incidental than it does here. This feels deliberate — she's less perceptive, she avoids eye contact. Maybe she's learned to set boundaries, or maybe losing Jenny changed something, or maybe it's about her estranged wife and our slow march towards death.
Finley's oblivious though, talking about being from Missouri and living in a one bedroom in Koreatown with five other roommates. Shane's been there (in Season One, she shared a one-bedroom with four other roommates) and she says so. Finley's surprised, but look you gotta start out as Molly Kroll's bottom and then you're here. And then, the iconic line:
Finley: Man, this is what I thought living in LA was gonna be like!
Shane mentions off-handedly that there's some extra bedrooms in the back if she needs some space, so Finley's definitely never leaving that house.
Then Shane gets some texts.
"Who's that?" asks Finley. "My wife," says Shane. Chill! Anyhow, "Quiara" was cast a few months back. She's played by Lex Scott Davis and her character was described as 'a sensual lead singer whose international travels bring her back to L.A." So put that on your clipboard!
---
In the parking garage beneath the Tower of Power and Doom, Dani's Dad would like to promote her to Senior Vice President 'cause she excelled at convincing a mourning Dad not to create a PR crisis for their company. Also, he'd love to invite her to a fancy dinner. She'd like to invite Sophie, and he's like, sure fine she can invite her friend, Ms. Kennard, if she wishes.
"Dad, you know she's not just my friend," she says. Please G-d I hope you will spare us another "Latinx parent being homophobic" storyline!
Dani sits in her car, thinking hard. To her left, she spots the guy whose son died in his car looking very sad. She listens to a voice mail from Sophie, who had a "fuckity fucked up day" and just wanted to say "hi I love you" and "I can't wait til you get home so I can smack that ass." It's real cute. I need her to propose to Sophie ASAP because I'm very nervous about her storing a wedding ring in her car!
---
At a Bette Porter For Mayor rally, Bette says she's the face of change this city needs. We stan Mayor Bette on a stage.
She opens up the rally to questions from the crowd and predictably, a guy who looks like he probably considered killing his neighbor's cat but then got scared as a child gets on the mike to verify that she was formerly the Director of Cultural Affairs for the city of Los Angeles and once that verification has completed, has just one more small inquiry, and it's not "Dana Fairbanks will you marry me?"
White Man: "When you were working as Director, do you remember fucking my wife? How does sleeping with Felicity Adams, a married employee of yours, make you qualified to be mayor?"
I think what this speaks to is her powers of persuasion and ability to inspire women to reach their full potential in life, but the crowd does not agree. But also dude, way to announce your wife's name to like the entire universe? They would've found out anyhow but shit.
Bette has some hot breathy sex flashbacks while he yells SHAME ON YOU MISS PORTER.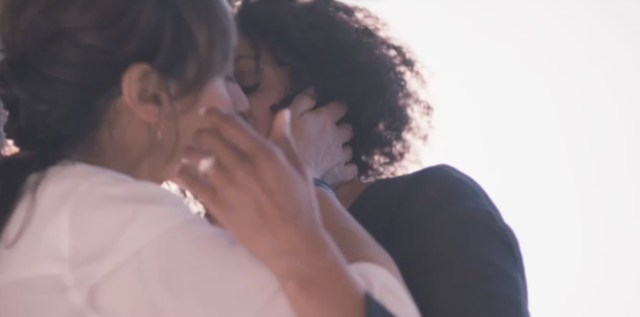 Bette's escorted out of the rally like the stage is on fire. In the safety of the elevator, Bette says she's gotta tell Angie before she finds out on Twitter.
---
Blissfully unaware of this drama, Angie's listening to music with Jordi on a bench by a lake, you know, sharing earbuds, probably sharing feelings. Jordi says they should get matching tattoos, which btw did NOT work out for Sharmen.
Jordi gets her phone out to take a poorly-lit selfie and is like whoah dude, there's some shit going down with your Mom! Angie's phone was off 'cause her Mom tracks it, because of course she does.
---
Pages: 1 2 3See entire article on one page