Meanwhile at the Palace of Porter, Mom's having hot flashes ("Death is coming" – Bette Porter) while hashing out the issue with Shane and Alice, who don't think Bette should drop out of the race. They say she's not like those male predators, although Bette's unconvinced.
"That's shame," says Shane. YOU TELL EM SHANE. Shane's come back just in time to be part of the very essential Lesbian Need of a reliable Lesbian Advice Panel: All Grown Up Edition.
Alice says it's 'cause she's gay and Bette Porter jumps right in there like a tiger, "I think the problem is Felicity's gay and that makes her husband feel like less of a man." THERE'S OUR BETTE PORTER. I don't think it's morally okay for Bette to fuck a married woman, but also — that's Felicity's job to negotiate with the betrayed partner, not Bette's. Just like Jenny's cheating was her own to sort out with Tim, not Marina's. We also don't know anything about Felicity's marriage or what Bette knew about it, and that crowd and the media certainly didn't either. Maybe she wants out but can't because her husband is [something terrible]? Bette's comfort with this is disarming to the degree that it makes me wonder/hope there's more to the story.
Alice wants Bette to be on her show!
Shane: "You can tell them who you are."
Bette: "I don't know who I am right now."
Shane: "You're Bette fucking Porter."
Exactly! It's like she's got no idea how much fan fic has been written about her, how many blazers with enormous collars have been flexed in her honor, how many men have been yelled at on highways because of her and — oh never mind. Angie's home and she is UNHAPPY!
For example, she feels it's humiliating to be Bette's daughter because Bette "fucked somebody." Younger Bette was much more reactive and flinching than Mama B, I'll tell you what. Like Angelica just yelled at her about fucking somebody and this is what comes next:
Bette: ARE YOU HIGH?
Angie: We vaped!
Bette: What does that mean, you vaped? What? Pot? [Bette starts going through Angie's bag]
Angie: But I don't have it! Jordi does.
Bette: Angie you cannot smoke pot.
Angie: It's not illegal!
Bette: Yes it is! You are 16 years old!
Angie: I wanna live with Mama T.
BOOOO.
Bette: You want me to call her and tell her what you did today?
Angie: Fine, I'll just tell her that you fucked somebody!
Bette: I'm pretty sure she already heard.
DAMN!!!!
Bette grounds her and says also, she's deeply sorry and that it pains her to know that she hurt Angie.
---
Sophie comes home from her long ass shitty day to find that Dani's about to start a forest fire in their living room with a candle situation that approaches "vampire lair" or "Boyz II Men I'll Make Love To You" territory. You know what that means!!! IT'S PROPOSAL TIME!!
My favorite part of proposals on television is that they are always preceded by a list of small quirks the proposer appreciates about her partner but they generally lack any telling specificity. In this case we learn that Dani loves how Sophie dances with her eyes closed and yells at the TV. So she has that in common with your grandpa.
Sophie says yes, I tear up because I can't help it. "I can't believe you're gonna be my wife!" Sophie exclaims, thus jinxing their relationship forever.
Unfortunately, the ring doesn't fit, but Sophie's not stressed 'cause rings are just a symbol of patriarchy! But listen — Dani still wants her to have one, okay? I too was once proposed to with a ring that turned out not to fit. JUST LIKE THE RELATIONSHIP. However, there were no candles at the proposal because we were outside.
Anyhow! Then Micah and Finley tumble down the stairs where they've been spying from and are like DID YOU DO IT and they're so excited because friendship is magic! Also, Micah would like to be the best man.
The L Word: Generation Q is really laying out a juxtaposition of what it's like to be a young queer person — first dates, marriage proposals, new jobs and new promotions, the beginnings of things — and what it's like to be an older one, even while sharing neighborhoods and workplaces. This is perhaps what it does best, and so authentically.
The original characters are dealing with parenting, divorce, separation, workplace affairs with lifelong consequences, sorting out how best to make an impact with the important jobs they have instead of just trying to get a job. A lot of their stories start at the end of things, really — Nat's divorce with Gigi before she started dating Alice and everybody had to move or make space for something new, Bette's divorce from Tina and the child that remains from it. Shane selling her empire and moving far away from her wife.
There's a Gen Q trailer where Kate Moennig says — most likely out of context — "this community is no different than any other community." I know why she said it but I don't think it's true. Furthermore, ur differences are what give shows like this one (and shows like Vida, Tales of the City, Work-in-Progress, Pose and The Bisexual) such opportunities to tell new stories, especially intergenerational ones. I'm closer in age now to Shane and Alice than I am to Sophie and Dani, who must be in their mid-to-late twenties (Dani has a post-graduate degree, Micah is a professor), which means same-sex marriage was legalized before they were old enough to be considering marriage at all. I like that Shane and Bette are ostensibly single, heading into potentially a second go-around. I'm pretty close to their age and unlike many heterosexuals of this age group, at least half my queer friends between the ages of 35-45 are single or divorced. And it can feel both fated and random who remains in your regular world and who slips away.
---
We then cut to The Aloce Show, where Alice is SO GLAD TO BE BACK FROM HIATUS! Her third-cousin Heather (Fortune Feimster), a profoundly gay name, is her hype girl. She lives in a shared studio in the valley and would like to live in Alice's spare bedroom. C'mon, Alice, just throw Heather in there with Lenore! Is it supposed to be funny that Alice's show underpays their staff to the degree that they cannot afford to have their own bedrooms? Because it's…. not???
Everybody's turned up in the audience for this occasion — Shane's sitting with Nat, Dani's sitting somewhere that seems only vaguely part of this set, and Alice's special guest this evening is Bette Porter for Mayor! She also establishes that she's never been easy on Bette and it's true, we all remember the "you're a cheater!" campfire.
Alice: "Do your voters know that you stole a billboard in the mid-aughts?"
Bette: "Borrowed. We borrowed it."
Alice: "Oh, WE? Are we gonna keep that on the DL? Because I didn't get that memo."
So, Bette's on the show today because she will not! Be! Shamed! Into! Silence! Bette says she's not okay with causing another person pain, but she also isn't going to apologize for having a relationship with a consenting adult, which's another message she's not comfortable delivering. You know I feel like an apology would've been … appreciated.
Alice: "So you're not sorry?"
Bette: "I think I answered the question. It's not that simple."
Bette says the most frustrating part of this whole idea is that it's distracting. A wanton distraction, one might argue! BUT YOU KNOW WHAT'S EVEN MORE DISTRACTING BUT IN A GOOD WAY:
Anyhow back to this cryptic conversation topic that I'm 99.9% certain will eventually lead to a reveal that Kit is dead!
Alice: "I know that you have a very real reason, a very personal reason, why you're running. Why won't you talk about it?"
Bette: "Um, because despite this week's events, I've chosen to keep my private life private."
Alice: "But those people out there, they wanna know who you are, not just what you stand for."
Those people out there should just go read/see Lez Girls! Anyhow, what better way to do that than by delivering a list of vague, already-known demographic facts about herself?  She is:
1. a woman
2. gay
3. biracial
4. a mother to an extraordinary daughter
5. an ex wife
6. a friend
7. a really loyal friend
8. a daughter
9. a sister
10. you.
[a bitch, a lover
a child, a mother
a sinner, a saint,
and she does not feel ashamed.]
she's also:
11. a part of you!
12. that part of you that wants to do better
13. that part of you that loves the city and wants to see all of its communities thrive
15. that part of you that makes mistakes
Also, she knows that she has disappointed people that she loves and she doesn't want to make that mistake again and she hopes her indiscretions don't distract from this:
Bette: "I know I'm not the perfect messenger, but I do have the perfect message."
Her conclusion is strong and full of potential — but to be honest I did expect a bit more from a Bette Porter speech! Perhaps Dani did too: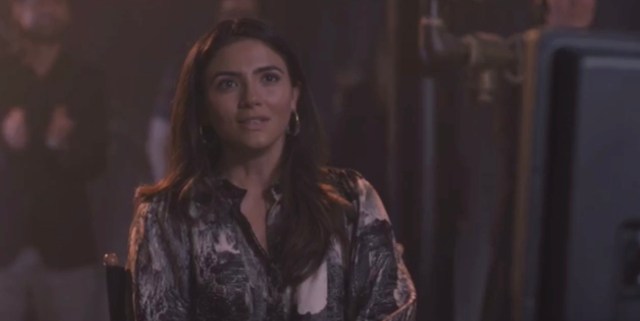 ---
Night-time montage! Micah and Finley are playing "catch the frisbee in the swimming pool," a classic evening game for giggling queers who, unlike me, have access to a pool.
Nat and Alice were naked and perhaps engaged in an activity of a sexual nature but then the little tot bounded in desiring a story be read to him. They should teach him to learn how to read for himself! You know the saying: teach a man to fish and he'll never interrupt lesbian sex any day of his life!
Bette's crawling into bed with Angie. Attachment parenting lives on!
Shane's sitting by the pool in her palace, staring at her rings.
Speaking of rings, Sophie's got hers on even though it was too big and Dani's not sleeping. This is a throwback to when she told Bette she couldn't sleep at night.
---
It's the next morning. Dani is awake and on a mission! Her colleague's son's death has shattered her illusion that her job was to protect the company who afforded her the life that she has and the people who work there, and:
Dani: "You asked me the other day how I sleep at night. But the truth is, I don't. I am damn good at my job, but I wanna work for someone I believe in, and I came here today because I believe in you."
Bette's not sure that she trusts her and Dani's like ok fair but if you wanna win, you need me! And then, Peaches' "Boys Wanna Be Her" begins thumping in the background [ETA: This was the song playing in the screener, but it seems the song was changed prior to air.], throwing us right back to a moment way before all this when Shane had to be an underwear model to pay for the injury her half-brother Shay suffered from a skateboarding accident while she was playing a pick-up basketball against a self-described "player" named Papi who Alice met through OurChart. AHEM.
---
In summary:
Lesbian Sexy Moments: 3, 3 all season
Squabbles: 3, 3 all season
Quote of the Week: I'm gonna give it to Alice, for "I can't believe you still wanna fuck my Mom"
Also a hot tip: WATCH WORK IN PROGRESS! It airs after "Generation Q" on Showtime and it is one of the most original, hilarious and oddly comforting queer-centric television shows I've ever had the pleasure to witness.
Pages: 1 2 3See entire article on one page