The feature image for this post on lesbian names is a word cloud made of the first names of everybody who's ever signed up for A-Camp, a bi-annual week-long camp/conference hybrid event hosted by our website, Autostraddle.com.
---
This is a list of the most common names in the USA that the editors of Autostraddle have noted for their strong correlations with homosexual activity. So we are calling them lesbian names. If your name is on this list, you're probably queer or gay or bisexual or whatever. If your name is not on this list, you might still be queer or gay or bisexual or whatever. My name isn't on this list, and I like girls, so clearly there is no favoritism here.
---
100. Molly
99. Jane
Jane Doe? More like Jane HOMO!
98. Ryann
Girls have two breasts, and Ryann has two "n"s. Coincidence? NOTHING IS.
97. Lainy
See also: "Lane," which is the path that leads you from heterosexuality to homosexuality.
96. Nikki
Maybe it's short for Nicole, maybe it's long for "Nick." Either way, you're gay.
95. Going By Your Last Name As Your First Name
Generally speaking.
94. Kimmy
"This might just be in the south, but Kimmy and its variations (kim/kimberly) are like power lesbians on casual fridays"
– Erin Sullivan, Staff Writer
93. Soph / Sophie
92. Marsha
MARSHA MARSHA MARSHA YOU'RE A LESBIAN
91. Mere / Mer
"Meredith" is a lot of syllables.
90. Taylor
89. Grace
Way back in the late '00s, Grace Chu started an entire website called "Grace the Spot" and everybody who wrote for it was psuedonymed Grace. Furthermore, I had an Intern named "Intern Grace." She lives in Ohio.
88. Maddie / Maddy
"I have three friends named Maddie/Maddi/Maddy who are all gay and I almost picked that name for myself."
– Mey Rude, Trans Editor
87. Courtney
Alaina, Staff Writer: [A-Camper] Courtney Kist is chilling in Portland and is a budding sex educator and like, what is gayer than that?
Riese: Also she has an undercut
Alaina: Also she's gay
Laura, Staff Writer: I used to make Courtney and Barbie kiss all the time as a kid. I assume everyone did.
86. Gloria
85. Carly
84. Gill / Jill / Jillian
I know a butch lesbian named Jill from Pond Creek, Oklahoma. If you can find a lesbian named Jill in Pond Creek, Oklahoma, you can find a lesbian named Jill anywhere.
83. Karen
82. Zoe
According to Queen Trans Mey Rude, Zoe is the #1 most popular name for white lesbian trans women.
81. Stef / Steph
This name is especially popular amongst bisexual women. Just a tip. If you haven't kissed at LEAST two Stefs/Stephs in your life and you're not single, I recommend non-monogamy until you get that taken care of.
80. Ari
79. Brandy / Brandi
"the first gay girl i ever knew was named brandy and she was my best kindergarten friend"
– Laneia, Autostraddle Executive Editor
78. Dee
One "Dee" is gay, two "Dees" (aka "DeeDee") are not.
77. Kacey / Casey / K.C.
If your last name starts with a "C" and you have a baby, the best way to make sure that baby is gay is to make sure their first name starts with "K."
76. Rachel
The reason "Rachel" isn't higher on this list is 'cause there are so many Rachels out there that inevitably, there are a lot of STRAIGHT Rachels out there. When I think about the name "Rachel" as a concept I mostly think about a male friend of mine in college, who was Jewish and only dated Jewish girls because you should always have your eye out for your future wife because your mother loves you and wants grandchildren. (I have never dated a Jewish girl, sorry Mom.) He would joke that he got a degree in "Rachelology" because he had dated SO MANY RACHELS. I just checked Facebook and it looks like he married somebody who was not named Rachel. Maybe all the Rachels turned out to be gay?
75. Ash / Ashley
Stef, Vapid Fluff Editor: ashley is gay but also probably kind of a bitch (sorry ashley)
i don't think ashley who works here is a bitch
just the ashleys i haven't met, who are bitches
Riese: ash is like a good nickname for an ashley in a YA novel about a young masculine of center lesbian who could've be played by Ellen Page in the film adaptation if they'd done it ten years ago
Stef: ashleigh was the name of a girl in a YA series about horses that i loved as a kid
Ashley, Staff Writer: I hate most Ashleys and I don't know a lot of gay ashleys
Stef: nobody believed in the runty sickly foal but ashleigh did and then she won all the kentucky derbies forever.
in retrospect this was very gay
74. Jodie Foster
73. Shannon
Stef: before shannon watters there was nothing, only darkness
and now there is only the soft glow of shannon
Carolyn, NSFW Editor (shannon watters's wife): same
Stef: carolyn please tell me you get a slack alert for shannon's name
Carolyn: um yes sure do
Stef: i feel like i thought shannon was a pretty straight name but then shannon happened to me
Carolyn: yhat's what happened to her too
Riese: when i hear shannon, i think "soccer"
i think "girl in a fleece jacket who plays soccer"
Stef: i see shannon smiling jauntily and saying 'oh hey' and probably wearing a blazer
Mey: i think "girl with cute short hair"
72. Phyllis
"Jane makes almost twice as much money as Phyllis, they jointly own property and vehicles, and they have assigned each other as beneficiaries on wills and power of attorney forms." – Counseling Lesbian Partners, by Joretta L. Marshall
71. Shane
If you're straight and your name is "Shane," you should change your name.
70. Vicki / Vikki
69. Becky / Becca
"Every Becky I've ever known has been gay. Everyone knows a gay Becky."
– Cameron, Cartoonist
68. Carmen
Carmen De La Pica Morales. Has a more beautiful name of a fictional character, besides "Cookie," ever sounded so sweet? Nope.
67. Idgie
66. Marissa
"Marissa Paternoster. End of story. Queen of the Marissas."
– Stef Schwartz, Vapid Fluff Editor
65. Gladys
64. Cameron
Cameron, The Miseducation Of
Cameron, The Esposito Of
Cameron, The Glavin Of
63. Liz
64. Poussey
Like, objectively.
63. Lisa
"Lisa is the Jackie Warner of southern women."
– Erin Sullivan, Staff Writer
62. Emily
"I dated two Emilys with the same first and last name."
-Stef Schwartz, Vapid Fluff Editor
61. Kayla / Kaylah
60. Julia / Julie
Once I had an erotic third named Julia who had an ex named Julie.
59. Marisol
"Marisols are like, cool Mexican girls who wear high wasted shorts and flirt with you at the corner store."
-Mey Rude, Queen Trans
58. Dusty
Remember that time in The L Word when Helena Peabody went to prison and ended up hooking up with a woman named Dusty? She was played by Ilene Chaiken's personal trainer, Lucia Rijker, who is known as "the most dangerous woman in the world."
57. Jordan
56. AJ
This one's for all the Ashleys and Ariels and Amelias out there who just cannot handle being Ashleys and Ariels and Amelias.
55. Mel
It started with Mel B and now there are Mels EVERYWHERE.
54. Patti / Patty / Peppermint Patty
"I've had like 12 writing instructors, all named Patty/Patti, all of them lesbians."
– Kayla Upadhyaya, Staff Writer
53. Diane / Diana
"Kathy and Diane started couples' therapy to improve their sexual relationship. At the beginning of their three-year-old relationship they were sexually active with each other, but they had been having sex infrequently when they came into therapy." – Lesbian Psychologies: Expectations and Challenges, by the Boston Lesbian Psychologies Collective.
52. Brittany / Britney / Brittney
51. Brittani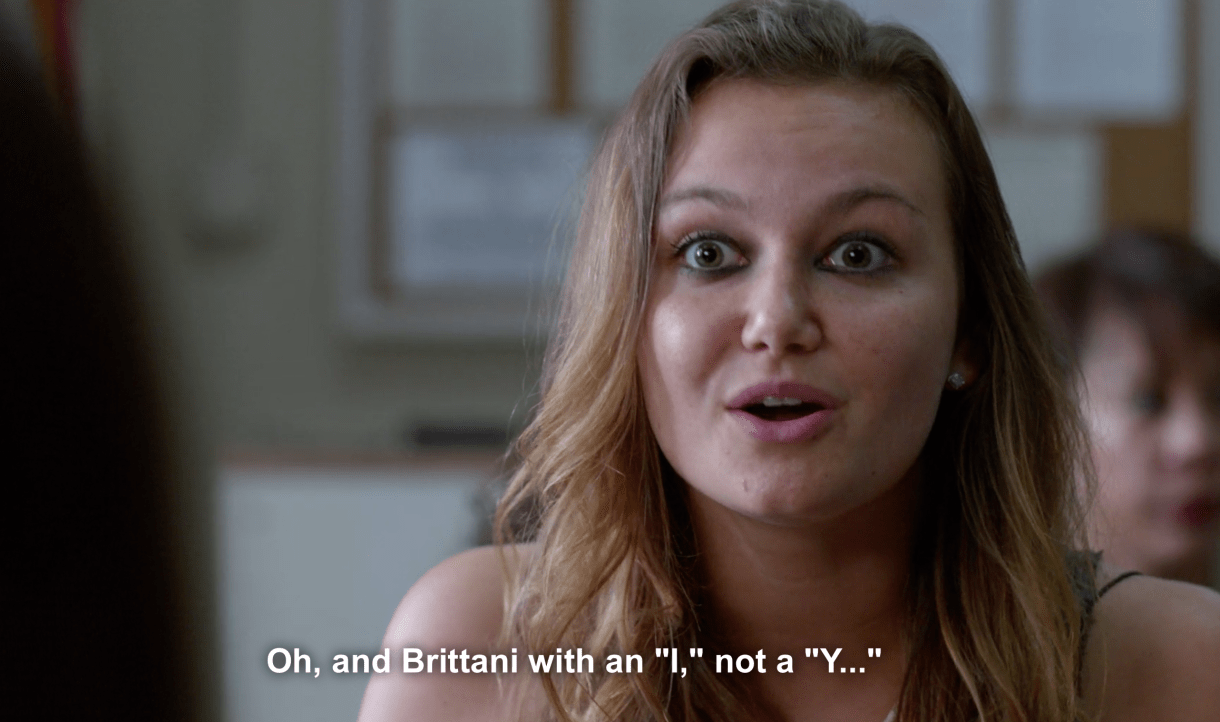 50. Amanda
Stef: i know two amandas who are married
Riese: to each other?
Stef: yes
and one took the other one's last name
they're queer porn stars
49. Chris / Cris
48. Kelsey
"you're practically turning your daughter gay if you name her kelsey. you did that to her."
-Laneia, Executive Editor
47. Brianna / Brianne / Bri / Bre
We have so many Briannas at A-Camp I can hardly keep them straight, BECAUSE THEY'RE ALL GAY.
46. Lauren
"have we talked about how gay all laurens are? there are at least five gay laurens in austin. I don't know if that says something about laurens or austin."
– Intern Raquel
45. Alaina / Alanna / Alainna / Alana
You know one. We know you know one.
44. Morgan
Once upon a time I wrote a screenplay with my friend Carly, who as you can tell by her name; is gay. The lead character of our screenplay was named "Morgan." I always wished that my name was Morgan, but it isn't, so. That's why I picked it.
43. Kristin / Kristen
Last year "Kristen" came in at 76, but this year it jumped many spaces because Kristen Stewart is out and about with her girlfriend St. Vincent. (There was no list last year)
42. Erin
41. Sarah
This would've ranked higher but it seems like there might be a lot of lesbians and bisexuals named Sarah because there are a lot of PEOPLE named Sarah. I didn't want to have to fight with a commenter about this.
But! I will say that we have had so many Sarahs work here that at one time they were all assigned numerals for easy identification. For example we have published works by Sarah Palmer, Sarah Croce, Sarah Hansen, Sarah Hall, Sarah Fonseca, Sarah Sarwar, Sara Wiseman, Sara David, Sara Century, Sarah Rosenblatt and Sarah Szabo! I COULD GO ON.
40. Amy
"speaking of first girls, amy is gay
amy is almost always gay
aimee, less gay but still probably gay"
– Stef Schwartz, Vapid Fluff Editor
39. Anna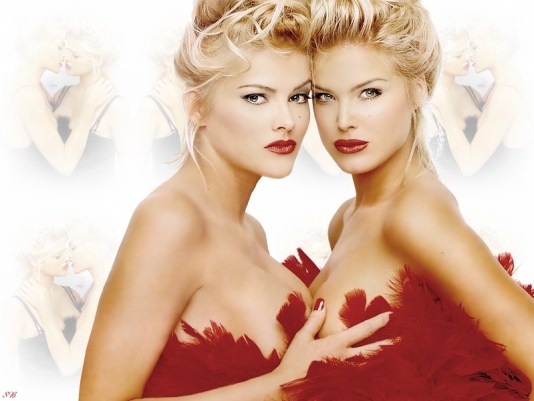 38. Nat
37. Cheryl
If you're a social worker and your name is Cheryl, you're probably gay.
36. Sarah Waters
I know of two lady-loving-ladies named Sarah Waters. How many do you know? DM me.
35. Abby
34. Jess
"Lesbian Jess has been made a synonym of Lesbian Jessica. Works and bookmarks tagged with Lesbian Jess will show up in Lesbian Jessica's filter." – Archive of Our Own
33. Alice
What does bisexual author Alice Walker have in common with bisexual TV character Alice Piesecki? Their first name. It's "Alice."
32. Jo
31. Del
30. Kai
"i've almost dated 8 kais
all the kais were slightly masculine of center, wore glasses, had dreadlocks.
also, i have a type
lmao"
-Alaina Monts, Staff Writer
29. Jamie / Jayme
Jamie and Jessie are not together, but they're still gay.
28. Christie / Chrissie
What do you get when you take a Christina and you teach her how to scissor? You get a CHRISSIE!!!!
27. Carol
26. Cara / Kara
Stef: oh circling back to jill, another jill i know tried to make out with me AT her wedding to a man. jill, you're gay.
Alaina: There was a Jill in my a cappella group who's only goal was to date someone in the a cappella group…she did it. Now they're married
Stef: Kara was the girl i DID make out with at jill's wedding, i made jill's new husband take her home
Alaina: STEF THE JILL I KNOW MARRIED A KERA!
Stef: wow
24. Gabrielle / Gabriella / Gabby / Gaby
This name is so queer that FIVE lesbian, bisexual and/or queer women by that name have written for Autostraddle.com! Can you even?
23. Danielle with one "n"
GAY
22. Dannielle with two "n"s.
GAYER
21. Dani
20. Robin
19. Kelly
Kelly has the van, Kelly will drive to the show, everybody it's cool, don't worry, Kelly has got this on lock. Kelly brought Gatorade for halftime, okay? She's ready.
18. Tiana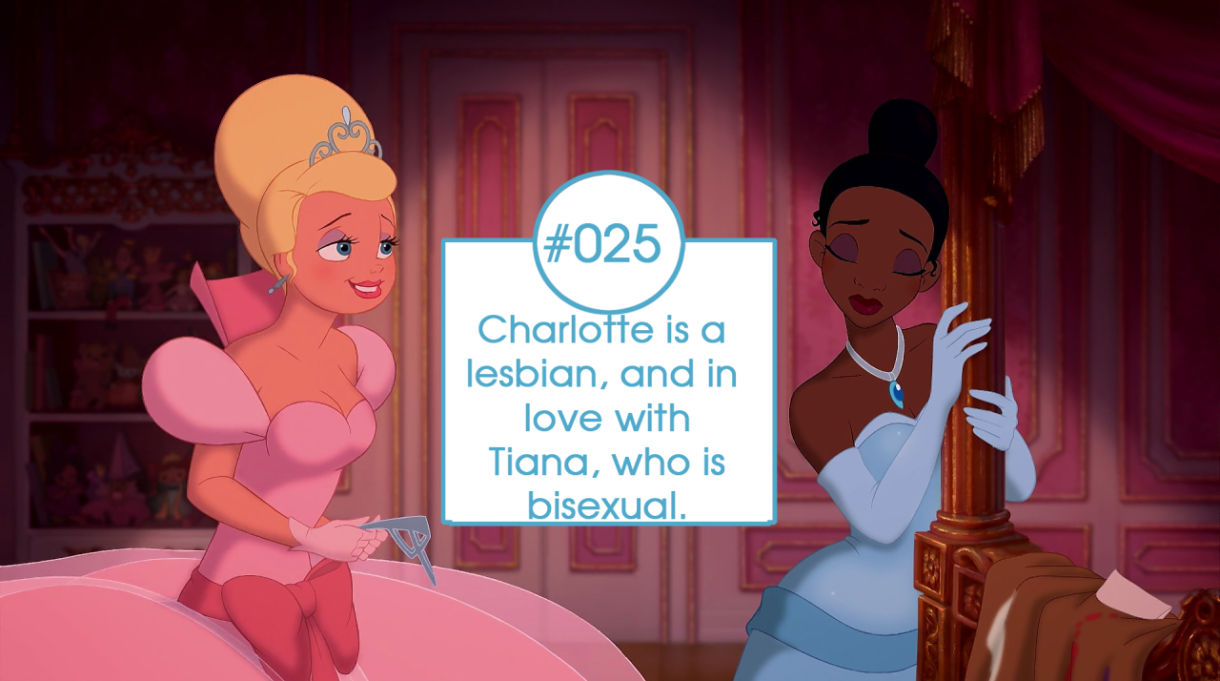 17. Sue / Susan / Suzanne / Suze
She who Suzes
Never loses.
16. Meghan / Megan / Meagan
15. Dana
As we mourn the loss of Dana Fairbanks, we remember all the Danas who are still with us.
14. Tara
There were so many queer Taras in my life in the late '00s that we had to start developing code names for ease of conversation. This was unfortunate for my first Tara, who was given the nickname "DevilKitty" 'cause when you pick "DevilKitty" for your myspace handle in 2005, nobody should ever let you forget it. It was fortunate for Tara #3, who was somebody's wife, I believe. They've since divorced.
13. Heather
Our Senior Editor Heather Hogan could've nominated herself for this position, but she didn't have to because I already had "Heather" on the list.
12. Kate / Cait / Katie / Cat
"There were four Katies in my first A-camp cabin."
– Laura Mandanas, Staff Writer
Is it short for Kaitlyn? Is it short for Katherine? Kathleen? Catharine? Caitlyn? You don't need to know the answers to these questions, you just need to be her friend, even if she changes her name to "Kade."
11. Alexis
10. Al
This is short for the #1 most  popular lesbian name "Alex" which is short for "Alexandra," or else it is short for the #9 most popular lesbian name "Allison" or else it is short for the aforementioned "Alexis."
9. Allison / Allyson
See "8"
8. Ali / Alley
When people ask me what kind of folks attend A-Camp, I usually say "people named Allison or Allyson, who often go by "Ali" or "Al." I'm not lying. That's who goes to A-Camp. The "A" is for Allison.
7. Nancy
If you were a lesbian feminist in the '70s or '80s, you probably went to a women's music festival with somebody named Nancy.
6. Barb / Barbara
"One day, Lore looked Barb in the eye and said, 'You are a lesbian."
-Michael S. Kimmel, The Sexual Self: The Construction of Sexual Scripts
5. Jen / Jenn
Remember Jenn? From Field Hockey? She's gay now.
4. Deb
"Every Deborah I've met over 45 has worn well pressed jeans and button ups tucked into them, but still gets their nails done. She's a very specific kind of woman."
-Alaina Monts, Staff Writer
3. Ellen
Ellen DeGeneres, the world's most famous lesbian, is named "Ellen," which inspired the website named AfterEllen. Ellen Page is also named "Ellen" and she is the namesake for our website right here, AfterEllenPage.com.
2. Sam
If you give birth to a lesbian, you might want to save yourself the ink and not bother naming her "Samantha" because she's gonna drop that "antha" like a hot potato / her middle school boyfriend, who was also named Sam. Isn't that cute? They were both named Sam!
1. Alex
Whether you're gay, kinda gay, or just know gay people — you know a gay person named Alex. See also: Top 5 Queer TV Characters Named Alex.
---
Okay, time to yell at us about how wrong our list is! What names are egregiously missing? WHO HAVE WE WRONGED TODAY. Remember to use all-caps, lots of punctuation, and language that expresses vitriolic incredulity if you want us to take you seriously. Threats to our livelihoods and well-being are encouraged.
[ETA: I'd like to pre-emptively apologize to all ye Hannahs and Lauras out there. You were in an earlier draft but something happened between then and now, and I lost you. I'll make it up to you next year.]