On Monday we published our first quiz heading into Trivia Month, written by me, called "Total '90s Lesbian" and inspired by a girl I met at a party who described herself as a "total '90s lesbian." Some of you performed very well, some of you performed less well, and many of you, as I commanded, shared your score and your birthdate in the comments.
I found the overall results very interesting, let's talk about them. In total: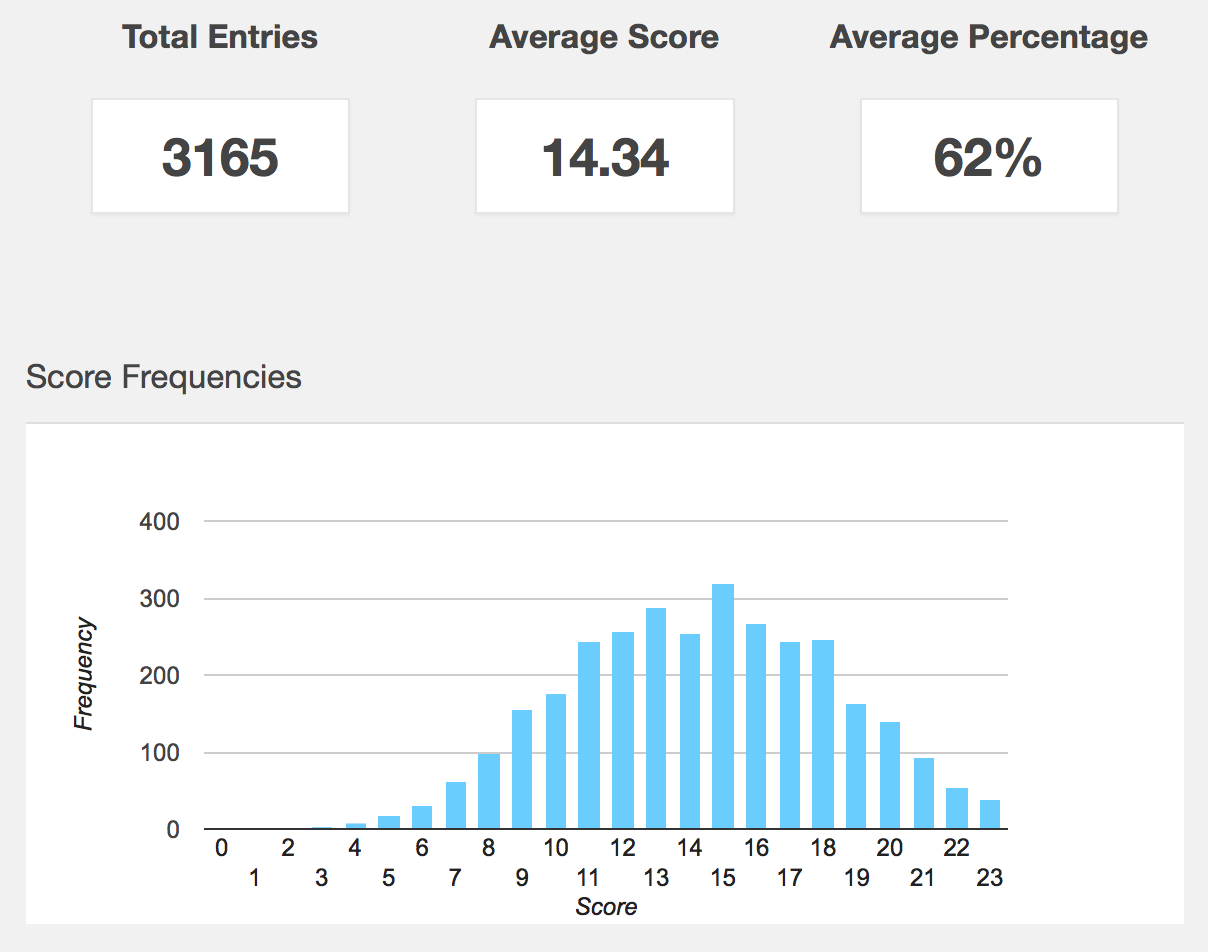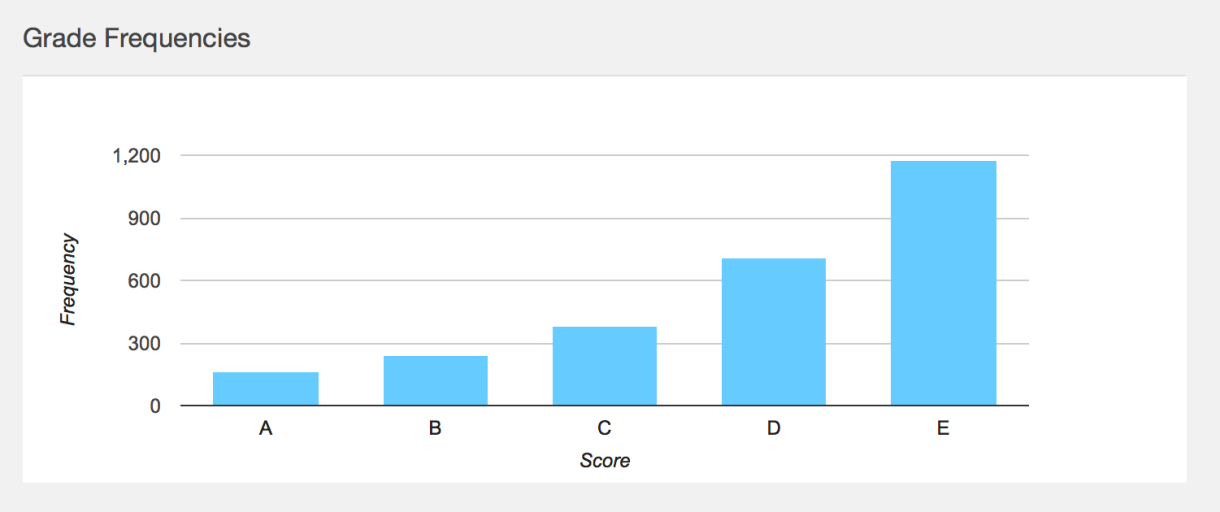 I also charted out scores based on year of birth just from the people who left their scores in the comments. As a self-selected sample, there's no real statistical significance here, but I found only a minimal correlation between DOB and score: the average for those born before 1980 was 17.9, '80s babies averaged a 15.6, '90s tots snatched a 13.2, and only two people born after 2000 shared their scores so I didn't average those. Here's a chart:
Let's look question-by-question!
23. What was the name of Diane DiMassa's '90s alt-comic that told the story of a woman wreaking violent vengeance on male oppressors?
33% Correct: "Hothead Paisan: Homicidal Lesbian Terrorist"
In this case, I think it was the presence of a different '90s alt-comic about a tough lady that landed so many of you in the negative. 45% of you picked "Tank Girl," making this question the only one on which a wrong answer outranked the correct one. I first heard about this comic when my then-girlfriend was in the hospital and told me in the morning that she required me to bring her the collected Hothead Paisan book that afternoon and I couldn't find it anywhere in the city and she didn't believe me and I had a mental breakdown somewhere in Morningside Heights. I thought it was an obscure request, but since have noticed it referenced everywhere! But I guess… not everywhere enough. Look into it!
22. Which of the following actors and musicians did NOT have a guest spot in Ellen's 1997 coming out episode, "The Puppy Episode"?
36% Correct: Rosie O'Donnell
Honestly just very much underestimated the number of times you've seen "The Puppy Episode" or read our plentiful Puppy Episode content. It wasn't that I thought you'd remember Jenny Shimizu being in it, rather that I thought you'd remember Rosie O'Donnell was not in it. Jenny and Oprah got 25% of the vote each, if you voted for Oprah then I guess you didn't see it.
21. The lesbian photographer who took these pictures, well-known for her photographs of LA freeways, the leather-dyke community, queer families, and high school football players; was commissioned by LACMA in 1995 to make a "Dyke Deck," a deck of playing cards with pictures of LGBT "queens" and "kings." What's her name?
36% Correct: Catherine Opie
Catherine Opie is so great and you should look at her pictures forever, she does so much great stuff about butch and transmasculine folks and queer families!
20. Which of the following bands/musicians, which all contain lesbian/bisexual/queer female members, did NOT perform at Lilith Fair?
42% Correct: Team Dresch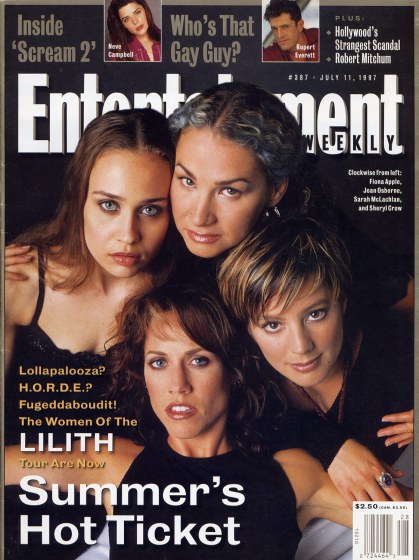 I'm impressed that 42% of you got this right because it's the only one I'm not positive I would've gotten right myself if I hadn't looked at the Lilith Fair wikipedia page for the purpose of writing this question, and I went to Lilith Fair in the '90s, so. They had a lot of idiosyncratic acts. HOW DID YOU DO IT?
19. What is the name of this then-identified "all-dyke" punk queercore band from San Francisco that was notorious for its wild stage shows (including 1994's "Tits & Tofu Tour") during which lead singer Lynn Breedlove would often perform topless while wearing a strap-on?
43% Correct: Tribe 8
32% of y'all guessed Bikini Kill. I knew this one would be hard.
18. The first lesbian kiss on television, between C.J Lamb and a guest character named Abby, happened in 1991 on what legal procedural?
44% Correct: L.A Law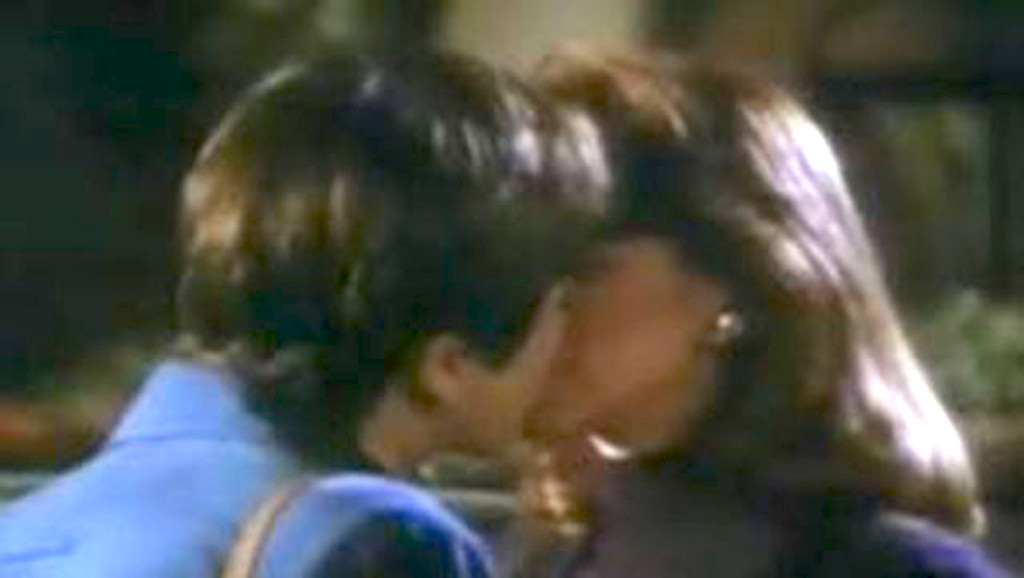 32% guessed Ally McBeal. I remember the L.A. Law thing being all over the news, although I was in 5th grade so I'm not sure why my memory of this is so strong. There were quite a few lady/lady kisses on Ally McBeal, though!
17. Speaking of "RENT," what is the name of the Jewish lesbian author/activist who recently published the book "Conflict is Not Abuse" who wrote the 1990 novel "People in Trouble," which partially inspired RENT?
46% Correct: Sarah Schulman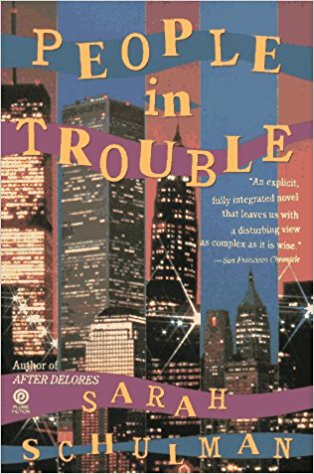 355 humans voted for Stefanie Schwartz, Vapid Fluff Editor of Autostraddle dot com. Good job Stef! You're legit!
16. Which of the following '90s albums is NOT by Ani DiFranco?
48% Correct: Yes I Am
Ani DiFranco does have a song called "Sorry I Am," so.
15. Complete the song lyric: "A tiger in a cage / Can never see the sun / This diva needs her stage"
53% Correct: "Baby, let's have fun!"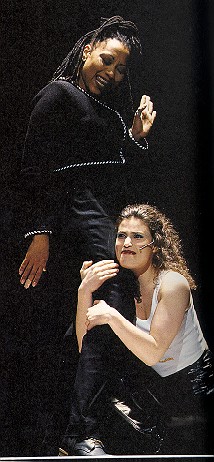 The second-most popular answer was "Baby, let's run!" with 29%. Comments suggest this question was easier for millennials raised on the film than for generation x-ers who grew up while the musical was reaching its cultural zenith on Broadway.
14. The lesbian erotic magazine pictured here, described as "Entertainment for the Adventurous Lesbian," launched in the mid-'80s and went bankrupt in 1995 before getting a second life from 1998-2006. What was it called?
57% Correct: On Our Backs
What I wouldn't give for every single back issue of On Our Backs! (All I have currently is two.)
13. What is the name of the outspoken comic, now featured on a popular Netflix dramedy, who became the first openly gay comic to appear on a late-night talk show in 1993 when she made an appearance on The Arsenio Hall Show?
60% Correct: Lea DeLaria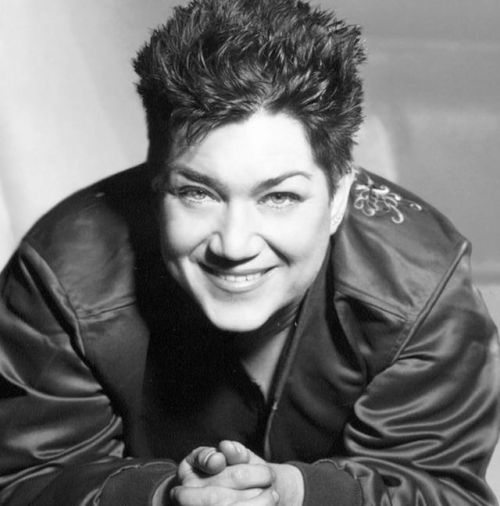 Her first line was "Hello everybody, it's the 1990's, it's hip to be queer and I'm a biiiiiiig dyke."
12. Who wrote "Bastard Out of Carolina," a novel published in 1992 by one of our favorite lesbian authors of all time?
61% Correct: Dorothy Allison
If only you'd all joined The Autostraddle Book Club. My favorite book of hers, however, is hands-down Two or Three Things I Know For Sure.
11. On the set of which 1996 movie about a girl gang who get revenge on terrible men did Angelina Jolie meet and start dating lesbian model Jenny Shimizu?
61% Correct: Foxfire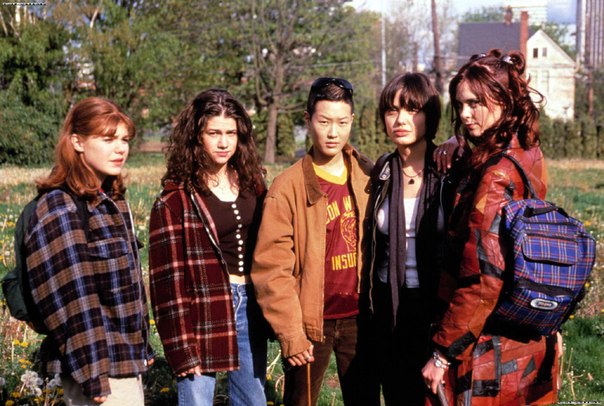 I recently made my girlfriend watch this and honestly had forgotten how openly queer it was, for its time? I believe there was a remake, but I refuse to acknowledge any version of this film that does not star Angelina Jolie as Legs.
10. This bisexual author published her second book of poetry, American Dreams, in 1994, and her first novel, "Push," in 1996. "Push" was adapted into a movie starring Gabourey Sidibe in 2009.
68% Correct: Sapphire
Sapphire is a fascinating and accomplished human but for this one I was also counting on how "based on the novel Push by Sapphire" basically became a meme when Precious came out.
9. This lesbian record label became a lesbian travel company in 1990 when they set off on their first ever trip, a four-day cruise to the Bahamas. Eventually they stopped making records, but they're still in the travel business today.
70% Correct: Olivia Travel
I would like to thank both Olivia for being legendary and Autostraddle for building to supreme brand awareness.
8. In 1993, which straight supermodel appeared on the cover of "Vanity Fair" in a swimsuit, shaving the face of lesbian crooner k.d. Lang?
72% Correct: Cindy Crawford
Iconic! When Cameron Esposito tweeted this on Sunday, I didn't RT it because I knew we were publishing my quiz the next day and this was on it, but now I feel free:
it's come to my attn that some young queers don't know this image

Acquaint urselves, bbs. 1993!! pic.twitter.com/4YSoAnA4M4

— Cameron Esposito (@cameronesposito) March 11, 2018
7. This legendary lesbian writer and activist was named New York's Poet Laureate in 1991.
74% Correct: Audre Lorde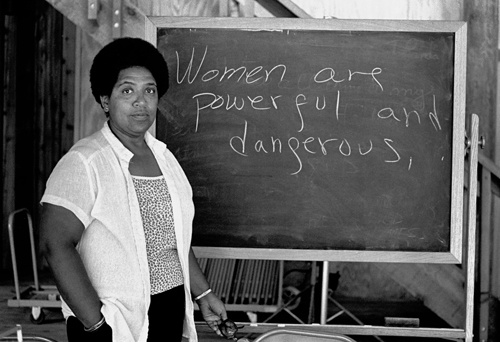 26 percent of you have so many cool things left to learn!
6. Who is getting married in this picture?
76% Correct: Carol & Susan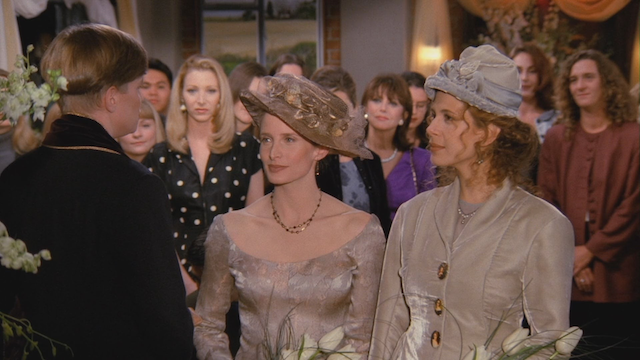 Carol & Nancy was the next-most-popular answer, and I think we all know why.
5. Long before coming out as a lesbian, this actress played lesbian fashion icon / straight character Darlene Conner on "Roseanne."
82% Correct: Sara Gilbert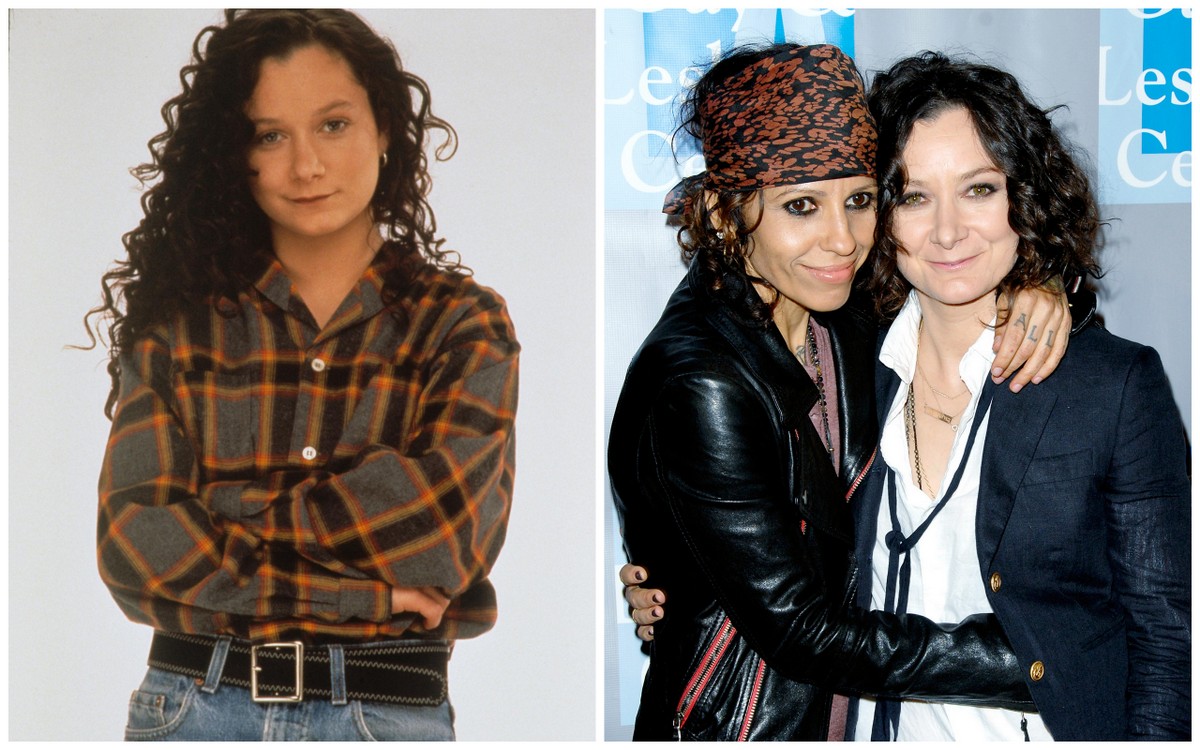 I wish Darlene was gonna be gay in the reboot
4. What 1992 Sharon Stone film was protested so heavily during filming that eventually its director was forced to sit down with San Francisco city officials and representatives from the National Organization for Women, Community Against Violence, Queer Nation and Act-Up — which led to a heavy script revision but did not stop the final product from being one of the most biphobic movies of all time?
82% Correct: Basic Instinct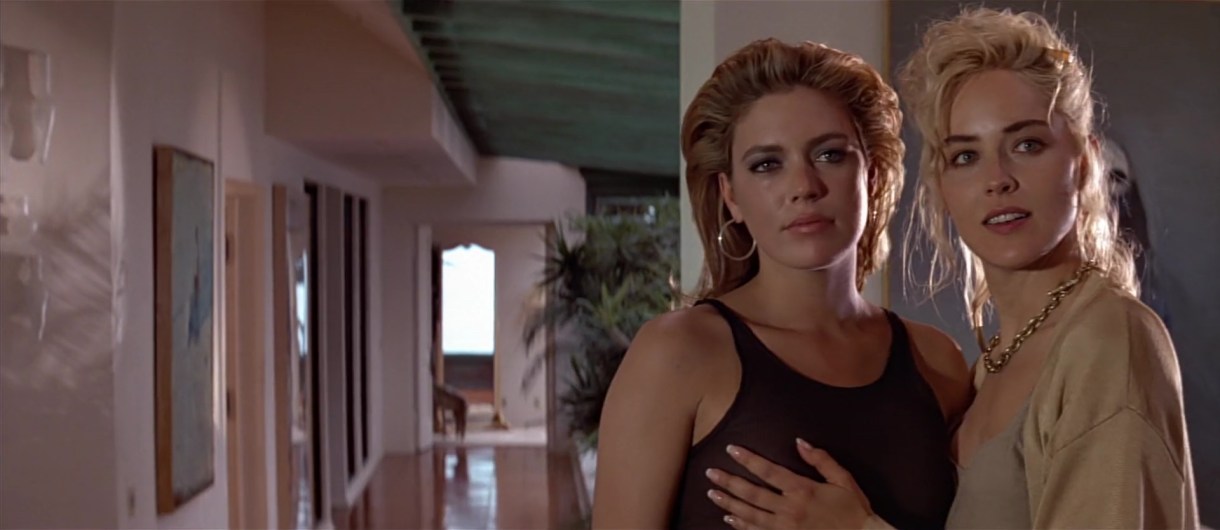 I said it there and I'll say it here: Rachel's essay about this film for Bisexual Month!
3. Which car company bounced back from a financial slump in the '90s after realizing that their vehicles, popular amongst outdoorsy folks, were a lesbian fave, and thus produced a successful lesbian-targeted campaign that pushed LGBT advertising from the fringes to the mainstream?
90% Correct: Subaru
Raise your hand if you knew this because of Dana Fairbanks.
2. Which novel by Fannie Flagg was turned into a 1991 movie starring Mary-Louise Parker, Kathy Bates, Mary Stuart Masterson and Jessica Tandy in which the lesbian relationship between two main female characters got totally straightwashed away?
92% Correct: Fried Green Tomatoes at the Whistle-Stop Cafe
We need a remake!
1. This musician won a 1997 Grammy for "Give Me One Reason" but her first nomination was in 1989, for "Fast Car."
96% Correct: Tracy Chapman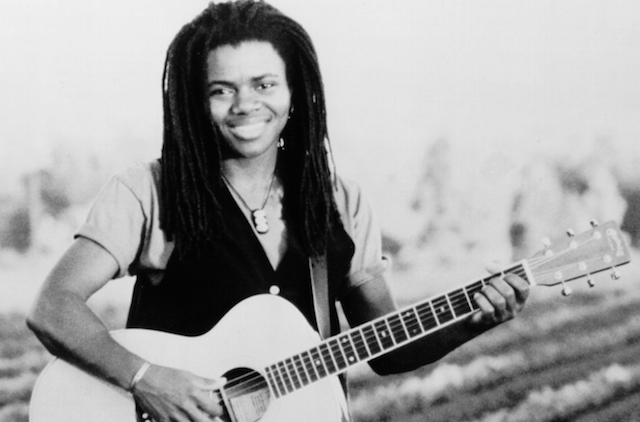 Tracy Chapman be mine forever love you
---
In conclusion, how many of you would legit be interested in Indigo Girls trivia?