ON OUR BACKS: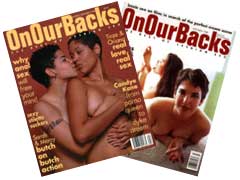 Time for a little lesbo-porn herstory! All ye who are too young or have not been obsessively following the ascent & success/decline of all lesbian/feminist/grrl/outsider media for years may not know about On Our Backs Magazine: Entertainment for the Adventurous Lesbian. The rest of you already know. Although the mag ceased publication in '06, the website and its ancient material remains online, which's weird, yeah? Like an internet ghost town.
See, once upon a time, there was an American lesbian porn magazine with national distribution, and now there isn't. With a title inspired by anti-sex feminist newspaper Off Our Backs, sex-positive feminist On Our Backs launched in '84 and was named one of Utne's "ten magazines to make a difference in the 80s." Early contributors included Pat Califia, Tea Corrine, Dorothy Allison, Joan Nestle, Sarah Schulman, Sapphire, Honey Lee Cottrell, the magazine is credited with bashing down the anti-sex sentiments simmering in lesbian feminism at the time and making lesbians talk about stuff like dildos and FISTING.
More about On Our Backs:
A model from 2000 posting her On Our Backs pictoral. This interview with Beth Ditto of The Gossip mentions that she posed nude for On Our Backs.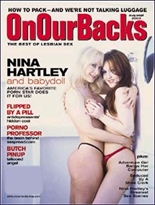 Felice Newman, author of The Whole Lesbian Sex Book, describing how she was a "somewhat shut-down lesbian living in middle America when On Our Backs came along and totally flipped me out."
A 2007 "interview with Lesbian Pornographer" [and OOB co-founder] Nan Kinney who also started Fatale Media, the video-production offshoot, about how although she knew lesbians loved sex, she couldn't find anything about it anywhere — "the problem was that the anti-porn lesbians controlled the general lesbian culture, including the press."
Salon interviews Susie Bright about the "sorry state of American porn" and the experience of starting On Our Backs.
Susie Bright has a complete history of On Our Backs available online, and it's fascinating; all about the early photographers and models, the response from feminist bookstores and queer women, the challenges of finding advertisers and even printing presses and stories of the politics & operations behind-the-scenes, including their eventual falling out.
It was no coincidence that the S/M, punk-era women were the first to show their faces to the public… they were the first to have the nerve. It was as if you had to be a career whore, a dedicated outcast, to show your face in a lesbian magazine… let alone your pussy.
In the Boston Phoenix in '98, by Tristan Taormino writes about what On Our Backs was supposed to change and asks, "In the lesbian sex wars, the 'pro-sex' contingent came out on top. So where's the porn?"
The On Our Backs Guide to Lesbian Sex and On Our Backs: The Best Erotic Fiction are still totally available at your local internet bookstore.
On Our Backs went bankrupt in '95. H.A.F. Publishing outbid The Advocate in '96 to start publishing On Our Backs again in '98 [this MetroActive article had mixed feelings about the relaunch]. H.A.F. also published Girlfriends. Both magazines went under in '06, much to our collective dismay.
So, what do you think? What would you want to see in a lesbian porn magazine? Did you read On Our Backs? Would you? Are there lesbian sex 'zines out there that we don't know about?
---
+
NEXT:
Cake & cunnilingus day! Gay media sex addiction!
Cute tumblrs for lesbos! and so much more!
Pages: 1 2See entire article on one page