THINGS THAT EXIST/HAPPEN: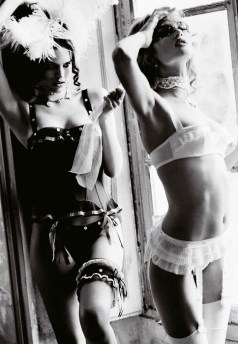 Did you miss cake and cunnilingus day? (@trishwilson)
GAY MEDIA LOVES SEX:
Does gay media have a sex addiction? Once you get over how annoying it is that this entire article is written as if there is no lesbian or transgender media of note/consequence, it's interesting about the controversy between sexuality.(@mediaite)
BEST SEX WRITING 2010
Curve talks to Rachel Kramer Bussel about The Best Sex Writing 2010 : "The essays here, whether explicitly queer or not, show that sex is complicated, that it's not as straightforward as we'd like to think. From the opening piece, which basically asks if you can tell a girl's a slut just by looking at her, to the last one involving a different kind of voyeurism, these works force readers to consider the ways sex makes us think about ourselves. For many of the authors, their sexuality is itself unnerving. There are some pieces that specifically address LGBT sexuality, such as the chapters by Betty Dodson, Kirk Read and Seth Michael Donsky, but I think as a whole this volume is very queer in that it tackles the basic assumptions many of us have about sex." (@CURVEMAG)

BODY ROCK:
Is the economy making your body type more attractive? According to two studies analyzing the faces and body shapes of famous actresses and models throughout the years, tough times call for ladies who look more "mature." No, not in a Golden Girls kind of a way but in a taller, sturdier, slightly heavier form than when the economy is booming. (@shine)
MORE VIAGRA:
The Neverending Female Viagra Story. "After enough coverage of other drugs under the headline "new female viagra" the marketing folks at Pfizer must have realized that any new sex drug for women is going to be called the Female Viagra so they might as well go with it, despite the fact that all their previous research has failed." (@about)
TANDEM BOOB PRESS:
Introducing the Tandem Boob Press: "Let us introduce to you the tandem boob press, which is basically one girl short of a boob circle. This pose was brought into the mainstream primarily by British lad mags, like Nuts and Zoo and their busty babes. But we thought it needed some more exposure. Enjoy!"
CUTE TUMBLR ALERT:
Hello Girls is girls who like girls posting pictures of girls for your viewing pleasure. I'ts not like "just about sexy stuff" but then sometimes it is. It's like a surprise, sort of like sexy girls themselves.
TRANSWOMEN:
"Doing it Ourselves: The Trans Woman Porn Project is a hot collection of trans women and their partners of all genders engaging in sex the way they want to be represented. Starting with a group of trans women who are tired of the way that they have seen trans women portrayed in porn, this film tells the story of its own creation when the decide to, well, do it themselves." (@handbasket)
Pages: 1 2See entire article on one page