This post is brought to you by the kale chips I made last Tuesday.
Here are the reasons kale is superiour to any other cabbage-like vegetable:
1. It is slightly leafier, making its use as surrogate hair during ill-advised wig-making contests while waiting for the pan to heat slightly more fun, and:
2. It tastes better after cooking.
I know I that's the type of compelling endorsement that makes me want to eat kale. It also comes up a lot in vegan cooking, can be frozen and used for cooking later without looking like fast-food quality Romaine lettuce, and, importantly, is delicious, particularly when prepared according to these awesome (vegan-friendly) recipes.
Kale Chips From Tuesday
by Carolyn
Much like actual chips, kale chips are supposed to be crisp. Unlike actual chips, they aren't completely disgusting if you eat them fresh when they're a little soft, but make sure to dry them off before baking and use the right amount of olive oil just in case (ie, in case you're giving them to someone else. I would probably eat my own cooking even if it'd been unintentionally on fire at some point, because in my world it probably has been, but a charming lady visitor might be less inclined to it).
Kale chips are also wonderful because if you normally want to eat chips for dinner but are held back by concerns about general health and also embarrassment, then you can have kale chips instead! It's just like eating salad. Sort of.
Side notes: one bunch of kale looks like kind of a lot in a bowl, but it will shrink when baked. There are several different varieties; I used the curly kind, but as long as it's not expired you should be OK. Kale chips: they are hard to screw up.
Ingredients:
1 bunch of kale (about 8 oz or 230 g), any variety, washed, dried, stems removed, torn or cut into potato chip-sized pieces
1 tbsp. olive oil, approximately
pinch of sea salt
optional other seasonings: any spices you think would taste good, and/or nutritional yeast, to taste
Directions:
1. Preheat the oven to 300˚F (150˚C).
2. Toss kale with olive oil.
3. Spread kale on a cookie sheet (ungreased, with or without parchment paper) in a single layer. Note that it looks like you're about to put a tiny forest into the oven, and make an editorial comment about global warming. Sprinkle with salt and, if you feel like it, other spices (the salt takes out some of the bitterness).
4. Bake for 15-20 minutes, until crispy. Toss halfway through if you want, but I didn't remember to do this and it was fine.
5. Remove from oven and serve.
Lemony Chickpea Stir-fry
by Sarah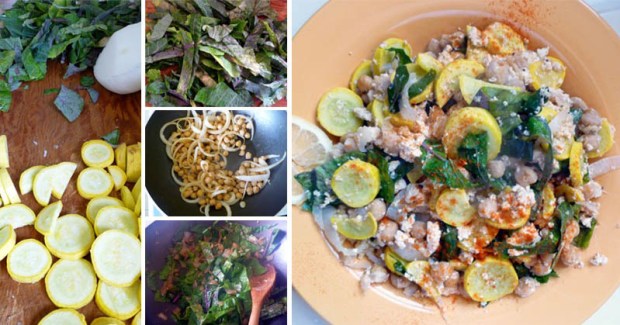 Ingredients:
2 tbsp extra-virgin olive oil
fine grain sea salt
1 small onion or a couple shallots, sliced
1 cup chickpeas
8 ounces extra-firm tofu
1 cup of chopped kale
2 small zucchini or summer squash, sliced
zest and juice of 1 a lemon
Pinch of chili powder
Directions:
1. Heat 1 tablespoon of the olive oil in a large skillet over medium-high heat and stir in a big pinch of salt, the onion, and chickpeas. Saute until the chickpeas are deeply golden and crusty. Stir in the tofu and cook just until the tofu is heated through, just a minute or so. Stir in the kale and cook for one minute more. Remove everything from the skillet onto a large plate and set aside.
2. In the same skillet heat the remaining tablespoon of ghee/olive oil, add the zucchini and saute until it starts to take on a bit of color, two or three minutes.
3. Add the chickpea mixture back to the skillet, and remove from heat. Stir in the lemon juice and zest, taste, and season with a chili powder and a bit more salt if needed.
Adapted from Heidi Swanson.
Kale Hummus
"by Carolyn" but with all actual culinary skills by Jenna
Hummus is one of the greatest foods ever, and kale is one of the greatest foods ever, and combining them is like an explosion of vegan deliciousness. But not a literal explosion. This is possibly the easiest thing ever, not even I could set it on fire, and I have a special talent for doing that.
Ingredients:
1 cup canned or cooked chick peas, drained
2 tbsp. tahini
1 tbsp. extra-virgin olive oil
2 tbsp. lemon juice, or more to taste
fresh garlic to taste
1/2 cup kale, cooked and chopped or from frozen, defrosted and chopped
Directions:
1. Place all of the ingredients except the kale in a food processor and pulse until smooth. Adding fresh garlic gives it a bit of a kick but the amount is up to you — somewhere between one and three cloves should be about right.
2. Place the kale in the food processor with everything else and pulse until it's in tiny pieces (but not so tiny that you can't see it. Having texture is a good thing.).
3. Serve. No, really.
Quinoa, Kale, and Walnuts
by Sarah
Ingredients:
2-3 cups kale, stems removed, chopped
1 cup quinoa
2 tbsp. olive oil
1 medium onion
3 cloves garlic, minced
1/2 tsp. red pepper flakes
1 lemon, zested
juice of one large lemon
1/3 cup white wine
1/3 cup (heaping) chopped walnuts, toasted
pinch freshly grated nutmeg
salt & pepper
Directions:
1. Cook quinoa according to the package directions.
2. Meanwhile, in a large skillet heat olive oil, add onions and red pepper flakes and saute for 3 minutes or until onions are translucent. Add garlic and lemon zest, cook for 1-2 minutes. Add white wine, stir and let simmer for 2-3 minutes. Add salt & pepper.
3. Add kale, 1/2 of the lemon juice and the pinch of nutmeg. Stir to combine and allow to cook over a low flame for 5-7 minutes, or until the kale is wilted and most of the liquid has been absorbed.
4. Add the cooked quinoa to the kale mixture and gently combine. Turn off the heat and add the remaining lemon juice, and toasted walnuts. Taste and add more salt & pepper, if needed.
Kale Sauteed with Sunflower Seeds
"by Carolyn" but with all actual culinary skills by Jenna
One of the reasons kale is so excellent is that it holds up far better than other leafy green things when it's cooked. You can cook it fresh from the grocery store/garden/fridge, but for some reason it tastes better if you wash it, dry it and remove the stems, stick it in the freezer for a few hours, chop it, and quickly blanch it before sauteeing it. Though if you forget all of that, or just don't have the time or planning skills for it, that's OK too.
If you don't like sunflower seeds, use pine nuts, toasted the same way you would the seeds. Optional raisins, added just a few minutes before the kale finishes cooking, would also probably taste good. While the original recipe (adapted from Bon Appetit) calls for four bunches of kale, you can halve the recipe without any unpleasant side effects.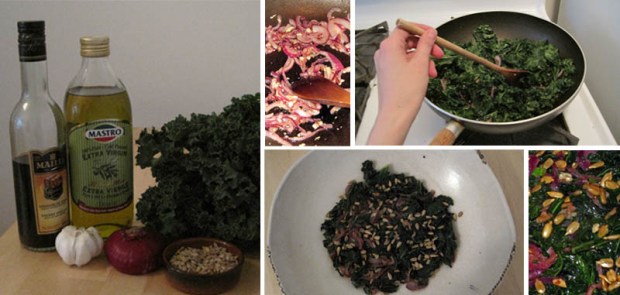 Ingredients:
4 bunches of kale (about 2 lbs or 900 g), washed, dried, sans stems, and cut or torn into coarse pieces
1/4 cup olive oil
1 large red onion, chopped into smallish pieces
2 garlic cloves, minced
1/3 cup sunflower seeds, roasted
pinch of salt
splash of sherry vinegar or white wine vinegar (optional)
Directions:
1. Before anything else, you'll need to toast the sunflower seeds. Do this by putting them in a dry (read: completely empty of everything including cooking spray/oil) frying pan over moderate heat for a few minutes, until they start to change colour. When they're done, put them aside.
2. Heat the olive oil in a large pot over mid-to-high heat. Add the onion, and sauté with a pinch of salt until it starts to get brown. Add the crushed garlic and cook for another few minutes. Basically the goal is to remember that the onion has another six minutes in the pot and you don't want it to burn, but also, you want to make sure it's cooked enough to do it's job.
3. Add about half the kale. You will probably have a few problems getting it all in the pot, even if you halved the recipe in the first place, so don't be afraid to smoosh it down. Cook, tossing frequently, for about 2 minutes. Add the remaining kale and most of the sunflower seeds, and cook for 3-4 minutes longer, until the kale is a bright green colour. If at any point in this, the kale starts sticking or the pan feels like its too dry, you're going to feel like adding more oil. Resist. Add a little bit of water instead, which will add moisture and steam the kale a little without making it greasy. If you want to add a splash vinegar, now would also be the time to do it — it's fine without, but a little acid brightens the flavour.
4. Serve, and sprinkle with remaining sunflower seeds.