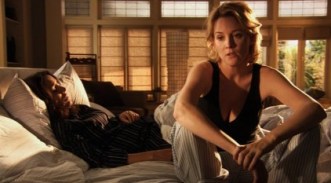 SEX DIARIES: New York Magazine's ever-enchanting Sex Diaries, in which anonymous New Yorkers track all their sexual encounters for a week (and they can be totally crazy/fascinating for reals!) features a lesbian this time, The Lesbian Music Producer in an Often Sex-Free Relationship, and the readers revolt on the lack of sex in the sex diary, the quality of the diarist's relationship, and the true meaning of "taco night," amongst other issues.
The familiar:
DAY FOUR, 9:15 a.m.: Incredulous expressions from fellow passengers when Jen kisses me good-bye as I exit the train? Check.
9:30 p.m.: When I give her a brief rundown [of friend I had coffee with today], including the fact that we've had "relations," [my girlfriend] makes a passive-aggressive statement about how sex must be a prerequisite for being my friend. This irritates me for a number of reasons. I decide to let it go.
The sad:
DAY FIVE, 1:50 pm: I wonder how to reconcile being madly in love with someone who often shows no sexual interest in me. Do I have a lack of self-esteem?
1:23 a.m.: Editing on the couch. Suggest sex to Jen, who whines, "Nooooo, I'm tired!" Brain-to-mouth filter fails, and I mention that my sex diary is completely devoid of sex. Argument ensues.
The comments (there are over 180 right now):
"I have a hunch that the gf has had a steady stream of relationships with men in which she just laid there. Lesbianism, it seems, takes some more effort and creativity."
"I'm just going to wait for the commenters to talk about something off topic to entertain me because clearly the diary didn't keep me from the boredom that is my job."
"I found this oddly…. boring."
"When are lesbians going to learn that getting involved with a woman who involved with a man 2 seconds before being with you is not going to work? Those women, obviously fickle are not there for keeps."
"Wait, women don't like getting their boobs touched by their current sexual partner? When did that happen?!"
SLEEP: Ariana Huffington of The Huffington Post and Cindi Leive of Glamour have teamed up to take on what Leive calls a "feminist issue": Sleep.
Single working women and working moms with young kids are especially drowsy: They tend to clock in an hour and a half shy of the roughly 7.5-hour minimum the human body needs to function happily and healthfully… Women are significantly more sleep-deprived than men.
So Huffington and Leive are hosting a one-month sleep challenge that they'll be blogging about on their sites. And here's the thing – what Huffington and Leive are really talking about is sexism, not sleep. (@huffpo)
H&M: Both H&M and Wal-Mart throw out unused clothing people don't buy; but in order to be sure that people can't wear the clothing they threw out (and therefore weakening the power of their brand), they destroy the items by shredding and cutting holes in them. This means a charity desperate for winter coats for a coat drive could get 400 new ones, but instead those new coats are shredded and disposed of. (@nytimes)
UPDATE:  JOURNALISM WORKS YOU GUYS! Due to the outrage over this story, "clothing retailer H&M has promised to stop destroying new merchandise that it can't sell at one of its Manhattan stores. The chain said it will instead donate the garments to charity." GEE, YA THINK?! (@huffpo)
Buzzfeed has a rundown of the best stories on this issue. (@buzzfeed)
THE REAL WORLD: Mike from The Real World: DC is interviewed by the Metro Weekly and has interesting thoughts on the intersection of church & sexuality as well as biphobia within the gay community. (@metro weekly)
RACE: "Of course I have an opinion about a recent opinion piece authored by Rev. Dr. Clenard H. Childress, Jr., senior pastor of The New Calvary Baptist Church in Montclair, NJ; but, I don't think anyone from either side (pro-gay or anti-gay) will like it. I agree with Dr. Childress: the LGBT community is definitely trying to hijack the Civil Rights Movement." (@sisterstalk)
TWITTER: By endlessly typing 140-character messages, Stefanie Michaels, Amy Jo Martin, Felicia Day, and others have gained millions of Twitter followers. It's a new kind of fame–twilebrity–with its own rules, risks, and pecking order. (@vanity fair)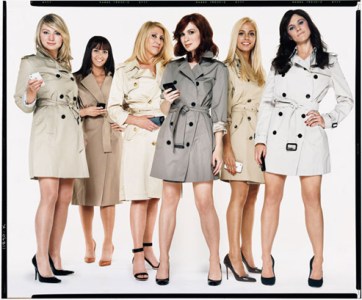 Broadsheet reacts to the Vanity Fair piece: "Grigoriadis may be on to something when she succinctly nails Twitter as a "worldwide experiment in extreme narcissism or a nifty tool for real-time reporting." But the fact that she chose to illuminate this point by focusing on high profile "nice girls — the Internet's equivalent of a telephone chat line staffed by a bunch of cheerleaders" is possibly the lamest thing since Playboy's 1995 "Girls of the Net" issue." (@salon)
RACE: The Future of Whiteness in America: Communities of culture have a history of being undercounted by the census, so advocates are pushing to make the upcoming census as accurate as possible, which means we may see numbers indicating what many already believe is an inevitable reality — by 2050, whites will no longer be the majority. Racialicious asks if the Newsweek author's idea that one day soon race will not be synonymous with destiny is a bit premature. (@newsweek, @racialicious)
I WANNA BE A SUPERMODEL: German women's magazine Brigitte has declared it will no longer use professional models in its fashion shoots. But reaction to the first all-amateur issue has been mixed, with observers criticizing the magazine for not going far enough to fight anorexia. (@spiegel)