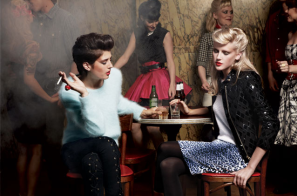 SEX DIARIES: We love New York Magazine's sex diaries for the obvious reasons but especially because they've included some fascinating perspectives on queerly oriented persons rarely found in mainstream magazines, such as The Female-to-Male Pre-Op Transsexual, The Royal Duchess of Slutiness, The Lesbian Player, The Bisexual Polyamorist and our favorite The Newly Lesbian Lesbian, Who Is Loving It.
They've often seemed just too perfect to be true — for example, The Ex-Banker Living on Alcohol, Hook-ups, and Unemployment was so on point that we suspected it was another masterminded trick by those "Dating a Banker Anonymous" Blog Hoax Gals, but Adrienne Cohen insists that indeed they are real. She even shares the process of becoming a Sex Diarist. Perhaps you will be next!
For this sex diary focused issue (the diaries are only published online, so this is their first cameo in the print mag), a NY Mag writer was forced to 'read all 800 pages of The Sex Diaries and, using them as a source text, develop some kind of taxonomy of contemporary sexual anxities." Among other fascinating insights he confirms that "the quality in a Sex Diary most admired by commenters is the kind of confidence (or masochism) that allows for ruthless candor."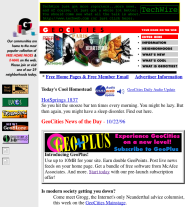 WEB-GEEK: Yahoo's Geocities is closing on October 26, taking a whole bunch of data with it. That's right — gone. FOREVER. So this is your last chance to dig into those HTML tables and extract your Ani DiFranco guitar tabs, graduation photos, Alicia Silverstone gifs and that .wav of Jim Carrey yelling "Do NOT go in there!".  Founded in 1994, Geocities was one of the first services to offer an easy way for early Internet surfers to publish their own Web pages.
READING RAINBOW: An ex-gay group says their views are not being heard because books like You Don't Have to be Gay are missing from libraries. Yes, these people suck, but unfortunately, it shouldn't be any tougher for them to get their books in libraries. Book-banning is awful, and first amendment rights should apply to everyone, even if their message is hateful. Any argument that could be made against them could also be used to ban great, gay-friendly books. On the bright side, most of the ex-gay arguments are so ridiculous, they refute themselves.
Meanwhile, controversy simmers around a children's book with Lesbian Moms … yeah so, that's been banned from Scholastic Book Fairs:
According to the School Library Journal, Scholastic says the book, released on October 1, failed to meet its vetting process because it contains offensive language and same-sex parents of one of the main characters, Milla.
TRANS HOMECOMING QUEEN: The College of William & Mary elected their first transgender homecoming queen.
GAY MARSHAL: We've talked about the woman nominated to be the first gay US Marshal before, but apparently she's been a gay pioneer for years now. Back in the '90s, she came out big time (on the front page of the Minneapolis paper) in an effort to make her fellow police officers more tolerant. It sounds like the military is going to need some people like her once DADT is gone. (@sfchronicle)