Sarah Warn, editor-in-chief and founder of AfterEllen.com, announced today that she will be stepping down from her post at the end of the month, to be replaced by Karman Kregloe. In "Passing the Torch," Warn writes:
In April 2002, I had the crazy idea to start a lesbian entertainment website. To my surprise, it turned into a full-time job, and then snowballed into the wonderful, messy, often inspiring, sometimes exasperating community of readers, writers, bloggers, and vloggers that it is today.
But after seven and half years and 1,000+ articles and blog posts, I'm just plain burned out. It's time for me to turn in my Professional Lesbian credentials, and let someone else run the site — for your benefit, and for mine.
So I'm happy to announce that as of Nov. 1, Karman Kregloe will be the new Editor in Chief of AfterEllen.com. Karman has been working with me for years, since before the sites were acquired by Logo, and I couldn't be more thrilled to hand the reigns over to her.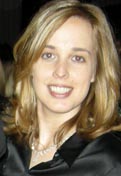 Washington native Warn began AfterEllen.com as a hobby in 2002 in response to what she saw as a complete void of content in the universe regarding queer women in entertainment — online or off.
AE's success is no surprise when you glance at Warn's resumè and total expertise. She graduated from lesbian-hotbed Wellesley College in 1996 with a degree in Women's Studies and then pursued higher education at Harvard University (yeah THAT HARVARD), graduating in 1998 with a master's in Theological Studies.
Warn deftly oversaw the expansion of her pioneering website over the last seven years, bringing eight years of experience in online marketing and business development, including several years managing Expedia's search engine marketing department, to the position. Combined with Warn's academic savvy and keen finger on the pulse of lesbian pop culture, AfterEllen quickly became a cult classic amongst other web-savvy lesbians (many Team Autostraddlers included) (Riese & Carlytron are web-nerds forevs) and, when lesbians got their very own TV show in 2004, The L Word, AfterEllen's popularity virtually exploded.
AfterEllen was in a key position to take over the lesbian internet … and they did. The L Word's growing popularity coincided with the advent of wireless, high-speed internet (especially important for people who have to hide their web-browsing from others), the YouTube boom (providing easy access to streaming video content) and the height of blogging's popularity.

Warn and her partner/girlfriend, Lori Grant, then founded Erosion Media LLC, which added gay male focused site AfterElton to its roster in 2005 and was consequently purchased by Logo/MTV in 2006. Warn became an Executive Producer at Logo and was named one of "10 Amazing Gay Women in Showbiz" by Power Up that same year.
In her letter to readers regarding the acquisition of AfterEllen by Logo in 2006, Warn said, "This is a great fit for us, because the folks at Logo are just as committed to LGBT entertainment as we are, and their expertise in television and authentic content creation and programming is an excellent complement to our online experience." The additional resources provided by Viacom, MTV's parent company, enabled the site to grow even more; doubling content and gaining increased access to celebrities.
Sarah Warn did what few lesbians have done — prove to the mainstream that there's a hungry lesbian market and make money doing it.
It also meant a lot more video, including shows that eventually made their way onto LOGO, such as Brunch with Bridget. Often clocking in at nearly 30 minutes each, vlogs became a major element of AfterEllen as it attracted new, diverse audiences hungry for multimedia and pretty lesbian faces (including Celesbian Supastar Jill Bennett, who later took her show to SheWired). A redesign earlier this year marked a major improvement to AfterEllen's navigation as it continued to add new features, new writers and new topics.
This year Warn relocated from New York's Logo offices back to Seattle, where she has been telecommuting. Warn will continue to write her monthly "Visibility Matters" column for AfterEllen, beginning this month with a keen retrospective on the last seven years of lesbian pop culture evolution.
We're all eager to see how this next stage of development will impact AfterEllen. One thing is for sure; Sarah Warn's career ain't over yet. She is a trailblazer and an established source of lesbionic expertise.
Whether you love it, hate it, or love to hate it, no one can deny the incredible influence of AfterEllen on lesbians and bisexual women in entertainment and the community in general. Furthermore, Sarah Warn did what few lesbians have done — prove to the mainstream that there's a hungry lesbian market and make money doing it.
This will not impede Autostraddle's plans to produce "She Made Me Watch This Incredibly Long AfterEllen Vlog" next year. We already have our set all set up with three chairs and a table. Like Our Town!