Charlize Theron's Girl-on-Girl Kiss Snags 140K for charity, Sets Positive Example for Other Hot Philanthropic Actresses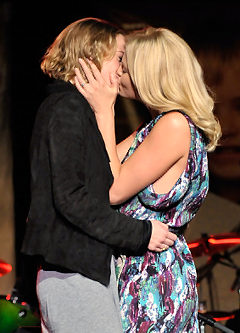 After bidding to benefit charity OneXOne stalled at $37,000 for a package that included a South African trip with World Cup tickets, a safari and a meet-and-greet with Nelson Mandela, Theron upped the ante and offered a kiss. A man bid $135K and then a woman offered $140,000 and cinched the deal — ascending the stage for a 20-second smooch as the audience counted down: Charlize Theron's lesbian kiss got 140K for charity. The Examiner has a scandalous video of the event. I hope that many other actresses take her lead, like Angelina Jolie (c'mon, she loves charity and she loves other women, so it's a win-win), Kate Moennig, Sarah Shahi and Shannyn Sossamon. Really anyone. I'm sure someone would pay a few hundred to make out with like Sally Jessie Raphael or something.
Not to totally dweeb out on you, but we found ourselves wondering why none of these news outlets actually explained what OneXOne is. Well, founded in 2005, ONEXONE is "committed to supporting, preserving and improving the lives of children at home in the U.S., Canada, and around the world." ONEXONE'S projects focus on five sectors contributing to a child's overall wellbeing – Water, Hunger, Health Care, Education and Play. A lot of celebs work with ONEXONE, including Matt Damon, Mia Hamm and the cast of Entourage.
GLAMBERT: Adam Lambert Has a New Naked Friend: On Sexuality, Objectification, and Subversion: "I don't get you; maybe the kids do. Who knows? Kids these days, with their Adam Lamberts and their sexting and their baggy pants. What we need to talk about is that, even if I did get you, I suspect I would still have some trouble parsing this …" [and then she cuts to that Details photo shoot where Lambert's got nip in his mouth] A round-up of various theories presented in the media ensue. (@bitch)
THE LYNCH CAN DO NO WRONG: Jane Lynch is not affected by the recession because Jane Lynch can do no wrong, and she will be returning to Party Down, and E! reports exclusively that "both boldass blondes" [Jane Lynch and some girl named "Kristen Bell"] will be coming back to Starz's thoroughly entertaining comedy Party Down." (@e!)
FEMINIST WEDDINGS: Everyone yelled at Jessica Valenti about her wedding (seriously, people? feminists can get married, even feminist icons. how else can we change the institution without invading it?) so she is going to stick with this guy, forever ever (forever ever? forever ever ever) – Well I'm Damn Sure Never Getting Married Again: "We wanted to make the wedding representative of the institution we'd like marriage to be, and I think we did a good job. Does any of this change the fact that marriage is a historically sexist institution or make it okay that millions of people are denied the right to be married? Of course not. But it made the celebration one that made sense to us, one that re-imagined what marriage as an institution should be about – love, equal partnership and community." (@feministing)
GAGA: You Can own a Lock of Lady Gaga's Hair: The Super Deluxe Fame Monster Package will include many things, such as a collectible puzzle and a lock of Lady Gaga's Hair. (@ohnotheydidnt)
GAY DADS: Parenting: The Rise of the Gay Dad: more and more children are being raised by same-sex couples (e.g., Rachel on Glee!). The Guardian has a bunch of stories from cute gay dad couples all over and it's really interesting. (@guardian uk)
TOP TEN SEXY TOMBOYS: Nerve's Top Ten Sexiest Tomboys includes a few of our favorite tomboys, but not all of 'em. We're confident AfterEllen will get very upset about this and post about it & their own superior list next week. So we'll just let them have it, and say nerve.com bravo on Ellen Page in Juno, Katee Sackhoff as Starbuck, Keira Knightley in Bend it Like Beckham, and Mia Hamm. But Joan Jett is not a tomboy, sorry! And Laurel Holloman in Two Girls in Love oughta be a shoo-in. WHERE THE HELL IS JO MARCH? JOAN OF ARC? ANGELINA JOLIE IN "FOXFIRE"? Done now! It's all yours, AE. (@nerve)