Did you hear the one where Adam Lambert and a male backup dancer walk into Kuala Lumpur? The Pan Malaysian Islamic Party has some reservations about Adam's performance in the capital on Thursday, specifically that it will be "lewd" and "outrageous" and promote "gay culture." In response, Adam has agreed that some of the more "lewd and outrageous" aspects of his show will be removed for the Kuala Lumpur crowd. Homosexual activity is illegal in Malaysia; it's unclear whether Adam could actually be stopped from performing unless he made the requested changes, but it does seem like the Pan Malaysian Islamic Party would like to see that happen. (@aceshowbiz)
Adam has shared his thoughts on the matter via Twitter, and they are pleasingly but unsurprisingly intelligent and on point.
"While I don't believe that my glamnation tour is in any way offensive I have agreed to make a few minor adjustments out of respect for the Malaysian government. Looking forward to a fun show. Does my show 'promote the gay lifestyle'? It promotes living ANY lifestyle that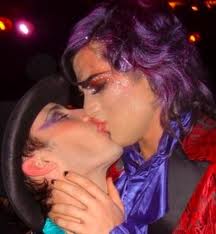 includes the freedom to seek love and intimacy. Gay, straight, bi, young or old. It's all inclusive," he continued. "Plus, what's THE gay lifestyle? There isn't just one. There are so many different kinds of gay people. We have a variety of different lifestyles. There's not only one lifestyle lived by straight folks. Generalizing…."
What Adam doesn't say is that while it sucks to have to water down a show that represents possibly the height of all homosexual entertainment events with the exception of the Monster Ball, this may be the only chance that some people (homosexually active people, even!) in Malaysia have to go to said homosexual entertainment event. Granted, this does not amount to radical social change, but I for one vote that we choose to view this as a victory for the people rather than a capitulation on Adam's part. It's like hiding a file inside a birthday cake, except sneaking sexy gay sexytime music into a country with a lot of institutionalized homophobia via slightly less sexy gay sexytime music. You know? KUALA LUMPUR AUTOSTRADDLERS: go to this show, let us know how it is, which backup dancer/musician he looks like he wants to make out with, etc.