The Scissor Sisters debuted a new album, Night Work, this summer, and they're on tour now. Our boyfriend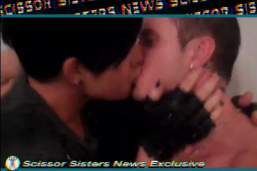 Adam Lambert debuted his new album, For Your Entertainment, last year, and he's also on tour right now. What are the chances that these two homosexy ships will pass at some point during their sparkly dark nights of glitter, music and magik? Practically inevitable.
Fun fact #1: The Scissor Sisters invented Scissoring.
Fun fact #2: Adam Lambert's (newish?) haircut reminds us of St. Jimmy from American Idiot's haircut, which reminded us of Adam Lambert's 'bandmate' and 'friend' Tommy's haircut, which reminded us of Jordan Catalano's 30 Seconds to Mars Haircut, and also the haircut of this tall yet surly goth girl from my high school who wore a giant black sweatshirt every day and never smiled.
Fun fact #3: We are pleased that America cannot stop Adam Lambert from pursuing the tonsils of other men who play instruments in bands.
Here's a description of this video:
Join host Lester Zizmore, Katy Perry, Adam Lambert, Judith Light, Tobell Von Cartier and the rest of the Scissor Sisters News team as they go beyond the headlines to deliver you all the Scissor Sisters news you need to know. Scissor Sisters News is the flagship news program of Scissor Sisters Television.
+
Fun Fact #4: Katy Perry. Ugh.
We feel like it's been a while since we caught you up on the activities of our boyfriend Adam Lambert, so FYI he is soon heading to Australia, where everybody loves him SO much that they've literally had to expand venues to fit all his fans inside.
Also, according to the USA Today, "Adam Lambert's If I Had You, the most-played song from an American Idol last week according to Mediabase, moves into the top 20 on USA TODAY's Top 40 and Hot AC charts this week."
So basically, the world is going to hell in a handbasket.
We will be over here, dancing and smiling and laughing about it, while pretty boys kiss other pretty boys and girls dream and old men cry and old women sigh and youth still come.