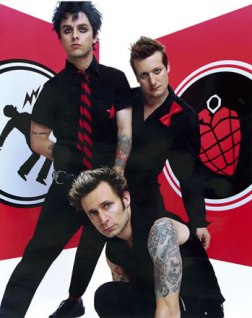 If ten years ago someone were to have told me that the music of Green Day, my favorite band, would one day be turned into a Tony award-winning Broadway musical, my 13 year-old skateboard-ridin', wallet chain-sportin' punk self would've been offended. My boyfriend Billie Joe would never 'sell out' like that.
In the 90s Green Day weren't Broadway material, you know? They weren't even off-Broadway material. They'd built their reputation on two-minute three-chord power punk anthems about melancholy, marijuana and masturbation that were best appreciated from a sweaty, trashy mosh pit, or better – the depths of my teen emo cave. Not from under the bright fancy lights of Broadway.
Thankfully as the band evolved & matured, so did I. And so when they announced that their Grammy award-winning rock opera, American Idiot, was being adapted into a Broadway musical, I knew that at first excuse I'd make the trans-Atlantic voyage to see it. I had to. And so that's how and why some of Team Autostraddle – Riese, Alex, Laneia, Sarah & myself – came to be sitting on the Mezzanine of the St. James Theater in New York, New York, watching American Idiot: the Musical.
It was so spectacular that I have to tell you all about it. But first here's a little trailer to get you in the mood:

+
The Story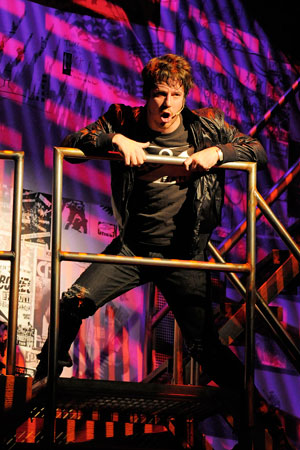 As with the aforementioned members of Autostraddle, I suspect that most of you have never listened to the American Idiot album in its entirety. And that's okay, I've never listened to Fame Monster in its entirety either. So you may not be aware that American Idiot is actually a concept album, an anti-establishment 'rock opera' that tells the story of disaffected youth who flee suburbia in a search for self and freedom and meaning.
American Idiot's protagonist is Johnny, aka Jesus of Suburbia, a young man who's been raised on a steady diet of soda pop and Ritalin in a place called Jingletown, which he describes as a land of make-believe that don't believe in me. Concluding that the American Dream no longer exists, Johnny and his two BFFs, Will & Tunny, decide to leave town in search of something that will fulfill them, something they can believe in. They buy one way tickets to the city, but not all of them escape – Will's girlfriend gets pregnant and Tunny falls for the promises of the US Army and enlists.
Finding himself alone and in the city, Johnny becomes torn between the story's two core themes – rage and love. The love is represented by Whatsername: a free-spirited bohemian girl, a runaway of the establishment, a hero for the lost cause, the last of the American girls. And the rage is a destructive punk antagonist named St Jimmy: the patron saint of denial, the product of war and the fear that we've been victimized. St Jimmy is Johnny's alter ego – under his influence, Johnny becomes erratic and addicted to drugs, and so Whatsername leaves him.
The Adaptation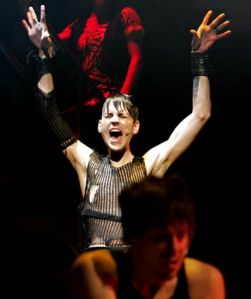 As a Broadway musical, American Idiot really is second to none. Its production, staging and talent is hard to fault, which is not a surprise given that Green Day decided to entrust [some of] Spring Awakening's creative team – including director Michael Mayer – with the job of bringing their vision to life. The cast is exceptional, with Spring Awakening's John Gallagher Jr. [Johnny] and Tony Vincent [St. Jimmy] in particular delivering stand out performances.
As you'd expect from a rock opera, the music was the real hero of this show. The score features every song from the American Idiot album in sequence, plus select B sides and hits from 2009's 21st Century Breakdown. And of course Green Day don't actually perform in this musical, and they don't need to. The 8-piece band – lead by young Australian music director Carmen Dean – does a spectacular job of recreating Green Day's power, presence and punk spirit on stage.
American Idiot relies almost entirely on Billie Joe Armstrong's lyrics to tell its story. There are quite literally only a handful of spoken lines, the bare minimum to provide context and thread the score's 22 songs together. The lyrics compete with crunching guitar riffs and booming double-kicks, so my advice? If you decide to see this show, spend a bit of time with the album first. You'll need to piece less together.
The Verdict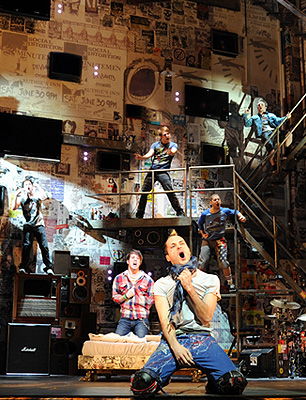 When the house lights went down and the curtains opened to reveal rebellious Hot Topic youth stomping and snarling and shouting I don't wanna be an American Idiot! against a backdrop of TV screens showing George W. bites, war zones and inane sitcoms, I sunk down into my seat a little. The cast tore up the stage, and scaffolding, with choreography and enthusiasm that was slightly reminiscent of the last stage adaptation I had the pleasure of attending, High School Musical.
But the moment Jesus of Suburbia stepped up and started telling his story, everything quickly fell into place. For the majority of the evening, it remained there. Overall the show is riotous and thrilling, with all the energy and attitude and emotion you could possibly ask for. I loved it as much as I expected to, possibly even a little more. But that's not to say it's without quirks.
The American Idiot plot isn't exactly air-tight. It is, after all, based on a collection of 15 songs rather than a script or novel, so at times you'll need to draw your own conclusions and resist getting hung up on things that don't add up. Why did an anti-establishment rebel like Tunny suddenly become so attracted to military propaganda? Idk! So let's just appreciate all those jazz hands in the chorus line and move on.
Also? If you like your musicals to have a happy and uplifting ending, go and see Mamma Mia! instead because American Idiot may leave you feeling as jaded and as hopeless as its characters, none of whom necessarily find the better life that they set out looking for.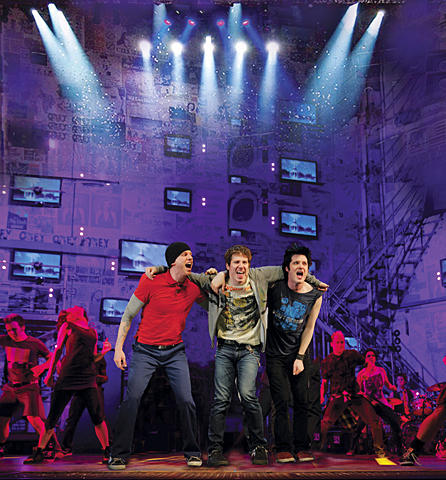 At times it feels like the conclusion of this musical is that it's almost impossible to find yourself, and greater meaning, in 21st Century America. That maybe there's really nothing out there for our generation. I think it goes a little deeper, to possibly say that a search for something to believe in is fine and all – but essentially fruitless unless you believe in yourself first.
Watch the cast of American Idiot perform their opening act at this year's Tony Awards:

+
Tip: Tickets for American Idiot are available from $55 – $277 via the website. If you're not adverse to risk, I recommend going to the TKTS ticket booth to see if you can pick up half-price seats on performance day.