Context. Context is everything, right? Agreed? Fantastic! Let's discuss how The Real L Word ignored context, favored quantity over quality and ultimately failed for those reasons. Furthermore, just like its namesake, it didn't have to. The supplementary material (blogs/recaps/cast follow-ups), per ushe, have been way more compelling than the show itself. See, these are real human beings, and editing them into cardboard cut-outs in a vacuum void of political/cultural forces was awkward and unnecessary and NOT, in fact, inevitable by virtue of it being a reality show.
I knew nothing about modern reality TV going into this, but now I've read a lot about it, grilled my friends on their varying affections for Jersey Shore/The Hills and endured a full six minutes of The Real Housewives of Somewhere and 20 (20!) minutes of The Jersey Shore Does Miami, so I'm more or less an expert now.

[All photos of Real L Word cast are their own or public photos, none of them are from the actual show.
It is important that you know this.]
1. The Real L Word needs a point/central idea
What was the point? There wasn't one. That's its first failure. Other reality shows have points! You think they don't, but they do! EVERYTHING GOOD HAS A POINT, IT IS MY LIFE GOAL TO PROVE THIS TO YOU. Don't believe me? Read "The Hills defined the boom, Jersey Shore defined the bust" and you'll get it.
Usually the point of docusoaps seems to be "money doesn't buy happiness" which runs contrary to our assumption and therefore challenges preconceived notions and therefore is inherently interesting. Perhaps "lesbians are sexy by patriarchal standards of beauty too" was the point for some lesbian viewers (like, apparently, for Rosie O'Donnell), but that's not enough for a series. That's one episode of True Life.
2. "Real Lesbians" is not a hook, people.
The reality TV model is premised, usually, on the idea of taking people out of context and seeing what happens (into a house with seven strangers, onto an island, swapped with your wife). When a reality show DOESN'T take people out of context, that's 'cause the context itself is a worthy hook — apparently this applies to rich beautiful high school kids, outrageous funny loud party animals who enjoy The Jersey Shore, hoarders, drug addicts, wealthy housewives and Show Dog Moms & Dads. It also applies to a GROUP OF ACTUAL FRIENDS. The Real L Word is the only show we can think of which did not feature a peer group OR a context/challenge/contest. What we ended up with was a documentary-style cast stuffed into a reality TV show box.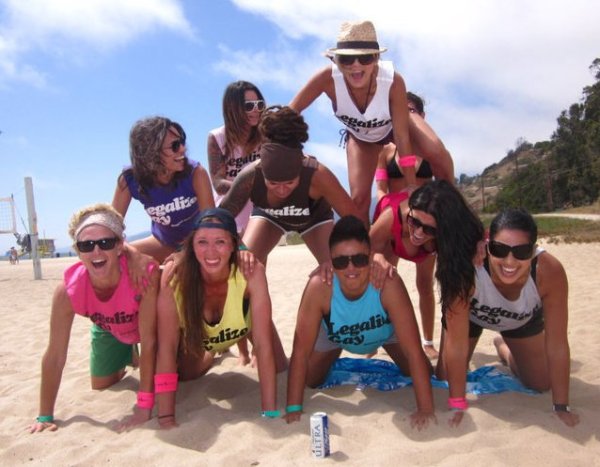 THIS LOOKS LIKE A CUTE EPISODE, I WANT TO SEE THIS EPISODE
+
Because what was The Real L Word's "hook"? What was it "about"? "Real lesbians" is no more interesting than "real white people" or "real straight people." The "real lesbians in Los Angeles" premise was abandoned after the first episode and in all subsequent marketing materials.
Hooks matter before anything gets to the editing room, too. Reality TV stars sign up to be the "realest" housewife/"guido"/bitch they can be. They're prepared to play it up. But for TRLW, everyone was just supposed to be … uhhhh… gay? If they eschewed a group of friends in favor of "diversity," they failed at diversity so, let's not even go there. These ladies are just similar enough to be representative of the same social strata but too different to say or be anything, collectively, besides "lesbians." Nor was it exceptional enough to attract a significant hetero audience desiring a "window" into the Exotic Lesbian World.
3. Needs a Snookie
Every successful reality show needs at least one outrageous, iconic Reality TV personality. Or so I hear. That Memorable Someone destined for weekly appearances on The Soup, trademarked by a complete lack of self-consciousness and a few memorable catchphrases.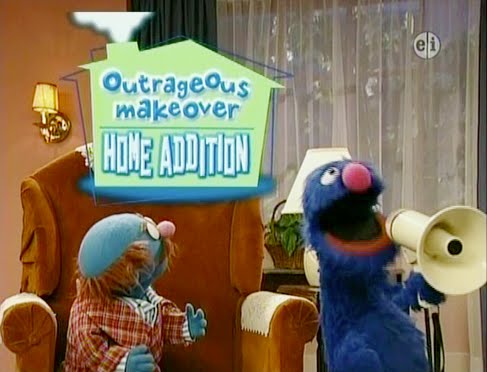 FourFour accurately described this type of person in his commentary on the commentary of Jersey Shore's Season One's DVD Commentary:
The Jersey Shore audio commentary tracks are perfect documents of the heightened, fascinating narcissism of the reality star that sometimes runs these shows like a perpetual motion machine (the acting out provides themselves entertainment, which makes them want to act out again and more ridiculously so as to provide themselves with future entertainment, which will only make them want to act out more…).
LOOK AT THIS VIDEO OF MIKEY & RAQUEL. WHY WAS RAQUEL KEPT FROM US, SHE IS A BRILLIANT MAGIC WIZARD.
+
4. It Should Have Been Five Shows, Not One
Though I'm pained to imply that I might want to spend one more godforsaken minute of my life listening to Rose and Nat play Douche-Bitch Verbal Volleyball, there's more to these women than the show let us know. Read their blogs. Rose, Tracy, Jill, Nikki, Whitney and Mikey tried REALLY HARD. The footage must be there… we just didn't see it.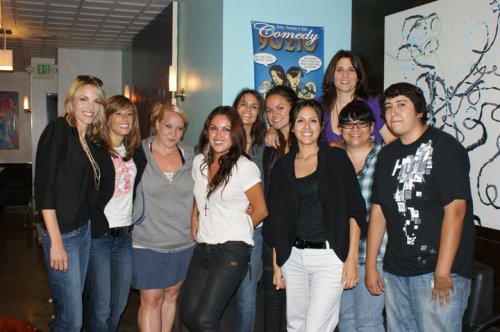 This Looks Like a Good Episode
+
It should've been FIVE shows, not one. I would've probs hated all five (because I'm unable to enjoy reality tv b/c i am annoying), and definitely 2/5, but they would've been better, I think, than this.
Why give each character one theme  — Whitney is Sex, Rose is Drama, Nikki & Jill are Consumerism/Marriage, Tracy is Family/Growing Up, Mikey is Work — when you could have every character encompass three or five or ten themes each? Negotiating how to properly prioritize life's many forces is what makes human beings — and shows about human beings — who they are. Entire shows have been made of these storylines — GOOD SHOWS! Instead, Mikey's like the poor man's Kell on Earth and Whitney's posse came off as a 30-second preview for what could be their own Gimme Sugar.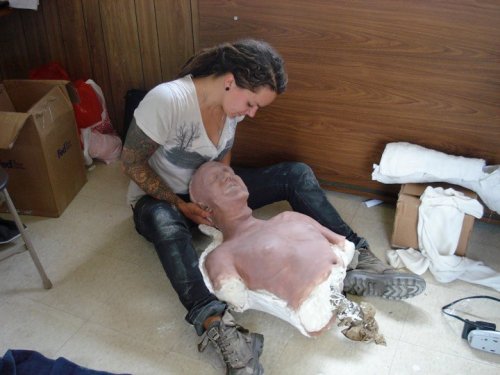 Whitney has a job
+
It's the hard, complicated, uncomfortable truths that make the best stories. Yet TRLW left nuance on the cutting room floor, valuing pre-determined "stories" over asking truly compelling questions. The pedantic opening queries set the tone for eight episodes which relied on editing, rather than personalities or actual character arcs, to coalesce. The result felt incomplete, sloppy, and often boring.
Why was so much discarded? Probably FOR TIME! We don't know the girls much better than we did watching TRLW's pre-season interviews and preview, unless you've followed their off-screen lives online. I know the conflict in Sammi & Ronnie's relationship from watching twenty minutes of Jersey Shore. I've still got no clue what Rose & Nat are ever actually fighting about.
When you read Whitney's blog or interviews with her friends, you see a smart, introspective, entrepreneurial, ambitious, funny, philanthropic human WHO ALSO possibly mishandeled Tor/Romi/Sara's emotional well-being with reckless rationalizations. But we only saw Sex Whitney, which is a shame because the paradox IS WAY MORE INTERESTING THAN WHAT WE SAW. The friends who love you despite everything (see: Jersey Shore bros) needed more air time. We don't need to be told who to hate, Ilene. Give us the facts and let us decide, like we did with Jenny Schecter until you turned her into a monster.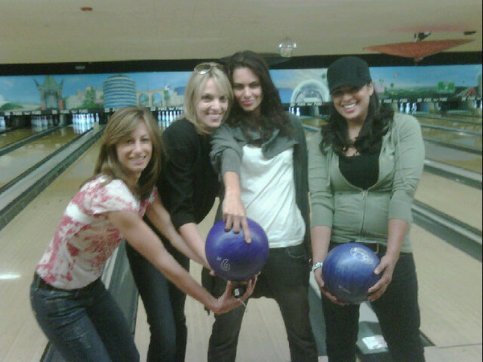 This Would Be a Good Episode
+
Women can spend entire series shopping and falling in love, but we care about Carrie Bradshaw's shoes because we care, to some degree, about who she fucks, where she works, what makes her sad/happy, and what her friends talk about when they talk about her loves. These things intersect. Nikki & Jill's life is more complicated than what we saw: they have jobs, sex, actual exes (not made-up ones). On Jill's blog she noted that they never showed "Nik's rendition of Taylor Dane's Tell it to My Heart as she skirted around the living room in her underwear." Instead, they juxtaposed strap-on sex with Passover Seder. Good job, show.
5. Frankenbiting Made Us Stop Trusting that Real Stories Were Being Told
Even if there's no conflict between people, there's conflict within people, like Bette's idea of herself as a powerful, in-control person cutting against her failure to be faithful to Tina. By splicing up Tracy's journey with her Mom into two-minute bits, we got the revelation (which was poignant) but only a haphazard sense of the process.

this is one of the most beautiful pictures i've seen all day, and i read a lot of tumblrs
+
Furthermore, due to speak-and-spell editing, we lost confidence circa episode 102 that anything genuine or true-to-life would ultimately unfurl. So many bits felt as artificially tacked-on as Jenny's nonsensical murder, and like Jenny's murder, we couldn't see anything beneath the surface for us to hold onto.
6. The Real L Word existed in a Vacuum
MOST IMPORTANTLY! This is such a FASCINATING time to be queer!
We're right on the edge of/maybe really far away from so many things, like actual media representation and equal rights. We're victims of massive religious and political conspiracies (for real!). There's in-fighting within the queer community tearing us limb-from-limb. We face specific challenges and experience specific joys. Alice's "The Chart" worked because it illuminated a concept we all knew about but hadn't yet seen reflected.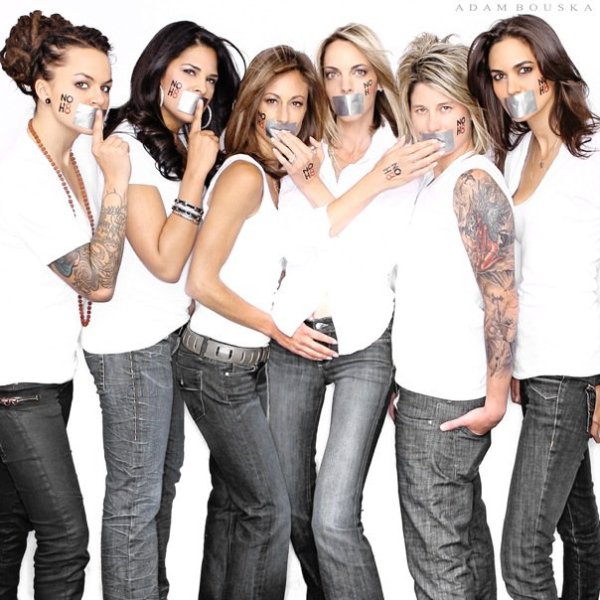 Evidence that the cast Knew About, Cared About Prop 8
+
TRLW ignored Prop 8. That's criminal! We know they talked about it! By leaving it out, the producer irresponsibly allowed Mikey & Raquel's story to convince a few thousand straight viewers that gay marriage IS legal. OH HAY there's a recession going on AND WE NEVER HEARD ANYONE TALK ABOUT IT! Why not?
Those are the moments we have to relate specifically to THESE PEOPLE at THIS TIME. Hollywood is cutting jobs left & right. Our relationships and emotional health are under specific strain in America. The macro/micro shit going on here is what's fascinating, as it is with any marginalized population. This show could've reached out and drawn us in to familiar feelings of what it's like to live now — like the best art does — but instead it opted for tiring, ahistorical, worn-out concepts. It could've been filmed in 2002 or 2012.

Let's get real: The Real L Word feels like it was storyboarded by straight people.
I endeavor to suggest that queers are, on the whole, more likely to be interesting than other people and their group dynamics subsequently more complicated. Stuffing everyone into lazy tropes meant none of that complication had a chance to unfurl, if it ever existed at all. By not introducing the cast to the cast from the get-go, we never got to see anyone out of their comfort zone — now that they're all friends, however, a Season Two would likely be much better than Season One.
So, what are you so afraid of, Little Chicken? How weird and complicated and beautiful we really are? If you peel back the surface you're so obsessed with, you'd find rich layers of detail and contradiction. By ret-conning characters — picking plots first and characters second — you're treating actual humans like Helena Peabody! And you didn't have to. If reality TV survives the decade, it'll have to shift focus. I predict ACTUAL HONESTY making a comeback, as foretold by MTV's If You Really Knew Me and Julie & Brandy In Your Box Office For Reals.
We're eager for labyrinthine personalities; that's why we read cast blogs, watch home videos, and befriend Romi on facebook. But we don't want Season Two. We want these girls to tell their own stories. We want somebody else in charge. Everyone's paying attention now, aren't they? Show them what we can do, and tell me — what are you here for?