REAL L WORD:
Some "behind-the-scenes" interviews with the ladies of The Real L Word have once again "graced" our teevee screens. HEY IF IT'S SO REAL THEN THERE SHOULDN'T BE ANY SCENES TO GET BEHIND amirite? Anyhow, it's the same set from last time. I wouldn't forget Nikki's shirt in a million years, and neither would the coral reef and medieval army that died to make that shit possible.
So Showtime has these "shorts" now I guess, like short films, except not artistic or interesting. So they have their own little "Showtime Shorts" intro that's unrelated to the following material. It was confusing for me at first, but also titilating: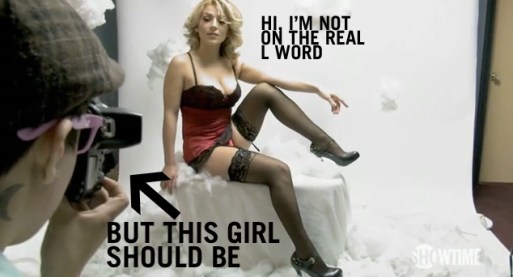 The first question is, "How would your friends describe you?" Before I give you Nikki's answer, I'm going to give you foreshadowing, courtesy of The Real L Word Recap Preview #2 Recap (foreshadowing is a literary technique you might remember from that time everyone said they were gonna kill Jenny, and then in the last episode Jenny fell to her "death" because everyone killed her, and then Sounder ate her sweet meats):
Me: "Nikki is one of those people who says "now, the funny story is," and tells a story that's not funny."
Guess how Nikki's friends would describe her?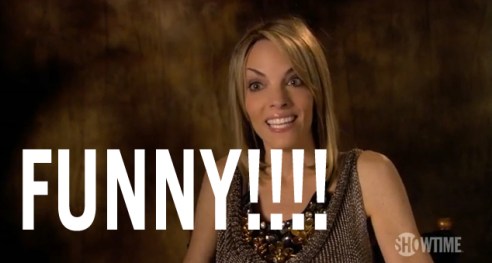 Mikey is hard but soft underneath, like a Mallomar, and Rose…
I really don't understand why Ilene Chaiken didn't bring Rose out sooner when criticized for creating Papi out of a conglomerate of one-dimensional stereotypes about Latina women. She should've just brought Rose around with her and been like no, it's her! She's real! And way cooler! But also, in addition to being less offensive, she's more boring, because she's probs not going to call anyone "Brown Barbie" or have a Western Showdown with Shane or say "Rose doesn't do breakfast." OR IS SHE?
I don't even know if that makes sense, but I feel like Rose is reading from Papi's Rules of Poker, except that they are Rose's rules, because Rose inspired Papi, but also, it comes off as being watered-down Papi, and really this whole thang is best summed up by this graphic I still have from my Season Three recaps from Dana's funeral:
We also find out that Rose first knew she liked girls when she saw Mariah Carey in "Vision of Love." Nikki knew by the time she was 25. Nikki gets really serious when she talks about her "first involvement with a woman" so I feel like there was probably a baby or an STD involved, or else a murder mystery.
Whitney's revelation came at the age of 6 when these ladies parted the red sea of vadge in a style known as "Walking like an Egyptian." Whitney recalls, "I saw Susanna Hoffs and I was like what is this feeling in my stomach?" THE BANGLES.
We then get into turn-ons (tits, ass, wit, confidence, etc) and "the craziest place you've ever had sex." You know; dance clubs, airplanes, many-mirrored bathroom restaurants, the ushe.
Tracy Ryerson says she's never had sex, her turn-offs are "women that like men" and in general, her number one feeling seems to be: how the hell did I end up on this show?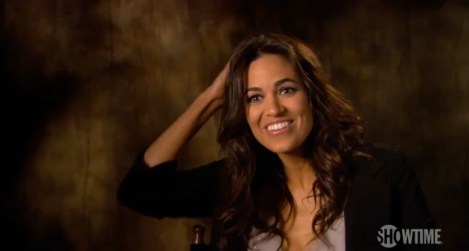 I have an answer for her: to save us from it.
ANYONE BUT ME:
Episode Eight, Naming Things, is available right here for your viewing pleasure!
+
AMANDA SEYFRIED:
Amanda Seyfried talks to Chelsea Lately about all her lesbian makeout scenes. (@tvsquad)
FAMILY GUY:
Family Guy: Reaching new transmisogynistic lows: But why is this a big deal? Doesn't Family Guy offend everyone? As Lisa at Questioning Transphobia points out, "That's bullshit. [MacFarlane's] humor is crafted for a cis, straight, able-bodied male audience. Everything you see on his shows is meant to affirm that perspective." (@bitch)
DAVID FOSTER WALLACE:
The Vulture Reading Room does "David Lipsky's book-length David Foster Wallace interview, Although of Course You End Up Becoming Yourself." with my other boyfriend Sam Anderson ("It's like the Nixon Tapes for DFW-Heads") along with D. T. Max ("How to be a functional, moral person in a compromised world."), Jason Kottke ("Protecting his creative self from his celebrity self") and Laura Miller ("The emergence of 'St. Dave.") (@nymag)
MODERN FAMILY:
AfterElton reports that ABC has released a statement in reaction to the Facebook Group started to make the dudes kiss on Modern Family:
"Cameron and Mitchell are a loving, grounded, committed, and demonstrably affectionate couple and have been from the beginning of the series. It happens that we have an episode in the works that addresses Mitchell's slight discomfort with public displays of affection. It will air in the fall and until then, as Phil Dunphy would say, everyone please chillax."