REAL L WORD:
If you missed last night's preview of The Real L Word on Showtime, you are probs feeling very deprived of lesbian executive "realness" right now. Luckily, not only did Alex & I watch it, but I have recapped it for you. Sigh. F*cking recaps, just thinking about you makes me want to go to sleep/cut a line.
+
"From the creator of The L Word," the voiceover begins. Thank the lord it's the creepy Voiceover Oracle and not Ilene Chaiken in a burning bush. So to speak.
Every time I hear Voiceover Oracle's voice, I'm haunted by memories of the silk sheet floating on the bed and being told "one of our favorites will take the fall."
Voiceover Oracle continues, "The Real L Word is going to make fiction a reality." Um, Willy Wonka called and he said "Strike that, reverse it."
And our first big lie comes from a cast member: "It's a pretty diverse group of girls." I think they meant to say, "It's a pretty group of girls."
MIKEY:
Where Mikey grew up there were Crips and Bloods shooting at each other all night, and now she runs a fashion show! She hopes her style will inspire you. So no matter where you come from and what Jets & Sharks are shooting each other outside your door, if you're as good-looking and well-dressed as Mikey, you too can one day be on a reality teevee show about lesbians.
WHITNEY:
Whitney is the playa who is looking for love but gets distracted by lust and her dreadlocks getting in her eyes.
Although she was attempting to tame her wild ways, the first week of filming things got crazy! "Have you ever heard the expression; when it rains, it pours?" Whitney asks. And just when you think she's gonna launch into a Lusty-Distraction-Heavy story about squirting… Whitney says, "I had lots of unexpected girl drama… if you will?"
Alex: Really? Unexpected?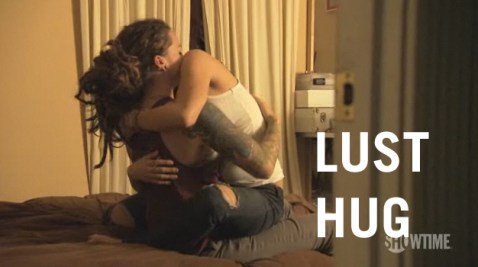 ROSE:
Did you know that the character of Papi was not, in fact, based on a conglomerate of one-dimensional stereotypes about Latina women and was, in fact, a direct representation of an actual human being? Me neither. Well, The L Word has always been very educational. I mean, who even knew that "nipple confidence" was a real thing? Right? Amirite ladies?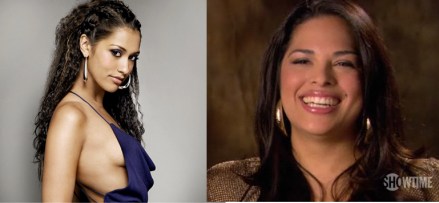 "The Papi character is loosely based on me," says Rose. Really Rose, really? Don't admit that in public, that's like when I used to tell everyone about the time Canadian Border Patrol found nudie magazines in my ex-boyfriend's trunk and he'd yell at me "that's embarrassing!" 'cause that's just one story you don't tell — Rose does air quotes around "loosely" and then shoves her fists through her giant hoop earrings to demonstrate what loose feels like for a girl, just like Papi always did. The good news is that Crystal loves Papi.
"I hate being single, dude," says Rose to her friends. "That's why I fuck like five girls at a time." She must have magic hands! This season Rose falls in love!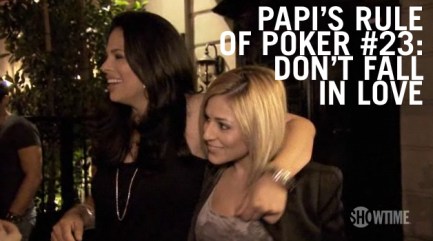 Rose is now "a more mature version of that character who just realized that 'kissing is cheating." Furthermore, she's here to tell the untold story of "someone who was an avid clubgoer come of age," she continues. It's like Celebrity Rehab but without Kari Ann. 'Cause we all know girlfriend did not come of age on that show not even in Sober House. Kari Ann, what a wreck.
This ain't no Little House on the Prairie kids, there will be no butter-churning in this coming of age story, only fingerblasting.
TRACY:
Wait. Tracy Ryerson actually is real. She's beautiful, is dating a woman with three kids, and she is smizing the fuck out of my teevee.  No snark. Haay girl.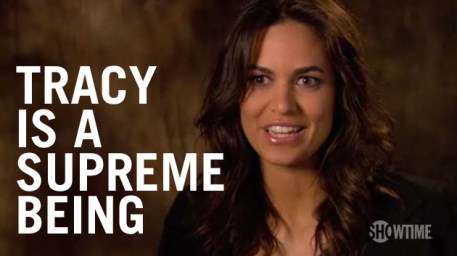 NIKKI & JILL:
Nikki is one of those people who says "now, the funny story is," and tells a story that's not funny. In this case, the story is about this one time at summer camp when Nikki and Jill were friendsies but omg, then Nikki dated Jill's brother! I know right?! Nikki was 10 when she snagged her "first boyfriend," which's um, young. Then he went through puberty, turned into an actual boy, and she switched off to Jill. Now they are engaged to be not-married.
Jill says some stuff about how this has never been done before (not true — Gimme Sugar!, which I also loathed!) and how they are going to take the pressure off people who are lesbians who feel alone because lesbians are just like everyone else. Jill confesses that she and Nikki are the 'straighest gay couple' around.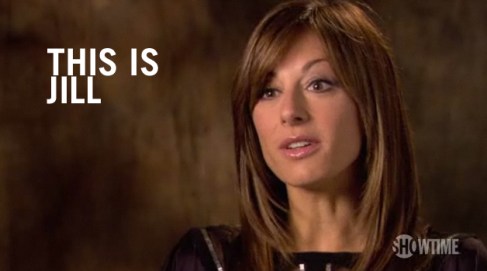 OMG, she's so right! Looking at her beautiful face, fancy house and impeccably eyebrowed girlfriend does make me feel totally okay about being myself. I'm going to go bathe myself and love myself all over… oh wait, one of the six other people I'm sharing a bathroom with (Budget! NYC is expensive! we're unemployed) is in there. Anyhoo.
At the end they all say a bunch of stuff about how it's totally 100% real, etc etc, just like unicorns, and gay marriage.
THIS JUST IN. The poster: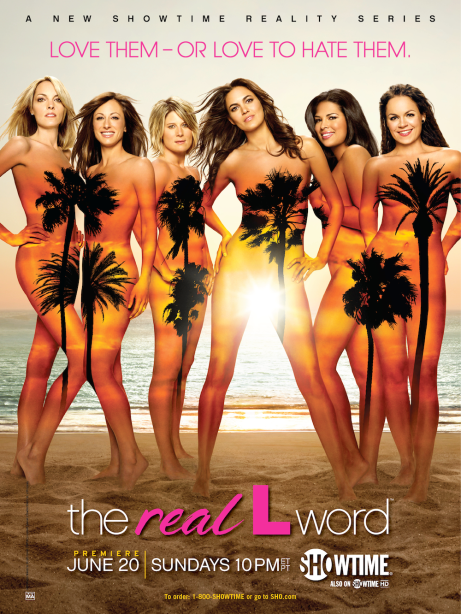 ---
+
Next: Molly Ringwald talks to The Advocate about her new book and the lack of gays in john hughes films, A BRAND NEW EPISODE OF ANYONE BUT ME WITH A TWIST AT THE END THAT WILL BLOW YOUR MIND, and more!
Pages: 1 2See entire article on one page