There's lots of new music debuting this week, so there's no time to waste! Check out new stuff from M.I.A., N.E.R.D., Crystal Castles, Josh Ritter, The New Pornographers, iOTA & Junglehammer and more below!
NEW SONG FROM M.I.A.:
After shooting down comparisons to Lady Gaga last week, M.I.A has gone on to release a 9-minute long controversial music video for her thumpin' new single "Born Free", which is a departure from 2007's Kala and set to appear on her June album. The mini-movie has already been pulled from YouTube for its violent and sexually explicit content, however we've included it below. Watch it at your own risk. If you're sensitive to that kind of thing, you may prefer to check out the audio version of "Born Free" at Stereogum. What do you think?
+
NEW SINGLE FROM N.E.R.D. WITH NELLY FURTADO:
N.E.R.D. has leaked a new song called "Hot & Fun" featuring Nelly Furtado. It's sort of hot and pretty fun, but it's no "She Wants To Move" (remember the line "Her ass is a spaceship I want to ride"?). Listen to "Hot & Fun" below:
+
MIRAH TO TOUR WITH THAO NGUYEN:
Out singer-songwriter Mirah will be touring with fellow indie-pop musician Thao Nguyen. Together, they'll be called Thao and Mirah With The Most of All. The pair met while playing the Noise Pop Festival in San Francisco, and it looks like their collaboration is still going strong. Check out full dates for Thao and Mirah With the Most of All at Pitchfork.
SUBLIME REUNITES FOR TOUR… SORT OF:
Sublime kicked off it's reunion tour, not surprisingly, on 4/20. 21-year-old singer and guitarist Rome Ramirez (left) has replaced Bradley Nowell, the band's original frontman who died in 1996. The band now goes by Sublime with Rome due to legal issues. The band's got some U.S. shows lined up for May and June, but a lot are sold out. Check out the tour dates at Sublime with Rome's website.
CRYSTAL CASTLES RUSH ALBUM RELEASE:
Electronic duo Crystal Castles rush released the digital release of their new self-titled album on Friday. Though it was set for June release, an internet leak forced the band to speed it up. If "Doe Deer," the first single from the album, is any indication of the new record, it's going to be crazy. Check out the radio rip below:
+
PHISH IN 3-D:
Jam band Phish is jumping on the 3-D movie bandwagon and releasing a concert movie beginning April 30th. It's playing at limited theaters, so read full details of Phish 3D at the movie's website.
GREEN DAY'S AMERICAN IDIOT ON BROADWAY:
American Idiot premiered on Broadway to mostly positive reviews. Green Day even surprised one audience with a set. I'm skeptical about the no-dialogue, music video-esque plot, but I admit the musical version of "21 Guns" is highly addictive. Listen to the version featuring Green Day lead singer Billie Joe Armstrong below:
+
---
+
NEW ALBUMS: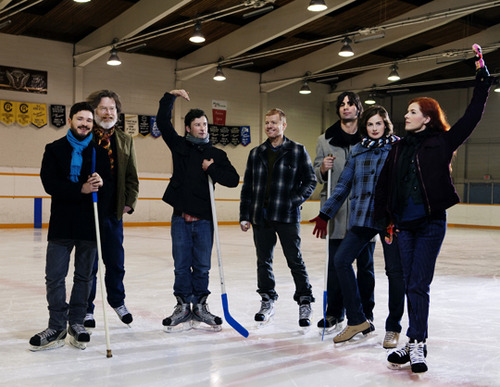 The New Pornographers: Do you love Neko Case? Or just catchy hooks and three-part harmonies? You can hear both with The New Pornographers' fifth record. Listen to Together at NPR Music two weeks prior to the album's official release.
Josh Ritter: Josh Ritter fans, stand up! His upcoming album, So Runs The World Away is also streaming at NPR.
The National: High Violet, the band's follow-up to highly acclaimed Boxer, comes out today.
Hole: Courtney Love's band Hole releases their new album today. It's called Nobody's Daughter. Listen to the album streaming on Hole's facebook page.
JUNGLEHAMMER (FT. iOTA) TO LAUNCH NEW ALBUM
A PSA from Crystal: I want to let all Sydneysiders know that the amazing jazz collective Junglehammer have announced the launch of their 3rd album, Romeo Tree, will be at The Sydney Opera House Studio on Friday May 14. Junglehammer are fronted by one of my all-time favourite musicians, out singer/songwriter iOTA, whose talents some you may recall from Hedwig & The Angry Inch and The Rocky Horror Show, in addition to a brilliant solo career. This is a show that really shouldn't be missed, so get your tickets before they sell out. I'll see you there.
WIN A GOSSIP PRIZE PACK:
Audiostraddle's giving away a Gossip prize pack – consisting of the Music For Men album and a rather unique Gossip tshirt – to 5 lucky readers. Find out how to enter.